---
Mt. McKinley: Knoff and Team Resting at 14,000'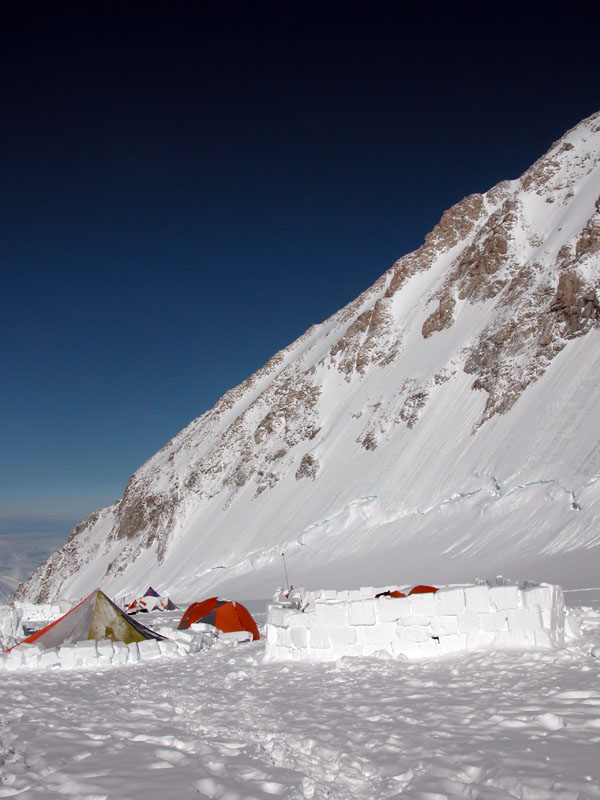 Mt. McKinley has the gnarly reputation for being one of the hardest mountains in the world to reach the summit of. In circles of armchair mountaineers, horror stories bounce around like cheap cigars. What most people don't realize is how much down time comes with living the dream of climbing north America's highest peak.
Yesterday we put in our first "average work day" with an eight hour round trip climb to Washburn's thumb at 16,500 feet. We cached food, fuel and clothing needed for our time on the upper mountain. This was our teams most difficult challenge to date which everyone handled like cagey veterans.
Back to the down time. Of course the terrain on this mountain demands one's full concentration, but so does our time of rest. It is unnatural for all of us to try and sleep twelve hours a day with no darkness. The rigors of rest should not be underestimated. Today we woke from thirteen hours of hibernation and had a two hour breakfast demanding great effort to pull away from. Now we are preparing for a stroll to the edge of the world and then home for more sleep. Today is beautiful here at 14,000 feet, much more pleasant than our ten below nights. All is well and we look forward to climbing higher..
On The Map
×
Sign Up For Denali 2012 Emails
{/exp:mailinglist:form}
---
More to Explore
Mt. McKinley: Hahn and Team Move to 9,500'
July 1, 2012