---
Mt. McKinley: Hahn and Team to the Edge of the World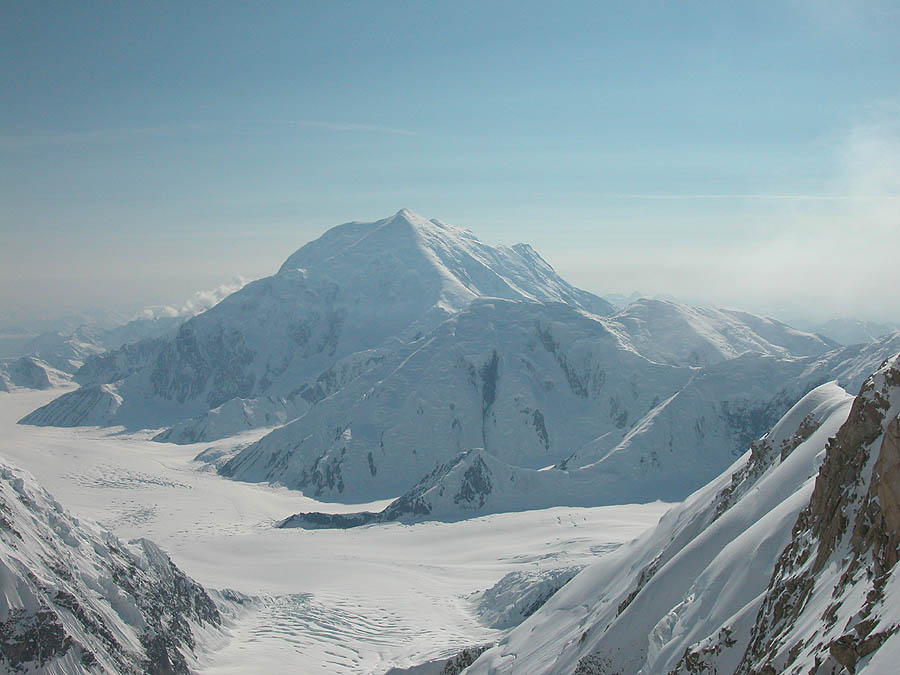 Another unwelcome pulse of moisture and wind came through in the night. The wind was far more significant than the new snow as it worked to slab up the substantial snowfall we'd already gotten on the steep walls above. While things died down and the sun showed up on time this morning, it didn't take very long for folks to realize we'd suffered a setback in the snow stability department. But there wasn't so much that could be done to change that reality and so we made the best of things. We geared up, roped up and took a hike to the edge of the world, which is what everybody calls the rocks a short distance from camp that mark the edge of the 14,200 ft basin we're in. From that edge one can look straight down thousands of vertical feet to the Northeast Fork of the Kahiltna Glacier. Except we could not, due to clouds and murk, and plowing through above the knee powder made it feel like a little more than a short distance away. We went for the workout and to keep our minds focused on climbing during this big delay. And that seemed to work nicely for us. One could sense the great drop-off and the immensity of Denali's South Face lurking in the clouds.
Back at camp, we did more of the things we've already been doing so well… eating, drinking, resting, chatting and watching the snowy slopes above when the clouds permit. What we really need is a few hot, very sunny, stable days to settle the snow.
Several of the teams surrounding us in camp were running low on food and fuel and could wait no more. They began their descent of the mountain as we were sitting down to dinner. Things actually cleared up quite nicely about then with calm, blue skies above and a thick sea of clouds below us stretching to all horizons. It may be a tricky situation but it remains beautiful.
Best Regards,
RMI Guide Dave Hahn
On The Map
×
Sign Up For Denali 2012 Emails
{/exp:mailinglist:form}
---
More to Explore