---
Vinson Massif: Hahn, Waterfall & Team Summit!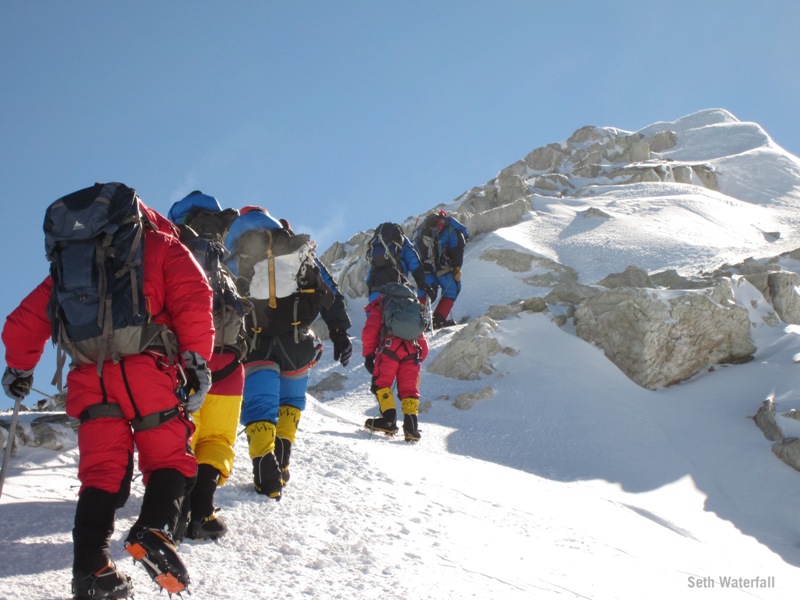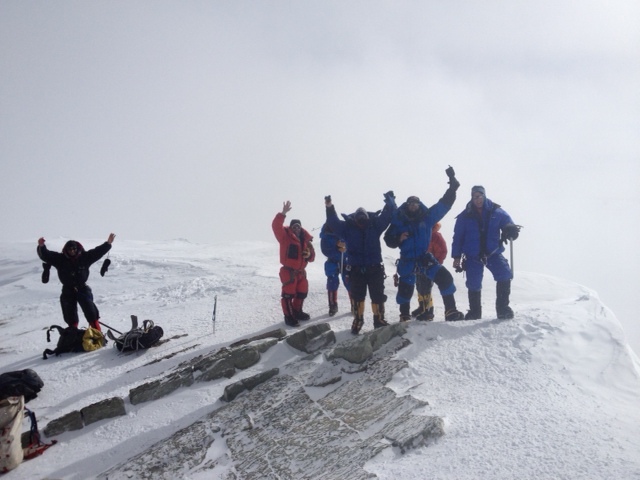 If at first you don't succeed… The forecast really wasn't all that good for today, but when Seth Waterfall and I looked out of the tent at 7:30 AM, we couldn't find too much wrong with the day. We started stoves, woke the team and geared up once again for a summit bid. We got out of camp at around 10 AM and made steady progress in bright sunshine. Eventually the sky clouded up (as we'd been told it might) but we kept a careful watch out for wind on the heights… and didn't see any. The team moved well, with many commenting that they actually felt stronger today than they had in yesterday's bid. We reached the old high point and then seemed to be getting above the clouds as we worked our way onto Vinson's summit ridge. We all thought it was going to be cold and windy on the final ridge but instead it was delightfully calm, sunny and even warm (it certainly didn't feel like the forecasted -28 C…although it might have with any wind whatsoever). The team loved the big blocky rocks and delicate traverses of the summit ridge. We got on top at 5:00 PM and stayed there for thirty minutes, shooting pictures and shaking hands. The clouds took a way a good chunk of the view possibilities, but we had glimpses enough through the mist to know we were way up in the air over Antarctica. The descent took a mere 2.5 hours and we were back in camp by 8:00 PM. Tired and happy. Our plan is for the majority of the team to rest at high camp tomorrow while I make one more try at the top with a climber who sat out today's bid.
Weather permitting.
Best Regards,
RMI Guide Dave Hahn
[Transcribed audio] Hey this is Seth checking from the summit of Vinson Massif, highest point in Antarctica. Had a great day of climbing. Started out in sun, ended up in the clouds, but we were on top in almost zero wind and light snow flurries. We are up pretty high. We are going to take a couple of photos and head on back to high camp and we'll check in then.

RMI Guide Seth Waterfall from the Vinson Massif summit
On The Map
×
Sign Up For Vinson Massif 2012 Emails
{/exp:mailinglist:form}
---
More to Explore
Ecuador's Volcanoes: The Team Acclimatizes on Rucu Pichincha
December 13, 2012