When the summer climbing season is in full swing, RMI guides look for every opportunity to get into the mountains. RMI Guide Robby Young took advantage of a few days off from guiding recently to climb the North Ridge of Forbidden Peak in the North Cascades.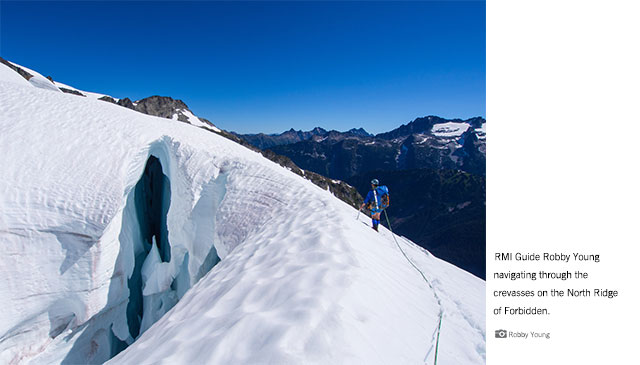 With the summer climbing season on Mt. Rainier in full swing, it has become a bit more difficult to sneak away and enjoy the classic alpine routes in the North Cascades. My climbing partner, Mike, recently came to town and I wanted him to experience the beauty of the North Cascade Alpine Rock. Given that it was Mike's first time in the range, we instinctively set our sights on the classic pinnacle summit of Forbidden Peak.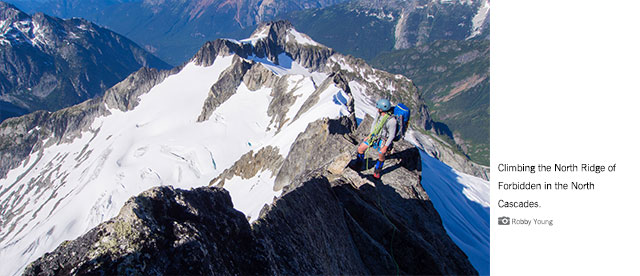 The beautifully long and committing North Ridge fit the bill for a true alpine adventure. Unlike its prestigious West Ridge neighbor, the north ridge route involved a more indirect approach, which required climbing up and over the Sharkfin Col and across the remote and broken Boston Glacier. It gave the route a more remote alpine feel. Once on the ridge proper, the climbing soon became uninterrupted and classic as we made "quick" work of the never-ending knife ridge and vertical gendarmes. As anticipated, the summit of Forbidden did not disappoint, gifting us with views of some neighboring North Cascade summits like Eldorado, Torment, Boston, Sahale, and Buckner. Our descent down the West Ridge and back into Boston Basin ended as often long North Cascade routes do, in the dark; leaving us exhausted but eagerly anticipating future adventures in this beautiful range.
________
RMI Guide Robby Young leads climbs in Washington's Cascades and the Alaska Range. Robby is an an accomplished ski mountaineer, ski patroller and photographer.
---
More to Explore