---
Aconcagua: Justman and Team Reach Base Camp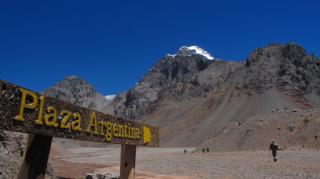 Hello Everyone!
Galloping across the Vacas River we had a few team members think we were riding mules the rest of the way to base camp. However, once on drier ground we hopped off, thanked the mules for keeping us dry and began walking up towards Plaza Argentina.
Now at 14000 feet the team has had their fill of fresh melon and juice. Acclimating begins now and the entire team is feeling good, especially after a hot shower and a fresh change of clothes.
Tomorrow we will be resting. A full report of activities will follow. Now, it's time to set up the volleyball net.
RMI Guide JJ Justman & Team
On The Map
×
Sign Up For Aconcagua 2013 Emails
{/exp:mailinglist:form}
---
More to Explore
Expedition Skills Seminar - Ecuador: Training at Altitude
January 6, 2013