---
Expedition Skills Seminar - Ecuador: Winds Stop Cayambe Summit Bid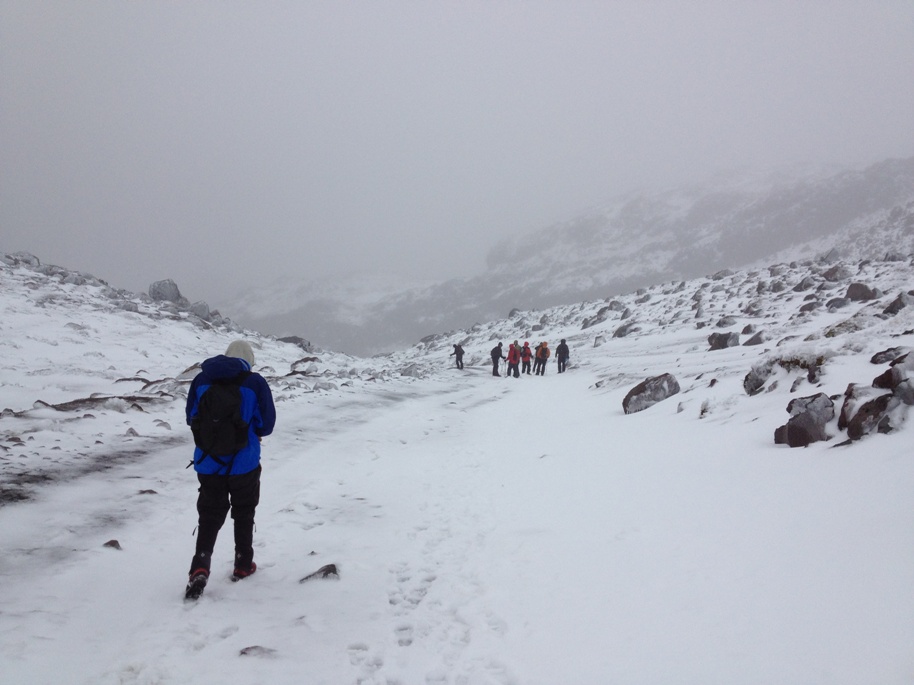 I once heard the founder of RMI (Lou Whittaker) tell a group "that climbing mountains is like hitting yourself in the head with a hammer, it only feels good when you stop." And I'm pretty sure that our team actually believes this after today.
Climbing in Ecuador is much different than back in the states. There is no weather forecast to help, no route condition updates, and no reliable rescue if you get in over your head. You pretty much stick your head out the door and decide whether or not you'll make an attempt or not.
As you have most likely read in the last few dispatches its been pretty windy all week. Today was no different except that it was our summit day. It howled all night and even seemed to shake the 2,000 square-foot building we've been staying in. Some of us slept and others did not and around 10:30 pm Adam, Jamie and myself put some water on the stove and crossed our fingers that things would get better. After breakfast, hot cocoa and coffee we finished the last of our packing and headed out into the night.
It was windy right outta the gates. The wind was blowing between 30 and 40 mph with higher gust. It was worse right next to the hut and subsided once we got a short distance away. Luckily for us the first hour and a half we were slightly protected by the rock buttress we had to climb around/over. It by no means made it any easier, but it did allow us to reach the glacier safely. We took a short break put on the majority of our gear (all those things we just had to have finally were really needed) and started up the mountain. We were able to climb for about 2.5 hours before we found shelter from the wind in a small rock outcrop. It became very clear that the wind and weather were not improving as we had hoped. Right above the outcrop the winds seemed to be getting much stronger. We decided to forge ahead and see if it was really as bad as it sounded. Sure enough a few feet above the outcrop we were in the thick of it, the wind was fierce and everyone was fight to just stay on their feet. We attempted to move forward but it was quite clear that was not a realistic option. Adam and I estimated the winds to be between 50 to 70 mph and gust were outright ridiculous.
We quickly descended to the outcrop and decided that the risk was too great and everyone was happily in agreement. The team safely descend as the weather continued to deteriorate all the way back to the hut.
We took a short nap, packed up and retreated to our comfy hacienda and hot showers. Everyone is doing well and happy to be out of the weather.
RMI Guide Casey Grom and crew
×
Sign Up For Ecuador 2013 Emails
{/exp:mailinglist:form}
---
More to Explore
Aconcagua: Justman & Team Make a Carry to Camp 1
January 9, 2013