---
Mountaineering Training | Introduction to the Fit To Climb Program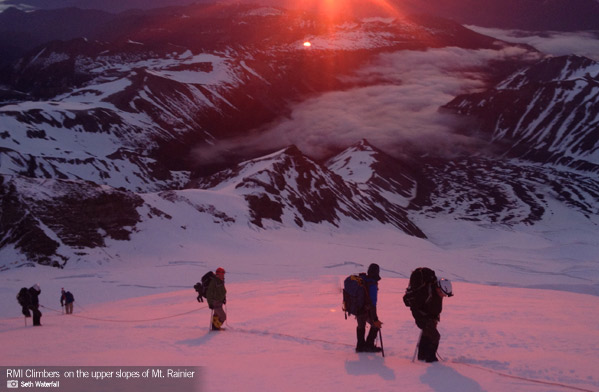 We are excited to share a weekly trainings series from the book Fit to Climb: The Adventx 16 week Mount Rainier Training Program authored by former RMI Guide John Colver! This conditioning plan is designed to help you train for a successful Mount Rainier climb. 
 
As the plan unfolds you'll quickly gain momentum, achieving milestones, and navigating each phase of training. Before you're halfway through, you'll feel confident in your abilities and have experienced significant physical gains.
 
Features of the Fit To Climb plan are:
• A progressive training schedule with measurable milestones
• A weekly chart with day by day workout descriptions
• The 'Rainier Dozen' daily strengthening workout
• Tips on cross-training and alternative training options
• Instruction on aerobic endurance, anaerobic endurance, and strength training
• Nutrition for training and climbing
• Tips on motivation, goal setting, and mental preparation
The Fit To Climb Program is designed to be done anywhere and with the minimal of equipment. No matter where you live, you'll be able to participate and each week you'll build strength and endurance for the climb ahead.
 
The 16 weeks are comprised of four phases:
• Phase one = Adaptation Training (Weeks 1 - 2)
• Phase two = Foundation Training (Weeks 3 - 10)
• Phase three = Peak Training (Weeks 10 - 15)
• Phase four = Expedition (Week 16)
These phases are the building blocks, each ending in milestones. We start with general conditioning, then add endurance, followed by the addition of high intensity interval training in the peak phase and ending with a short 'tapering' phase during the final preparation in the week before your climb. 
The timing commitment of the Fit To Climb Program varies. The Adaption and Foundation Training Phases ask for 4 - 7 hours a week of training. During the Peak Training Phase the focus is on building solid and aerobic endurance with long training sessions and the plan calls for 10 - 15+ hrs of training per week. It's a big time commitment so plan ahead and try and prepare your schedule to handle the increased training demands. For some tips, see RMI's collection of ideas to maximize the time and the find the right terrain for your training.
 
The timing of the sixteen weeks is designed to prepare you for Mount Rainier climb that is four months away. If your climb is later or sooner you can adjust the timing as necessary, either getting a head-start or beginning in the appropriate week.
The Fit To Climb Program can easily be tailored to prepare you for any mountain beyond Mt. Rainier. In developing training plans for other climbs, plan your training with the end in mind: is the major challenge the high altitude, extreme temperatures, heavy pack, or multiple days or weeks? 
 
As you create the training map, ensure that there are stepping stones to gain new skills and strengths as well as milestones where you can "test" your ability. One principle of training for mountaineering in all ranges, is that aerobic endurance conditioning is the primary training component for most climbers. Start by making sure that you have what it takes to "go long," then focus on the specific challenges of your climb or expedition.
The Fit To Climb training program is rigorous and to complete it in its entirety requires a substantial commitment of time and effort. Do people follow it to-the-letter? Sometimes yes, often no - people become ill, work or family situations come up and the best plans work on the basis of flexibility. A paradox of training for a major climb is that we want to set the bar high in training in order to replicate the demands we'll have during the expedition, however, we also want to maintain confidence if we fall short of a training session or goal. It's rarely a linear process; sometimes we feel awful just when we expected to be strong, sometimes our perfect plan goes sideways, and sometimes we feel doubt when everything has been completed perfectly.
As you start the process, think of the key elements of success: Maintain momentum, rest when you need to, push hard when you feel strong, and constantly think about how you can recover well. And most importantly, be confident that your efforts will pay off; many people have climbed and succeeded in their goals while having not completed all of the training or while feeling sub-par. I remind myself that one can miss a few classes and still graduate. It's progress, not perfection, that counts. 
- John Colver
Have a question? See the Fit To Climb FAQ for explanations of specific exercises and general pointers to help you through the Fit To Climb Program.
John Colver is a longtime climber, former mountain guide, and certified personal trainer with the American Council of Exercise. Colver introduced outdoor fitness classes to athletic clubs throughout the greater Puget Sound region before creating his adventX brand. Currently, adventX leads training programs in Seattle and Colver presents clinics on outdoor fitness at companies such as Microsoft, Boeing, the American Lung Association, and REI. Colver lives in Seattle, and is working on his second book, Fit To Climb - a 16 week Mount Rainier Fitness Program.
---
More to Explore
Kilimanjaro: Casey Grom and Team Arrive in Africa
January 28, 2013
Aconcagua: Van Deventer & Team Carry to Camp 2
January 28, 2013