---
Denali - West Buttress Expedition
Mt. McKinley: Okita & Team Carry and Rest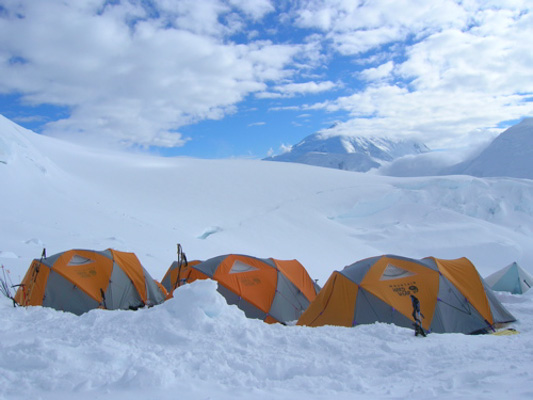 Sunday, May 26, 2013
Bagels fried in butter, slathered in cream cheese and accompanied with smoked salmon and bacon. It was the perfect fuel to start us out on the perfect day. Clear, calm skies prevailed over the Alaska Range once again and shortly after 9:30 we were hoofing it down to pick up our cache at 9500'. Everyone cruised up and down, allowing us a quasi rest day upon our return to camp around 1:00.
A little afternoon training with our crampons and ice axes will serve us well as we start climbing some steeper terrain tomorrow. Motorcycle Hill, Squirrel Hill, the Polo Field and Windy Corner will be some of the areas we'll climb through on our way to caching a bunch of food and supplies at 13,500'. We're looking forward to an exciting and challenging day.
As we were preparing to settle in for our dinner of burritos we got a pleasant surprise when the first RMI trip arrived in camp after summiting on a perfect day yesterday. It is exciting to see our friends, and certainly gets us stoked for the climbing to come. We're hoping for some similar conditions when it comes our turn to go for the summit. But for now, we'll just concentrate on the matter at hand. Getting our cache to 13,500'.
We'll be getting up fairly early in order to get back to camp with time to relax and prepare for the next day.
Until then ...
RMI Guides Brent, Logan, Leah
On The Map
×
Sign Up For Mount McKinley 2013 Emails
{/exp:mailinglist:form}
---
More Updates
Previous
May 7, 2013
Denali - West Buttress Expedition
Next
May 26, 2013
Four Day Summit Climb