---
Mt. McKinley: Okita & Team Carry to 13,500'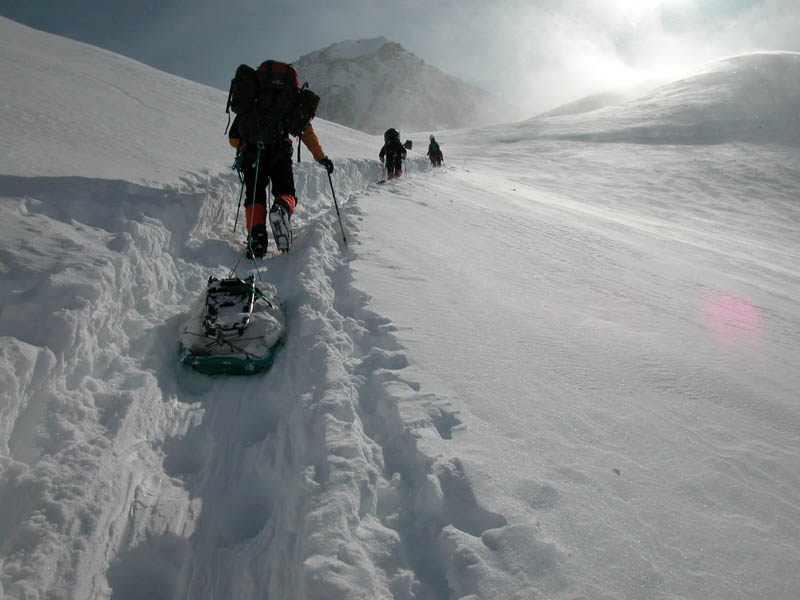 Monday, May 27, 2013
At 6:00 am few climbers are stirring, preferring to crawl out of their tents when the sun is a little closer to chasing the cold shadows of the night away. But we had a big day ahead of us, and knew we would be comfortable having breakfast and hot drinks in our Posh tent.
A skiff of snow barely covered the tents and the gear we left outside, and a few more clouds lingered around for a short while after we lit the stoves, but the sun was also out and we knew it was going to be good enough to make our carry up to 13,500'.
The crew was super quick getting ready this morning, eager, and certainly a little anxious about the climbing to come. After all, it was to be the steepest terrain we've been on. And as I suspected, everyone climbed well. A very slight breeze kept us comfortable until the last fifteen minutes when the wind stopped and things got hot. We got to our cache site at 2:00, a very respectable time by any measure. Everyone was tired but smiling and happy. The descent was just as smooth, allowing us to enjoy a few hours of well deserved R&R before dinner.
Our plan for tomorrow is to move up to 14,200' camp if we're all feeling good in the morning. Otherwise we'll take a rest day. If we do move up, we'll definitely be taking a couple of rest days there, which are key to our acclimatization to the elevation of camp.
After dinner we read all your posts! Thanks so much for the kind words and well wishes. It was another bright spot to an already good day.
Until tomorrow!
RMI Guides Brent, Logan and Leah
On The Map
×
Sign Up For Denali 2013 Emails
{/exp:mailinglist:form}
---
More to Explore