---
Mt. McKinley: Haugen & Team Waiting for Flight to Talkeetna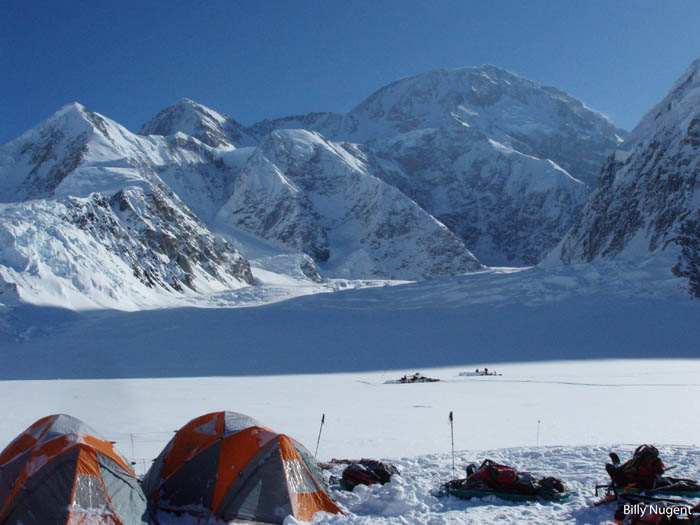 Sunday, June 30, 2013
After waking up at 2 in the morning and making a massive push to get to the landing strip, we are stuck in freezing rain with no hope for a flight today.
Peter- Cannot wait to see my loving wife and daughter Maggie. Had a great trip!
Grasshopper- Dream realized. Love to everyone!
Cindy- Thanks for all of the great comments! Maija, the Internet code is Zootrubie :)
Sandra- Cant wait for Thanksgiving in Hawaii!
Quinn- Save my seat on the couch. Give everyone a hug! See you all soon.
Lance- Cannot wait to see my three girls! Kisses to all.
Steve- To Bill and Lisa, where are the gluten free Pop Tarts? Tania, can't wait to see you as soon as possible my darling!
Uchal- family : I love you all so much and thank you for the understanding and support. I can't wait to see everyone when I get back. I have decided to leave NC this winter so I can spend more time in Roc City. Keep the couches open - I am coming home.
Katie- To Mom and Dad, love you and miss you. See you soon!
Haugen- Love you Amber, Paris, Paige, Brigitte, Jack, Alex! I love you mom and dad and I for sure owe you a Halibut dinner!! Thank you all for the blog comments!
On The Map
×
Sign Up For Denali 2013 Emails
{/exp:mailinglist:form}
---
More to Explore
Mt. McKinley: Van Deventer & Team Take a Rest Day
July 1, 2013