---
Mt. McKinley: Hahn & Team On The Move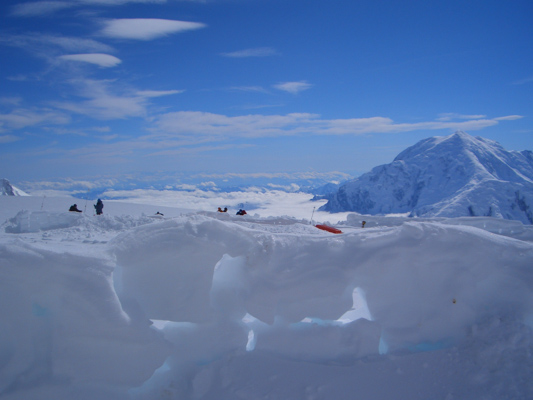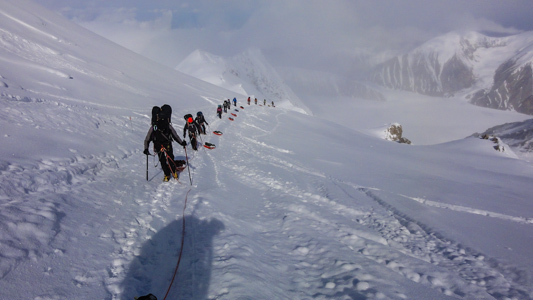 Saturday, July 6, 2013
14 K at last! But we had to fight our way up here, it didn't come easy.
Back down at 11,000 ft in the early hours of the day, it looked as though we might get decent weather. At least, if one was looking up at the West Buttress, there was good visibility and not much sign of wind, if one turned and looked West, however, there was still a massive flow of cloud, as there had been all week, often overflowing and engulfing camp.
We ate breakfast and packed, it seemed especially difficult to get going after having become so deeply dug in for the best part of a week, but we managed. Naturally, as we roped up and and got ready to walk, the clouds swept in and the wind came up. We came full on into strong, steady winds as we topped motorcycle hill and it seemed we found even stronger winds at the crest of squirrel hill. All of this was while inside a big white freezing cloud, so we were getting rimed up and frosty as we leaned straight into the storm to climb higher. On the polo field, we still had wind but we were getting occasional sun breaks. Windy Corner lived up to its name today. Getting past it was the key battle of the day, but we knew if we could pass the corner we could leave the wind and cloud behind. Sure enough, as we reached our cache from yesterday, we'd found a calm and sunny glacier. It took another ninety minutes to get into "Genet Basin" which we reached at 3:30 PM. We were happy to rejoin the teams we'd shared 11 camp with. There were plenty of empty camp sites with good walls, so building our nest at 14,200 ft was made slightly easier. The team was a little weary after pushing through such harsh conditions, but all were excited to be back in the game, to have new and awesome views and to have beat the forecasted "next storm". Yes, that is right, we are in for another one. The western sky was full of wind sculpted wave clouds, as if a fleet of flying saucers were attacking Mount Foraker. By the time we finished dinner, Denali was cloud capped as well and the snow was starting to fall at 14,200.
Best Regards
RMI Guide Dave Hahn
On The Map
×
Sign Up For Denali 2013 Emails
{/exp:mailinglist:form}
---
More to Explore
Mt.McKinley: Van Deventer & Team Wait Out the Winds
July 7, 2013
Mt. Elbrus: Justman & Team Enjoy Rest Day
July 7, 2013