---
Mountaineering Training | Focus on Footwork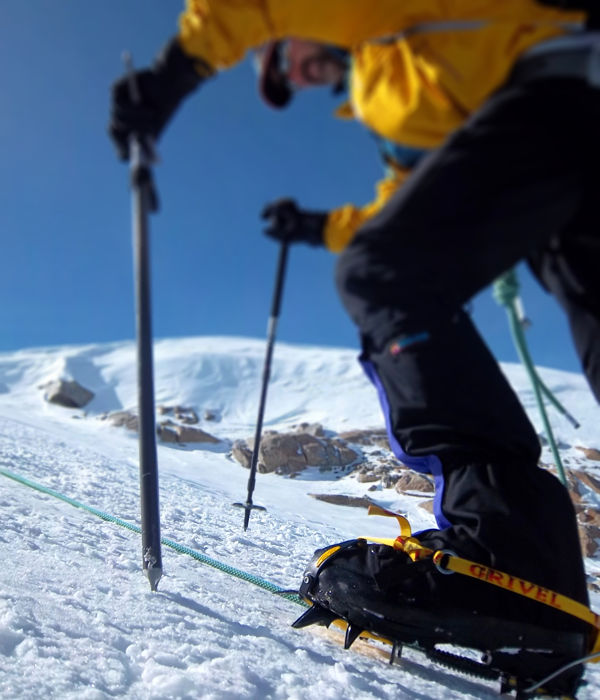 Footwork and the ability to "read the terrain" to find the best footing is an important element of being able to climb safely and efficiently. During our Mountaineering Day School, our guides focus their efforts on teaching the "rest step". The rest step is an important efficiency technique where climbers take small steps, pausing between steps with their weight on their back leg. This is a technique that enables climbers to get a "rest" with each step since their bodyweight is resting on their skeletal system instead of their muscles, effectively giving the legs a quick break. 
An important aspect to the rest step is paying attention to your footwork and deciding on your foot placement: finding the right place to set your foot so that you have full control while still benefiting from the small, efficient movements of the rest step. We commonly ask people to "climb with their eyes" by scanning the terrain and other climbers foot placements ahead to spot the best places to set their feet. Instead of getting fixated on only the next step, it is important to anticipate future terrain and foot placement. Thinking a few steps ahead allows you to see all of your options in front of you.
This is something that can be practiced before coming to climb Mt. Rainier or taking part in any of our climbs and expeditions. When going out on your training hikes, whether long or short, take the time to focus on your footwork. Ask yourself, "How big are my steps? Can I take a smaller step? Is there a better flat place for me to put my foot?" Constantly challenge yourself to find the easiest and most efficient foot placement with each step. Combining your focus on footwork with improvements to your balance and body awareness will give you an added measure of comfort, stability, and efficiency in the mountains, especially when you begin to tire. Remember that flexibility is an important part of footwork since you need to be comfortable in your foot placements even when the terrain is not perfectly flat or level. 
The more comfortable you can become with foot placement, reading terrain and climbing in balance, the less energy you will exert on longer hikes and climbs. Often times we get fixated on the immediate step in front of us. Instead, look ahead and challenge yourself to take small quick steps. By being aware of these footwork techniques on your training hikes will enable you to dance your way up the mountain on your climb!
 
________
Lindsay Mann is a Senior Guide at RMI Expeditions and a NCAA D1 Skiing Champion. She has climbed and guided around the world, from Peru to Alaska. Read about her recent sailing and ski mountaineering trip to Norway's Lofoten Islands on the here.
Questions? Comments? Share your thoughts here on the RMI Blog!
---
More to Explore