---
Kilimanjaro Climb & Safari
Kilimanjaro: Grom & Team at Machame Camp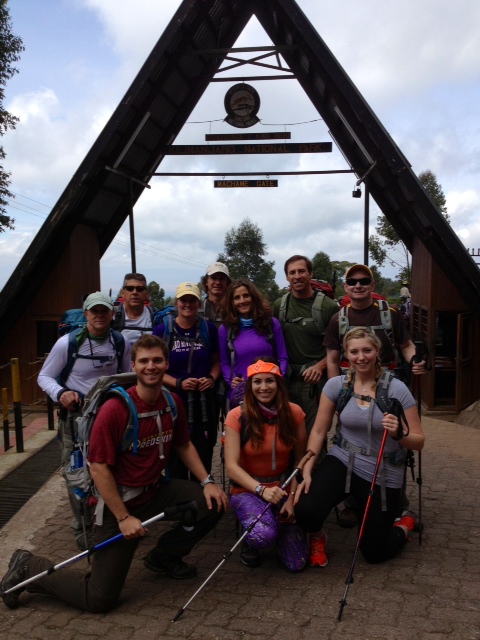 Hello again everyone.
We had a early departure from the Dik Dik Lodge and drove east for about two hours to reach Kilimanjaro National Park. Our drive took us through the rural country side of Tanzania which is full of banana and coffee plantations, markets and plenty of people headed between home and the local water well. It was very surreal to see so many folks who depend on these wells for their water, especially watching them walking with 5 gallon jugs carefully balanced on their heads.
Once at the gate we took a short break to sign in and allow our team to arrange all the loads and hire all of our porters for the seven-day climb. Our team started with 11 climbers and quickly grew as we acquired all the support of cooks, waiters, camp crew and porters and we ended up at a total of 68!
Just before 11 a.m. we set off on the trail that ascended through the forest and slowly climbed all the way up to just shy of 10,000'. It took the team a little over four hours to reach our camp and everyone did fantastic and enjoyed the hike.
The team just finished dinner and are all comfortably resting in our warm sleeping bags- thanks to the hot water bottles our gracious crew prepared for us.
Not quite roughing it yet!
RMI Guide Casey Grom and crew
On The Map
×
Sign Up For Kilimanjaro 2013 Emails
{/exp:mailinglist:form}
---
More Updates
Previous
August 20, 2013
Four Day Summit Climb