---
Aconcagua Stevens and Team Rest at Plaza de Argentina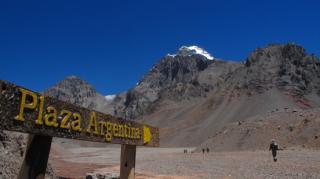 Well, after three days of hard work on the approach to our climb, we are finally taking some deserved time off. This is the first of our "rest days" which we are using to relax, refuel, and acclimatize. The team is loving it.
We started the morning with some sleeping in and a leisurely breakfast of loaded egg quesadillas, while watching a few flurries drift off of the upper mountain. After the sun started to heat our base camp weather-port and some digesting had taken place the team prepared their gear for our carry to Camp 1 tomorrow at 16,200'. The packs are heavy but the spirits are high as the mountain looms above.
For the rest of the evening the name of the game is chilling…..playing cards, eating snacks, taking in the sights, and trying to guess what our dinner could be by the delicious smell coming from the kitchen. Stay tuned as we continue our ascent tomorrow!
RMI Guides,
On The Map
×
Sign Up For Aconcagua 2014 Emails
{/exp:mailinglist:form}
---
More to Explore
Aconcagua: Beren & Team Make Their Move to High Camp
January 3, 2014