---
Aconcagua: Stevens & Team Carry to 16,400'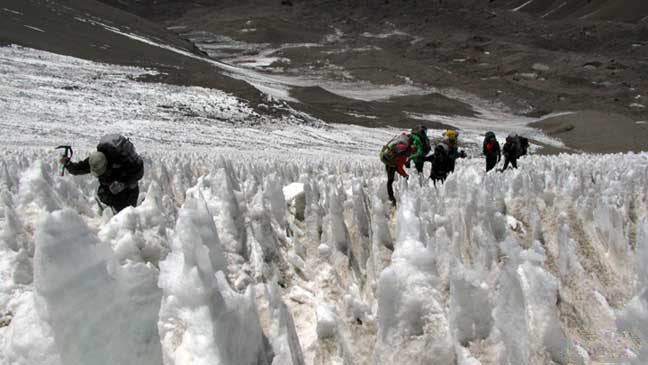 Today was a beautiful day here on Aconcagua, with clear blue skies and lots of sunshine for our carry up to Camp One. We had quite a bit of wind here in base camp last night and were worried that we might be walking up into the teeth of it today, but the weather gods smiled on us instead.
We were walking just as the sun came into camp, and were able to make steady progress through the broken and rocky morainal slopes above us. Soon enough we came to the heinous scree slope that guards the bench of Camp One, and the team made short work of the last few hundred feet.
We dropped our food, some equipment, and some gas for our launch towards the upper reaches of the mountain, and were headed down soon thereafter. All the luggage is currently awaiting our return, but tomorrow we'll take a hard-earned rest day. The team continues to climb strong, hydrate well, and eat hearty portions, which will pay dividends when we head up higher on this beautiful mountain.
Thanks for all the kind words, and keep your fingers crossed for continued good weather!
RMI Guides Garrett, Ben, and Nick
On The Map
×
Sign Up For Aconcagua 2014 Emails
{/exp:mailinglist:form}
---
More to Explore
Aconcagua: Beren & Team Make Their Move to High Camp
January 3, 2014