---
Aconcagua: Stevens & Team Settled in at Camp 1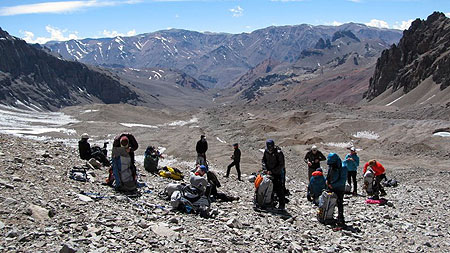 Today the team awoke to blue skies and calm winds for our last basecamp breakfast before we begin to ascend the upper slopes of Aconcagua. After some coffee and a few last minute preparations we were on our way to a night at 16,450'.
As we set off up the moraine with the sun at our backs everything seemed perfect. The team made short work of the day and before too long we were on the steep scree just before Camp 1. Once we arrived and everyone had enjoyed a snack, it was back to work establishing our camp for the next three days. Now after a solid tortellini meal we are all stuffed into our -30 degree sleeping bags awaiting the beautiful stars of the Southern Hemisphere.
Tomorrow we carry a load of gear to over 18,000' and the team is ready for it. You'll here from us soon!
RMI Guides Garrett, Ben, and Nick
On The Map
×
Sign Up For Aconcagua 2014 Emails
{/exp:mailinglist:form}
---
More to Explore
Aconcagua: Beren & Team Recap Summit Day
January 5, 2014
Aconcagua: Beren & Team Descend to Plaza Argentina
January 5, 2014