---
Aconcagua: Justman and Team Settle into Base Camp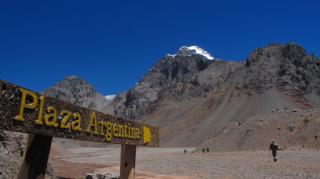 The time has arrived. We are nestling into Plaza Argentina Base Camp. The weather has been too nice on our trek in. It certainly explains why there is a sun on the flag of Argentina. We wish there was a swimming pool at base.
The entire team is doing very well and it is nice to unload all our gear knowing we don't have to pack up duffels for the mules. Speaking of mules, we want to thank our cowboys for helping us get to BC. The boys from Grajales are the very best. Second to none and they are part of the RMI family.
It's time to relax…we will keep you posted from 13800 feet.
RMI Guide JJ Justman and Team
×
Sign Up For Aconcagua 2014 Emails
{/exp:mailinglist:form}
---
More to Explore
Aconcagua: Justman & Team Enjoying Life at Casa de Piedra
February 6, 2014
Guide Shack: Shooting In Cold Environments
February 8, 2014