---
Kilimanjaro: Martin & Team at the First Camp - Machame Camp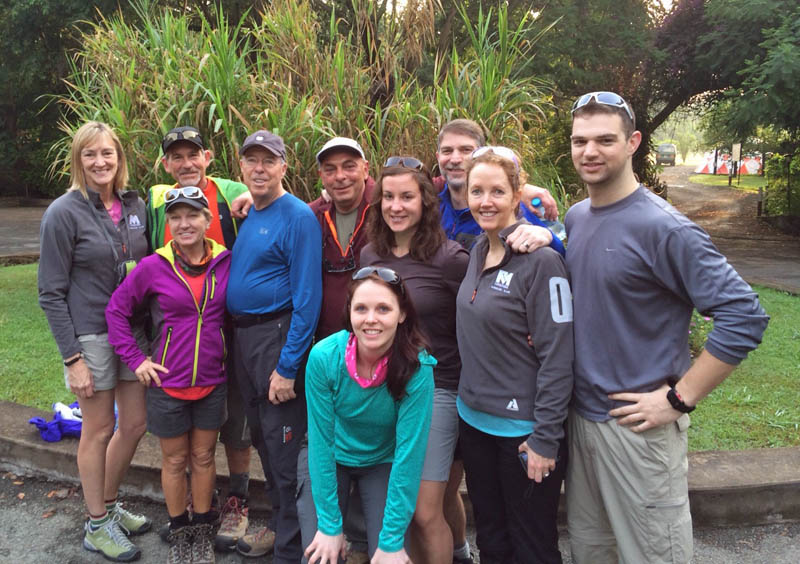 Greetings from Machame Camp,
The missing bag finally showed up last night and we have one very happy climber. For the last few days the weather has been a little unstable, with some heavy rain showers in the lowlands. But this morning, just as we were approaching the mountain, the clouds started to thin and we saw Kilimanjaro for the first time. After people got over the initial surprise of how big it looks from a distance, it became obvious that the unstable weather we had in town, had covered the mountain with a white blanket of snow. Usually you have to look pretty hard to find snow on the mountain, so this was a pretty cool sight to see. It won't affect our climb though, as most of it will melt before we reach high camp.
Having left our hotel this morning right on time, we were at the park gate before any of the other climbing groups showed up. We made quick work of taking care of the permits and registration. And after the final porter's bag was weighed, we were off and walking.
The weather continued to improve all day and we had perfect temperatures all the way to camp. We walked into camp at 3:30 and got settled into our new accommodations at 10,000'. Everyone did great today on the trail. This group showed up well prepared, and ready for the challenge ahead.
We'll send out another update tomorrow when we get to Shira Camp.
Best,
RMI Guide Jeff Martin
On The Map
×
Sign Up For Kilimanjaro 2014 Emails
{/exp:mailinglist:form}
---
More to Explore
Kilimanjaro: Martin & Team Spend the Day Preparing for the Climb
February 10, 2014
Aconcagua: Justman & Team at Camp 1
February 11, 2014