---
Mt. McKinley: Okita & Team's Good Living at 14,200'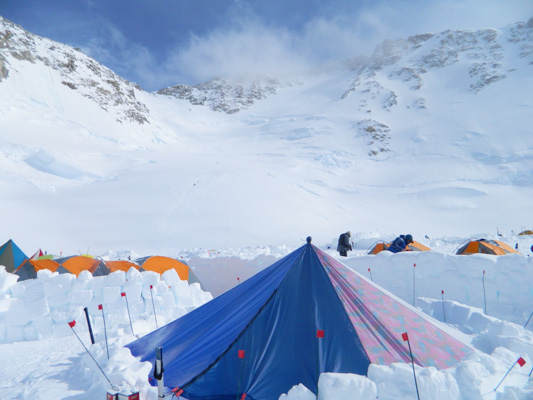 May 30, 2014 - 11:12 pm PT
The view from the vestibule this morning was not what I'd have called heartening. Clouds and snow dominated the picture, adding visual texture to the soft but incessant howl of the winds coming from the Buttress above. We could still see most of the landmarks around camp, but in the shadow of the early morning it didn't look promising for our carry. So, after talking with Leah and Nick, I happily crawled back into my warm sack.
We later awoke at the more reasonable hour of 9:00 to get the stoves fired up and start our day. No one complained about not climbing. I think having a real rest day was welcome by all.
So what do we do on these days? First of all, we hang out in the Posh an extra hour or two, then we cut a few snow blocks to further reinforce the walls we built around our tents yesterday. It was impressive seeing the team rally and build some really good walls. I think everyone was feeling good and happy to be doing something. Twelve hours in a tent can do that to a person.
But a rest day is a rest day and some good tent time is a must. A group was playing an animated game of BS next door to us in the Posh. Others were catching up on things on the radio. Naps are never a bad thing, and in this tent a few games of cribbage were contested. We even got in a bit of rope craft review and knot tying practice.
Such is life for the climber hanging out at 14,200' waiting for Mother Nature to offer us a little friendlier weather to continue our climb up the flanks of one of her most beautiful mountain creations.
We're all doing well and happily waiting this little set back out.
Cheers,
RMI Guides Brent, Leah and Nick
×
Sign Up For Denali 2014 Emails
{/exp:mailinglist:form}
---
More to Explore