---
Mt. McKinley: Okita and Team Visit the Edge of the World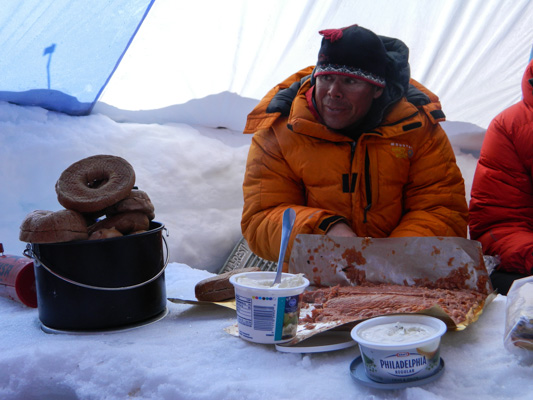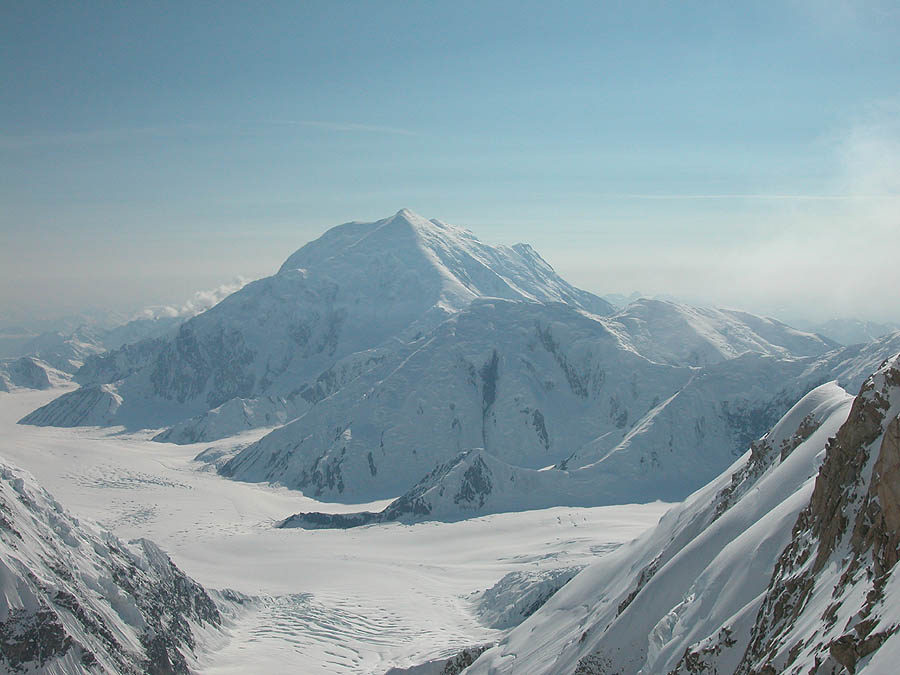 June 1, 2014 11:47 pm PT
It has been a perfect rest day for us. Not perfect climbing weather, but plenty nice at camp to enjoy the day. Although many climbers took advantage of the relatively good weather to go for 17,200' camp, many others were suspicious of the cloud cap over the summit that threatened winds on the Buttress. In fact, no guided groups went to 17,200' today. But we had no such decisions to make. Instead, we slept in until 9:00 then, as we've done before, and feasted on a sumptuous brunch of smoked salmon, bagels and cream cheese. What decadence!
The guides had some chores and logistics to sort out, then we took the short tour east to the Edge of the World to take in the view from 14,000' overlooking the Northeast fork of the Kahiltna Glacier, and affording views way down the glacier to where our very first camp of the expedition was.
We've done a lot of climbing since then, and have developed as a strong team caring for the well being of each other as much as ourselves. It's nice seeing the kind of support these guys give each other.
Tomorrow brings us our biggest challenge of the trip, and everyone shares the mixed emotions of excitement and nervousness. We got through the headwall and fixed lines yesterday, but the Buttress itself is another beast. As is ascending the 3000' to 17,200', a new altitude record for many of us.
That this part of the route is the guides' favorite part attests to the aesthetics of the climbing, and I think the team will get excited when they get on it.
We're looking forward to a good, hard day. Because it will be a long day for us, which may even be followed by another even harder day (the summit?), this may be the last post of any length for a while.
Wish us luck!
RMI Guides Brent Okita, Leah Fisher, and Nick Hunt
×
Sign Up For Denali 2014 Emails
{/exp:mailinglist:form}
---
More to Explore