---
Mt. McKinley: Jones and Team So Happy Together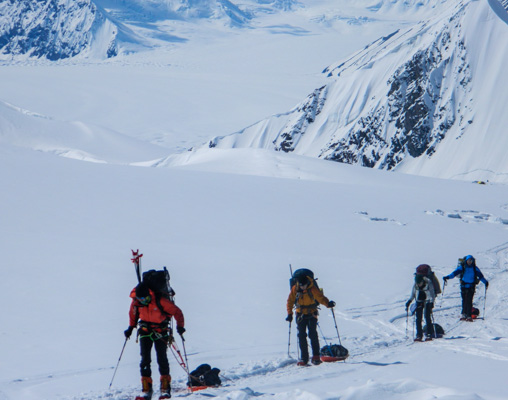 Thursday, June 5, 2014 5:23 PM PDT
It's always a little hard to leave the food you love in a cold dark hole on the glacier…wondering when you can get back there, whether it's going to snow so much that you can't find it again, or if the industrious ravens will dig into it. Fortunately for us, none of the above were issues today, and we completed our cache retrieval without incident.
We started the day with snow showers and overcast skies, and enjoyed a leisurely breakfast of bacon, egg and cheese quesadillas with coffee and cocoa (clearly, we're not starving). The food was just the fuel we needed for our two hour mission - we fired downhill, dug up the group gear and food we cached two days ago, and packed up our sleds for the trek back to camp.
The snow continued to fall as we pulled into camp, within 15 minutes we had all the gear stowed and were tucked into our tents, as warm and dry as we can hope to be. Now it's time for a little lunch indulgence with the treats we brought, continued hydration, and resting from the output over the last few days. Tomorrow's plan is a little up in the air - we'll see if the weather cooperates for a carry or if we take a rest day here. Keep it locked in for more updates from the team!
RMI Guides Garrett Stevens, Tyler Jones, and Bryan Hendrick
×
Sign Up For Denali 2014 Emails
{/exp:mailinglist:form}
---
More to Explore
McKinley: Beren & Team are Ready to Fly
June 5, 2014
Mt. McKinley: Okita & Team Down from 17,200'
June 6, 2014