---
Mt. McKinley: Jones & Team Enjoy a Day of Leisure, Training, and Preparation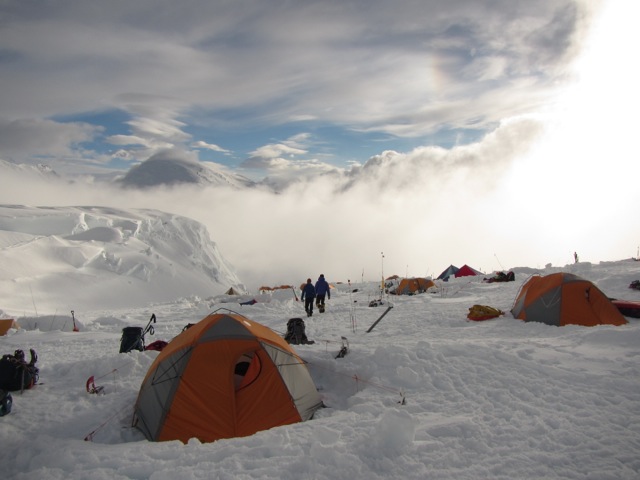 June 6, 2014 - 8:37 pm PT
Today we woke to a grand flurry of climbers packing and moving up to the fourteen thousand camp. For us though, it was a day of rest and we crawled out of our sleeping bags after the sun warmed the air in the tents. We ate another great breakfast of bagels, cream cheese, and bacon, firing our spirits for a day of organizing our gear for tomorrow's carry up to the 14,200ft camp. We'll once again be separated from a few of our goodie bags and the gear we will use on the upper mountain.
We had a great review of advanced crampon technique, ice axe use, and general efficiency skills needed for our continued success at altitude as we move higher up. The real climbing starts from here, and we'll don our crampons and ice axe for climbing steeper, more technical terrain and entering the more challenging altitudes.
With this day of rest, light activity and acclimatization our carry should be no sweat for our crew. Send some more nice weather our way and we'll let you know when our cache has landed at its next destination!
Cheers,
RMI Guides Tyler, Garrett, Bryan, and the crew
On The Map
×
Sign Up For Denali 2014 Emails
{/exp:mailinglist:form}
---
More to Explore
Mt. McKinley: Frank & Team Pick Up 9,900' Cache
June 6, 2014