---
Mt. McKinley: Jones and Team Acclimating in the Arctic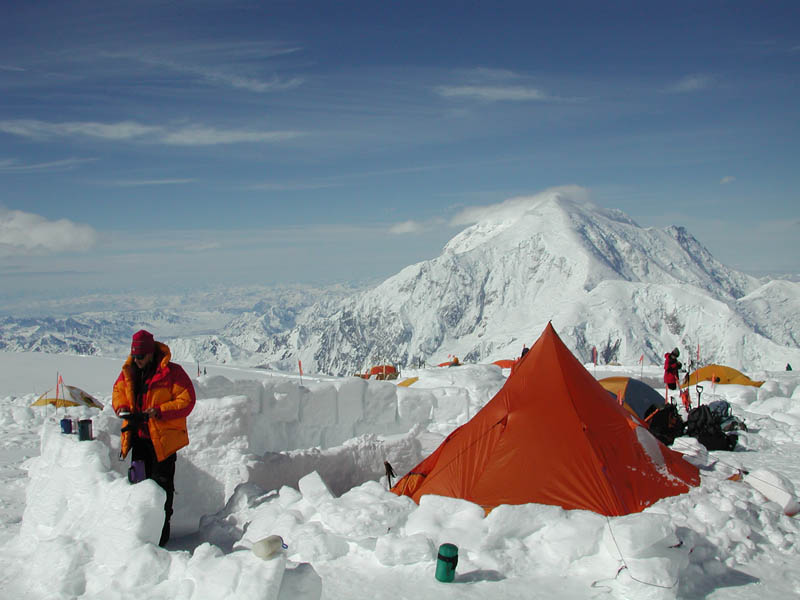 Tuesday, June 10, 2014 - 4:10 PT
The first real weather day for us this trip. The overnight temps dropped to -7F not including the wind chill. Our early morning plans to move a few items for caching up to our high camp were foiled by the high winds—35mph winds at 17,200' and negative temps! Not to mention the squalls of crystalline snow flakes flying in all directions.
The sun peered out from the flanks of the west rib shedding enough solar rays to warm the tents. With the brim of a ball cap we scraped the tent walls free of the frost of our night's breathing. Lighting the stoves in our kitchen tent soon brought the smells of coffee, bacon, and cream cheese with bagels.
This motivated our spirits to make our camp a fortress. We spent two hours building large block walls and remodeling the bathroom—which, I might add, could be the best one currently on the mountain featuring a snow free enclosed taj ma-stall! Not to mention the fact that RMI Guide Bryan Hendrick took on a project to expand and improve an igloo just outside camp…soon we'll have a monstrous underground lair for additional resting and wind protection. Sick!
We are now taking a rest, drying out and warming up after a great session. The wall building serves as great acclimatization through light exercise, team building, and making camp even better for this time we're spending in this harsh Arctic environment.
We will keep our hopes high for lighter winds, less snow, and a bit of warmth.
RMI Guides Tyler Jones, Garrett Stevens, Bryan Hendrick, and the crew!
×
Sign Up For Denali 2014 Emails
{/exp:mailinglist:form}
---
More to Explore
Mt. McKinley: Beren & Team Remain at 7,800'
June 10, 2014