---
Mt. McKinley: Haugen and Team Move to 11,000' Camp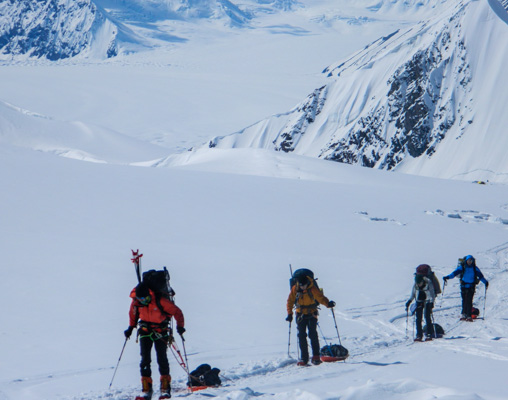 June 16, 2014 - 8:03 pm PT
We arrived at our 11,000' camp in the late afternoon today. Our plan was to leave early this morning to head up here, but the weather was pretty terrible. White out conditions and strong winds kept us in the tent all morning. Just after noon, the weather started to get a bit better and we got word that the conditions were better higher up. We heard a couple of planes that take people on scenic tours overhead, so our suspicions of clear skies above were confirmed. We packed up our camp in record time and headed uphill. The conditions grew steadily better the higher we went and the traveling was actually pleasant.
We arrived in camp way earlier than we predicted as our team has been very steady and strong as we travel up the mountain. We built a storm fortified camp and are just finishing up a well earned meal.
Our plan for tomorrow is to do a back carry. This means that we will go back down to dig up our 10,000' cache and bring those supplies up to our new camp. We will hopefully have the weather to complete this task early so that we can rest up for our days at higher altitudes.
RMI Guide Mike Haugen and RMI Team "The Ocho"
On The Map
×
Sign Up For Denali 2014 Emails
{/exp:mailinglist:form}
---
More to Explore