---
Ecuador Volcanoes: Walter & Team Back to Quito after Successful Cotopaxi Summit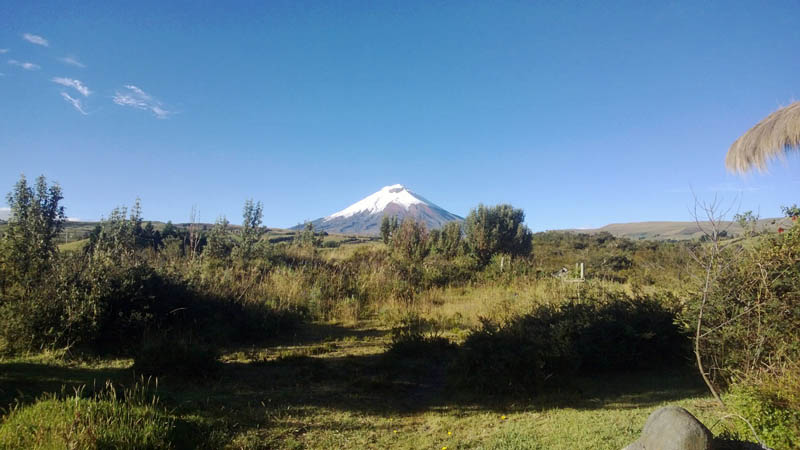 Well, we earned this one. We woke up early, at 10:30pm, to eat 'breakfast' and don our climbing clothes. At first it was warm and calm at the hut; soon it was foggy with light rain. We weren't sure what to expect. The first hour was dry and very warm. The last hour to the summit was anything but. On our ascent of Cotopaxi, we climbed through various intensities of rain, freezing rain, sleet, and snow. The winds picked up in third hour of our climb, and were persistently strong and gusty, strong enough to make us work even harder to maintain our balance. Our climbers were as persistent as the winds though, and eight hours after starting out we were standing on the summit of Cotopaxi (19,347')! The summit celebrations were short-lived because of the weather. After a tiring decent, we were all back at the parking lot, safe and sound, twelve hours round trip.
For the bulk of the climb we were all covered in rime ice; our ropes looked like frozen fire hoses, and we were glad to have helmets on when a flapping jacket hood would clock you from behind. We gave up any semblance of a view from the summit for the opportunity to test our merit in full alpine conditions. And we came away with no more than a few blisters and some tired climbers.
I'm proud of our Ecuador Volcanoes team for climbing hard all day today…we were the only team on the mountain today, and we even got a summit! Now we're en route to Quito, anticipating hot showers and well-deserved cervesas (with maybe a nap or three thrown in there) before meeting for a celebration dinner tonight. Great job team!
×
Sign Up For Ecuador 2014 Emails
{/exp:mailinglist:form}
---
More to Explore
McKinley: Hahn & Team Make Final Preparations
June 26, 2014
Mt. Rainier: June 27th - UPDATE
June 27, 2014