---
Mt. Elbrus: Grom and Team Practice Mountaineering Skills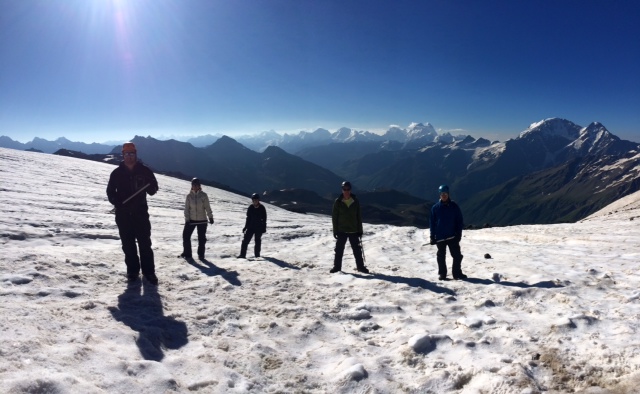 Hello from Mt. Elbrus -
Today the team got up a little early to make use of the firm snow to practice using our crampons, and we had a refresher on self-arrest too. After our morning session we enjoyed breakfast and then relaxed near camp chatting with other climbers till lunchtime. Shortly after lunch we had our summit talk where we discussed all aspects of the climb to come and then spent the remainder of the afternoon packing and finalizing all of our gear we will need for the climb.
Everyone has their face mask ready in case the wind howls like it did on my last climb. And we even managed to play a game of trivia where the winner gets to make a satellite phone call from the summit. So if there's someone out there who's favorite musical group is Krewella and loves Simba. Then expect a call around 1am. Which will be roughly 8:30-9am for us.
We'll check in again tomorrow after our big climb.
Wish us luck!
RMI Guide Casey Grom and crew
On The Map
×
Sign Up For Elbrus Southside 2014 Emails
{/exp:mailinglist:form}
---
More to Explore