---
Mt. Kilimanjaro: Hahn and Team on the Summit!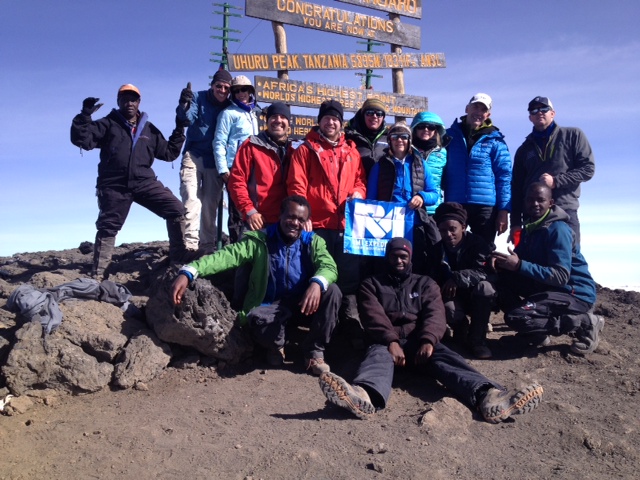 Hey, this is David Hahn with Kilimanjaro team and we are on the summit! We are at Uhuru which is 19,341 feet above sea level. And we are in spectacularly good conditions. And as an added bonus, we have the summit all to ourselves. The whole team is up here and the wind is blowing about one and a half miles per hour. And it's extremely pleasant. [Broken] ...happens to be cloaked in clouds right now, but it's still beautiful. We're enjoying being up here stepping into the throat of this great volcano. We'll let you know when we're down safe but all is going very well now. Thank you.
RMI Guide Dave Hahn
Dave Hahn Recaps the Summit Day:
We left Barafu Camp shortly after one AM and set out for the summit of Mount Kilimanjaro. It was an absolutely splendid night for climbing as there was no wind and no cloud above. There was also no moon, so the stars and meteors and Milky Way were prominent and mesmerizing. At first it wasn't terribly cold, but of course as we gained altitude and got closer to dawn we had to contend with the big chill. We made steady progress and watched sunrise from about an hour below the crater rim. There was still no view of Africa, other than the cloud sea far below us. We reached Stella Point on the crater rim at 8 AM and made our way around the rim to Uhuru -the high point- by just after nine. It was calm and comfortable up there at 19,340 ft and so we stayed for forty minutes. Descent to Barafu took until 1 PM. Once there we packed our gear, ate a fine lunch and at 2:30 continued our descent toward the cloud sea. All were a little weary (understandably) but we made good progress in any event reaching Mweka Camp at 10,000 ft by 6 PM. It was quite a journey, from the ice and glaciers down through numerous transition zones to the start of the forests and jungles. The team was optimistic about sleeping straight through this night and at last conquering our collective jet lag.

RMI Guide Dave Hahn checks in from the summit of Mt. Kilimanjaro, Tanzania.
On The Map
×
Sign Up For Kilimanjaro 2014 Emails
{/exp:mailinglist:form}
---
More to Explore
Mt. Elbrus: Northside team tours Moscow
August 3, 2014