---
Denali Expedition: Okita & Team Take Another Storm Day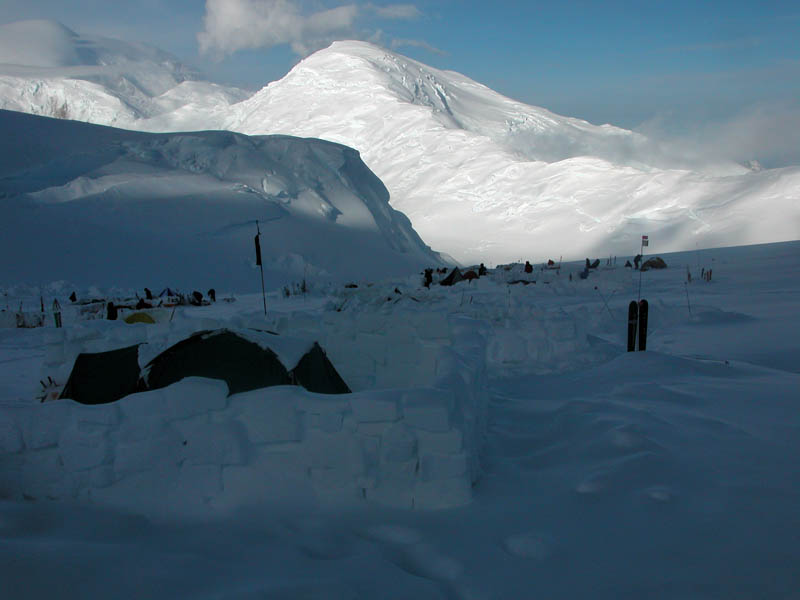 May 29, 2017
Another two feet of snow fell on us last night, and it was still snowing when I awoke to check the weather throughout the morning. So, another storm day at 11,200' Camp.
With all this snow dreams of skiing the deep 'pow' entered all our skiers' brains, but the only face shots we got was when the wind caught the snow we were shoveling from our tents and blew it back in our face. Oh well.
The snowfall intensity was remarkable. Fifteen minutes after clearing your tent it appeared that you had done nothing.
Since we had enjoyed a great rest day yesterday, I thought it better that we stretched our legs just a little today. So, we roped up for a short stroll down to 10,100' where we helped out our team behind us and carried some of their cache up to camp for them while they were taking a storm/rest day at 7,800'. Loads were light and in a couple of hours we were back at camp.
An afternoon relaxing back in the tents topped off our little walk, leaving the team feeling pretty darned good at dinner.
We're all keeping our fingers crossed for tomorrow. Send us positive thoughts for the weather. And thank you for the blog replies. We've gotten one batch sent to us so far and everyone loves hearing them.
Good night from 11,200' camp, hopefully for the last time.
RMI Guides Brent, Christina Dale and JT Schmitt
On The Map
×
Sign Up For Emails
{/exp:mailinglist:form}
---
More to Explore