---
Ama Dablam: Elias & Team Return to Base Camp, Unable to Summit
Hello from Ama Dablam Base Camp!
Are you unsuccessful when you don't reach the summit of one of your objectives?
Well, I think that if you have carefully prepared for it and put yourself in the best position for it, despite little odds in our favor according to the forecast, and you make the decision to head down because the one thing you can't control is totally out of control, then yes, you're successful.
It was windy when we arrived at our High Camp, it was windy throughout our short stay, and it was like a freight train when it was time to go. There's no way we could fight on the steep, cold and dangerous slopes of Ama's southeast ridge what "Eolus" had in store for us. So the only thing we could do, knowing that we had waited until the very last day, was to be smart and head down. Undefeated, because in the mountains what counts is telling the story. But sure disappointed to not to have been able to climb just a bit more.
But oh well, we're now back to the safety of our lodge at Base Camp, and we'll stay our descent tomorrow, eager for thicker air and why not, to start closing up our Himalayan adventure.
×
Sign Up For Ama Dablam 2018 Emails
{/exp:mailinglist:form}
---
More to Explore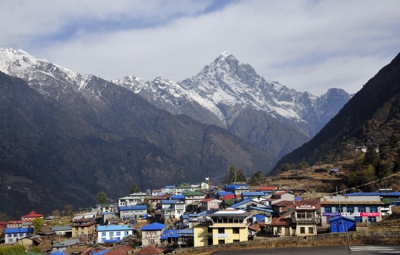 Ama Dablam: Elias & Team Await Flight from Lukla
November 19, 2018