Posts for Guide News
Posted by: Billy Haas, Caleb Ladue, Pete Van Deventer, Seth Waterfall, Steve Gately | December 03, 2014
Categories: *Guide News *Guide Grant
Day three of the AMGA Rock Guide Course started a little less comfortably than we had hoped. Our course's venue was located in the heart of central Oregon and early November often offers a mixed bag of weather. For the four of us who were camping near the park, this meant we awoke to find ourselves shivering and scraping a light layer of frost off of the inside of our tents.
As mountain guides, we often deal with inclement weather, but even our familiarity with discomfort didn't stop all the grumbling that morning as we made coffee. Luckily for us, our instructor team was equally apprehensive about climbing in freezing temperatures and had called a quick audible. The day's goals shifted to learning rescue techniques and skills in the 'comfort' of a covered cooking space.
After just finishing my first year with RMI, I was excited to see how our in-house rescue training would compare to the official AMGA equivalent. As the morning progressed, the instructor team grew equally excited as it became clear that much of the rescue curriculum was review, albeit, made a bit more difficult by the vertical orientation and the small working zones that the rock environment demands. Despite the cold temps and biting wind, we were able to fly through hauling techniques and knot passes. That morning's training concretely highlighted for me how well RMI trains their guides. Because of our familiarity with many of the techniques, we were able to open the book and learn a couple new tricks and subtleties that may have otherwise been lost on a less experienced crew.
Once we had mastered new slack management tricks and practiced the variety of haul systems, we changed venues and tried to warm ourselves up with some rope ascending. Ascending is one of those skills that any basic crevasse rescue course will teach you, yet even our most experienced guides were able to walk away with a new trick or two. This again speaks to the level of experience and expertise that our instructors brought to the course.
The day's training finished with a variety of skills that we will be tested on in our next course. A large part of the AMGA course curriculum is a series of examinations that aspiring guides go through to prove their proficiency. For many, these examinations can be stressful and difficult. However, this course has shown me that as long as I continue to work with the incredible fellow guides and instructors that make up the AMGA and RMI, this will be a process I am excited to continue on.
With my first year at RMI finished and my first AMGA course completed, I am more enthused than ever at the prospect of continuing my education. Without a doubt, my most profound take away from this course has been how much of a pleasure it is to work with professional mountain guides. In all my time in the mountains, I've never found a group who equals the enthusiasm and commitment to perfecting their craft that RMI guides have.
Finally, I want to echo Seth's thanks to RMI for investing in their guides and allowing these courses to happen. I'm already looking forward to my next AMGA course and my next season with RMI!
_____
Caleb Ladue just finished his first season guiding with RMI. He grew up in Vermont, where he learned to love the mountains for all that they offered, and that passion has taken him throughout the US and to the Peruvian Andes. He'll be hanging his hat in Jackson Hole this winter, and will return to Mt. Rainier in the Spring, excited to share his passion with many more climbers!
---
Posted by: Steve Gately, Seth Waterfall, Pete Van Deventer, Billy Haas, Caleb Ladue | November 29, 2014
Categories: *Guide News *Guide Grant
In late October, RMI guides Pete Van Deventer, Caleb Ladue, Billy Haas, Steve Gately and myself took part in a Rock Guide Course conducted by the American Mountain Guides Association. The course was contracted and sponsored by the RMI Expeditions/First Ascent Guide Grant, and the instructors included former RMI Guide Jeff Ward, RMI and Colorado Mountain School Guide Mike Soucy and CMS Guide Mark Hammond.
As a guide staff, we felt very fortunate that both RMI and the AMGA instructors were able to plan the course during a timeframe that allowed us to work a full summer schedule on Rainier and still have a few weeks to prepare and train in the rock realm after a long season of alpine climbing in the Cascades. After completing my Ski Exam and becoming a Certified Ski Mountaineering Guide in April of this last year, I am personally very grateful to RMI for sponsoring the course, which allowed me to complete a second financially committing segment of my
continuing education and progression toward full IFMGA certification.
The 10-day course took place at Smith Rock State Park near Bend, OR. Over the years I have spent a fair bit of time climbing at Smith and I knew the venue would provide some unique challenges from both a climbing and guiding perspective. While Smith is known for it's high quality sport climbing, on this course we would be dialing our focus more towards traditional climbing. Lucky for us, many of the 'trad' routes at Smith are notorious for having less than stellar rock quality, adding another complex element to the guiding objective.
The course kicked off on the last week of October. The weather looked to be good for the first couple of days, so we postponed the ground-work until a later date, and got right into the climbing. For me, the learning process brought me right back to my apprenticeship days at RMI, when I had to change the filter on my perspective. I quickly learned to transition my thinking from that of an advanced recreational climber to approaching a climbing objective from the viewpoint of a guide. It's a subtle change, but it makes a huge difference in your mindset, risk management, and the decision making process.
The instructor team did a great job of leading by example. They started right off with a very professional and competent course opening discussion and several demonstrations on belaying and anchoring techniques, as well as various ways to increase both guide and client security. As outdoor professionals, we don't sit still well or for very long, and so were very thankful when we even got to climb a few pitches at the end of the first day!
The fair weather held on into our second day, but as the forecast looked to be deteriorating later in the week, the instructors opted to keep us in the field climbing in the event that we got shut down by rain and wind over the following days. This strategy worked quite well, as we were able to practice more of the techniques and rope trickery we learned the previous day while spending time off the ground in the vertical orientation.

By nature, guides tend to be kinesthetic learners, and as a group we all commented on the fact that we were able to process and retain the information with higher success if we could get our hands on the rope.
After the first few days, the course continued to ramped up both physically and mentally. For me it just got better as it went on, and the final day was by far the best, culminating in a lead of the aesthetic final pitch of Zebra Zion.

I can't say enough about the both the quality and caliber of the AMGA instructors, and I'd like to especially thank my co-workers for a great time and creating an environment that was positive and fun, all while staying engaged and eager to learn every day.
Finally, a big thank you RMI, for investing in your guides and organizing this opportunity to allow us to further our professional education!
_____
Seth Waterfall has been guiding trips for RMI for over a decade, and leads trips to destinations the world round. He lives in Enumclaw, WA, were he spends his spare time skiing, road biking, and climbing throughout the Cascades.
---
Posted by: Robby Young | October 21, 2014
Categories: *Guide News *Guide Grant
As a professional mountain guide, not only does my job involve spending most of my days in the mountains doing what I love, but also includes a substantial amount of continued coursework and education in order to review and enhance my knowledge and skills. This winter, with the help of the First Ascent / RMI Expeditions Guide Grant, I was able to participate in the American Avalanche Institute (AAI) Level 3 Avalanche Course, completing the highest level of avalanche certification in the United States.
The course was held near my home in the Wasatch Mountains of Northern Utah, home of the "Greatest Snow of Earth"; a claim to fame that surely proved true for the duration of the class. Multiple feet of snow fell over the course of the week, resulting in a widespread natural avalanche cycle that provided us with a fantastic setting for learning, while we observed large destructive avalanches in real time.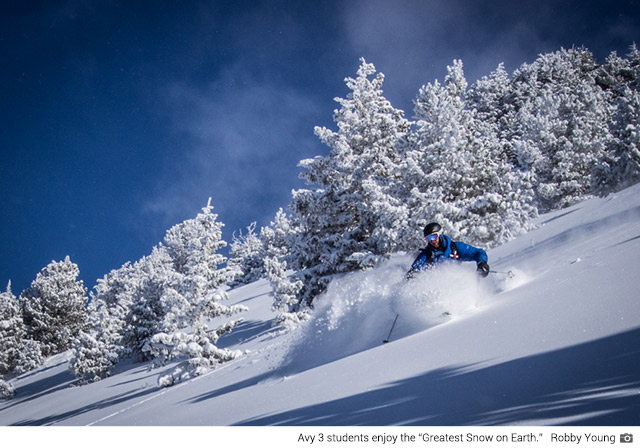 The course covered a wide array of topics important for guiding climbers and skiers in avalanche terrain, including snowpack assessment (through snowpit investigations), advanced backcountry travel, mountain weather forecasting, and professional forecasting applications for recreational guiding operations, ski areas, or highways.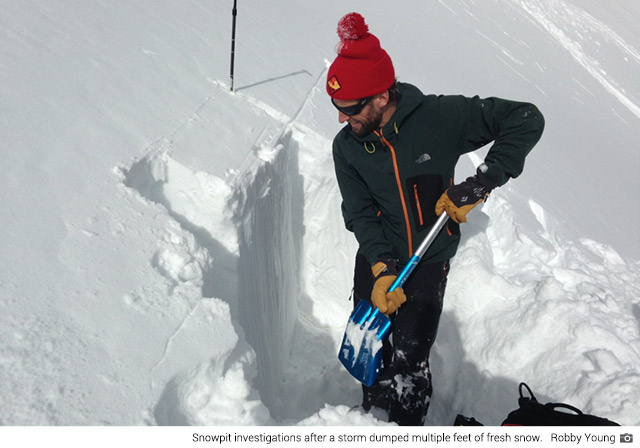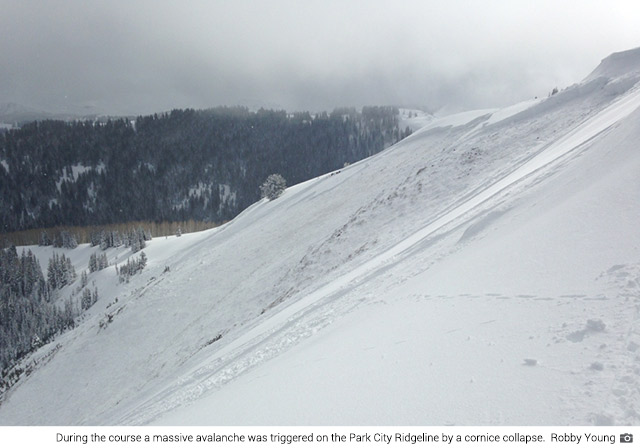 Completing the highest level of avalanche education in the US has been a long-time goal of mine and I felt a great sense of accomplishment in doing so. I look forward to using these skills in guiding future RMI climbers around the world.
_____
Robby Young is a Michigan native, graduate of the University of Michegan (Go Wolverines!), and Utah transplant. Robby guides around the world, from Alaska to Peru, for RMI. In the winter, Robby patrols at The Canyons Resort and calls Park City home. When he isn't wearing a uniform, his feet are in ski boots, chasing steep lines and powder wherever they may be found. Robby will be headed to Mexico later this month, and to Mt. McKinley in May.
---
Posted by: Alex Barber | October 01, 2014
Categories: *Expedition Dispatches *Guide News
Elevation: 26,759'
Alex called from the summit of Manaslu on October 1st 10:50 a.m. Nepali time (September 30th 10:32 pm PT)
"It was a really chilly morning. Keeping moving on the summit to keep my fingers and toes warm. There are some clouds starting to come in and it's starting to snow. Hoping to go all the way down to Basecamp today. Looking forward to some good food and a decent mattress. The pace was pretty grueling: Base to Camp 2 in 8 hours, Camp 3 to Camp 4 in 3 hours and 45 minutes, and Camp 4 to summit in just over 4 hours. I have the summit almost entirely to himself. Just one other climber up here. Pretty cool. Going to start making my way down. I'll check in when I hit base. Ciao."
Email from Alex received October 1st 8:25 pm Nepali time (7:40 a.m. PT)
I stood on the peak of Manaslu at 11am on October 1st! Funny thing is that exactly one year ago to the day I was at the summit of Cho Oyu.
Tired and cold, I just arrived back at Camp 3. I'm going to have something warm to drink and bundle up here for the night. I'll post something more descriptive tomorrow from Basecamp.
To those who have been following my trek, thanks for all your thoughts (and words) of encouragement.
---
Posted by: Alex Barber | September 29, 2014
Categories: *Guide News
Last time I posted I was waiting out bad weather at base camp. Prior to that, I stayed in camp 3 (22,300ft) for four and a half days. However, a good enough window for a no oxygen ascent never appeared.
On the 27th I dropped back down to Base camp and took a single day's rest. Today, the 29th, I went from base camp to Camp 3 in a single 8 hour push. I'm positioned again to take advantage of some "reasonably" stable weather. Tomorrow the 30th I hope to make Camp 4 and "fingers crossed" summit the 1st of October.
---
Posted by: Alex Barber | September 29, 2014
Categories: *Guide News
On the morning of Saturday, the 27th, I had been pined down at Camp 3 by high winds for two days. Camp 3 in is in a wind-exposed location, and for the previous 48 hours I'd had to go out and dig out every two to three hours from the wind-drifted snow that built up around my tent. In the morning the wind had finally died down, and I had decided to push on to Camp 4 and started packing up to make the move up to Camp 4—but then I got an updated forecast that predicted heavy snow later Saturday and through Sunday morning. With the delay at Camp 3, I was running low on provisions, so if I couldn't make the peak push by Sunday morning I would be forced to turn back. The forecast for the rest of the week, though, looked very promising… and I made the reluctant decision to retreat to base camp, with the plan to start back up again re-provisioned on Sunday morning.
So here I am Saturday evening, back at Manaslu Base Camp. The forecast is now for the winds to stay relatively calm and for clear skies for the rest of the week So my plan is start back up the mountain in the morning and make my summit push on Wednesday. I'm beginning to wonder how many times I'll have to climb this mountain before it allows me it's summit.
---
Posted by: Alex Barber | September 25, 2014
Categories: *Expedition Dispatches *Guide News
Elevation: 22,500'
Well it's the morning of the 25th and I'm at Camp 3 (22,500ft) sipping coffee as Manaslu bangs at my door. The forecasted higher winds have me a bit pinned down at the moment. The winds are moving a lot of snow, covering my tent over and over. I've got two options: 1) Move to Camp 4 today battling the winds or 2) attempt a summit from Camp 3 on the 26th. A day still forecasted to be decent. Now deep snow persists on the route, so it will take a big effort to move anywhere up or down. Ah the joys of high altitude mountaineering!
---
Posted by: Alex Barber | September 22, 2014
Categories: *Guide News *Guide Grant
"Analysis paralysis" is an accurate summation of my last few days here at Manaslu Base Camp. I've been reviewing weather information for the coming week collected from different teams and sources, paid forecasts, free forecasts, second hand forecasts. Of course, they all project different weather conditions. There is a general trend though… starting Thursday the 25th to Sunday the 28th looks like it might be a decent window for my summit day. The 25th being the worst day with 30+mph winds at the peak. Saturday, the 27th, is forecast to have 5 to 10mph winds but possibly precipitation. That precipitation could just be the result of a few days of good weather causing afternoon snow showers or a larger deposit. In this part of the Himalaya it can be hard to predict - and this is too many days out for a mountain weather forecast to be highly reliable.
Decision time - It all comes down to this, the time, the money, and the mental dedication.
I will depart in the morning tomorrow, the 23rd, for Camp 1, the 24th I'll climb directly to Camp 3 then if the weather window looks decent the 25th I'll move Camp 3 to Camp 4 and push to the summit the morning of the 26th. I'll keep the 27th as a backup day as it is currently forecasted to be the best day. I do not plan to stop at camp 2 on purpose because the entire area around camp 2 is unstable and dangerous. The many seracs and ice cliffs higher up the mountain - with large slopes below to accumulate snow - is a bad day just waiting to happen. This site is not for me. I'll just push through to camp 3, which is in a much safer location - as I described in an earlier post.
I'll check back in from the upper mountain in the next couple of days with a weather update and my progress up the mountain. The photo below shows a view from base camp up towards the peak of Manaslu, my objective for this week.
---
Posted by: Alex Barber | September 18, 2014
Categories: *Expedition Dispatches *Guide News
Elevation: 22,300'
With a good weather report I have been pushing higher the last few days on Manaslu. Tonight I am at 6,800m camp (22,300ft), my food and fuel are spent. And apparently so is my weather. At 11pm I am woken up by a loud crack of thunder. It is now snowing moderately heavy with light winds and consistent electrical activity. It's a strange feeling up here. I was the first climber to make Camp 3 today breaking trail with some Sherpas working for another group that plans to come up the mountain later this week. And whew, 45-pound pack, knee deep sugar snow, it reminded me of the pain high altitude brings. I seem to have forgotten that aspect of 8,000m ascents.
Tomorrow I'll be descending to BC as my supplies are spent. The next time I come up I'll be summit bound. But for now I'll sit tight and see what Manaslu deals out this night to its highest established camp! Everything in mountaineering has risk involved, and it's up to the climber to judge that risk versus his skill and experience to come up with the safest decision. My camp placement is solid, sheltered by a large bergschrund and with a sub peak of Manaslu not far away. While giant flashes and the associated boom of thunder is unnerving this high up and being alone can heighten this feeling, I know my camp placement is good and my best play is to sit tight for tonight. Mountains deliver a fluid situation, so my decision making reflects the realities of the ever changing environment here.
The long term weather forecast still looks promising though, so hopefully early next week I'll back up here and pushing for the peak! Good morning and top of the world to all of you on the other side of the globe!
---
Posted by: | September 15, 2014
Categories: *Guide News
Elevation: 5,900 m
Last time I posted I was at Camp 1 on Manaslu. That first trek up went well, and I established a High Camp 1 at 5,900 m. I also explored and familiarized myself with the ice fall traverse to Camp 2. A forecasted storm had me descend back to BC over the weekend. The intensity of the wet weather seems to be lightening up and this week's forecast calls for a five day spell of clearing weather. I'm about to shoulder my pack and head back up to High Camp 1. My goal for this week is to push as high onto the upper mountain as possible. I'd be lying if I said the summit wasn't on my mind, although with only one night acclimatizing at Camp 1 it's a long shot.
---
Previous Page
More Entries