Posts for Guide News
Posted by: Alex Barber | September 25, 2014
Categories: *Expedition Dispatches *Guide News
Elevation: 22,500'
Well it's the morning of the 25th and I'm at Camp 3 (22,500ft) sipping coffee as Manaslu bangs at my door. The forecasted higher winds have me a bit pinned down at the moment. The winds are moving a lot of snow, covering my tent over and over. I've got two options: 1) Move to Camp 4 today battling the winds or 2) attempt a summit from Camp 3 on the 26th. A day still forecasted to be decent. Now deep snow persists on the route, so it will take a big effort to move anywhere up or down. Ah the joys of high altitude mountaineering!
---
Posted by: Alex Barber | September 22, 2014
Categories: *Guide News *Guide Grant
"Analysis paralysis" is an accurate summation of my last few days here at Manaslu Base Camp. I've been reviewing weather information for the coming week collected from different teams and sources, paid forecasts, free forecasts, second hand forecasts. Of course, they all project different weather conditions. There is a general trend though… starting Thursday the 25th to Sunday the 28th looks like it might be a decent window for my summit day. The 25th being the worst day with 30+mph winds at the peak. Saturday, the 27th, is forecast to have 5 to 10mph winds but possibly precipitation. That precipitation could just be the result of a few days of good weather causing afternoon snow showers or a larger deposit. In this part of the Himalaya it can be hard to predict - and this is too many days out for a mountain weather forecast to be highly reliable.
Decision time - It all comes down to this, the time, the money, and the mental dedication.
I will depart in the morning tomorrow, the 23rd, for Camp 1, the 24th I'll climb directly to Camp 3 then if the weather window looks decent the 25th I'll move Camp 3 to Camp 4 and push to the summit the morning of the 26th. I'll keep the 27th as a backup day as it is currently forecasted to be the best day. I do not plan to stop at camp 2 on purpose because the entire area around camp 2 is unstable and dangerous. The many seracs and ice cliffs higher up the mountain - with large slopes below to accumulate snow - is a bad day just waiting to happen. This site is not for me. I'll just push through to camp 3, which is in a much safer location - as I described in an earlier post.
I'll check back in from the upper mountain in the next couple of days with a weather update and my progress up the mountain. The photo below shows a view from base camp up towards the peak of Manaslu, my objective for this week.
---
Posted by: Alex Barber | September 18, 2014
Categories: *Expedition Dispatches *Guide News
Elevation: 22,300'
With a good weather report I have been pushing higher the last few days on Manaslu. Tonight I am at 6,800m camp (22,300ft), my food and fuel are spent. And apparently so is my weather. At 11pm I am woken up by a loud crack of thunder. It is now snowing moderately heavy with light winds and consistent electrical activity. It's a strange feeling up here. I was the first climber to make Camp 3 today breaking trail with some Sherpas working for another group that plans to come up the mountain later this week. And whew, 45-pound pack, knee deep sugar snow, it reminded me of the pain high altitude brings. I seem to have forgotten that aspect of 8,000m ascents.
Tomorrow I'll be descending to BC as my supplies are spent. The next time I come up I'll be summit bound. But for now I'll sit tight and see what Manaslu deals out this night to its highest established camp! Everything in mountaineering has risk involved, and it's up to the climber to judge that risk versus his skill and experience to come up with the safest decision. My camp placement is solid, sheltered by a large bergschrund and with a sub peak of Manaslu not far away. While giant flashes and the associated boom of thunder is unnerving this high up and being alone can heighten this feeling, I know my camp placement is good and my best play is to sit tight for tonight. Mountains deliver a fluid situation, so my decision making reflects the realities of the ever changing environment here.
The long term weather forecast still looks promising though, so hopefully early next week I'll back up here and pushing for the peak! Good morning and top of the world to all of you on the other side of the globe!
---
Posted by: | September 15, 2014
Categories: *Guide News
Elevation: 5,900 m
Last time I posted I was at Camp 1 on Manaslu. That first trek up went well, and I established a High Camp 1 at 5,900 m. I also explored and familiarized myself with the ice fall traverse to Camp 2. A forecasted storm had me descend back to BC over the weekend. The intensity of the wet weather seems to be lightening up and this week's forecast calls for a five day spell of clearing weather. I'm about to shoulder my pack and head back up to High Camp 1. My goal for this week is to push as high onto the upper mountain as possible. I'd be lying if I said the summit wasn't on my mind, although with only one night acclimatizing at Camp 1 it's a long shot.
---
Posted by: Alex Barber | September 12, 2014
Categories: *Expedition Dispatches *Guide News
This evening I am at Camp 1 (at 5,500m, or 18,000 ft). One of only two climbers on the mountain. The weather at Base camp has been consistently light to heavy rain. I think that has kept most teams off the mountain and holed up at Base camp. But occasional windows through the bad weather had me convinced that clear skies were not too far above. Tonight I am at Camp 1, and I am enjoying great weather and my first clear views of Manaslu!
Last time I checked in I was in Jagat. I've been pushing hard with little rest. My gut tells me the summit window will come early and I want to be ready for it. The current weather forecast shows light snow for the next couple of days, then a heavy fall 2-3 days from now—then another clear weather window. But weather forecasts more than a day or so out in the Himalaya are very suspect, so I depend more on the reality on the ground each day.
The route from base camp to Camp 1 travels up a heavily crevassed glacier. A solo fall would mean serious trouble; there are simply too many of the seemingly bottomless black holes to take this traverse lightly. So the route to Camp 1 required careful thought and planning as a solo climber. Happily I can report no major mishaps or surprises—thanks to that good plan, and extremely careful execution. Tomorrow I will explore the route to Camp 2 and prepare a good camp here at Camp 1. Recent snow has some areas of the mountain unstable, as several natural releases made plainly evident today. So I'll stick my neck out only so far on my exploration of the route to Camp 2 (at 6,300m, or 20,700 ft) over the next couple of days.
Best regards from snowy Nepal,
RMI Guide Alex Barber
---
Posted by: Alex Barber | September 07, 2014
Categories: *Expedition Dispatches *Guide News
Elevation: 4,500'
Tonight I'm in the village of Jagat. The last 4 days were comprised of a challenging bus ride and 3 days of trekking. During the bus ride I learned why, although popular for it's price, a bus is sub-optimal for the road to Arughat—the passengers are as much mules to help get it through the muck as paying customers. However, trekking in from Arughat has been beautiful; starting from rice fields, then through the rain forest, to now in more of a steep riverside canyon with heavy vegetation. The highlight of the trek has been midday swims in crystal clear waterfall feed pools. The low point has been the heat, humidity and incessant mosquitoes. The climate is quite stifling. Constantly wet with sweat—day and night. Tomorrow I'm going for a bigger day to Namrung and hopefully it'll be my escape out of this Nepalese sweat locker. The occasional glimpse of snow capped peaks has me stoked for Manaslu! Though even after 3 days of trekking, the altitude at Jagat is still only 4500ft…
At some point this trail has to start holding onto gains right?
---
Posted by: Alex Barber | August 31, 2014
Categories: *Expedition Dispatches *Guide News
Yesterday morning I flew into Kathmandu. It was my first daytime flight into this wondrous city. It was beautifully clear weather, and seeing the Himalaya from the air provided an awesome perspective—with Everest, Lhotse, Makalu and many other peaks visible on the horizon. This is my third 8000-meter expedition, with previous expeditions to Cho Oyu and Shishapangma. My goal for this expedition is to climb Manaslu (8156m)- solo and without bottled oxygen.
Today I had a relaxing afternoon catching up with my Nepalese friends on the outskirts of Kathmandu valley. Drinking Nepali Raksi (moonshine) and Chhaang (rice beer) along with some quite tasty finger foods - with no ill effects this morning - hopefully I'm working up some immunity to Nepalese microorganisms. However, the heat and humidity of Kathmandu have me daydreaming of Manaslu's glacial base camp. I'm excited to be back in Nepal!
The next two days I will busy myself with buying supplies and packing for the trek in. I plan to depart on the 2nd of September for Arughat, a small village in central Nepal. From Arughat it is an eight-day trek into Manaslu base camp. This time of year is hot, humid, and wet; I am packing my umbrella as the trek starts in the lowland rainforest.
---
Posted by: Zeb Blais | August 20, 2014
Categories: *Guide News *Guide Grant
This spring I teamed up with an international crew of ski mountaineers to traverse Tajikistan's Fedchenko Glacier. Before the expedition, I had hardly heard of Tajikistan and certainly had never dreamed of crossing one of the longest glaciers outside of the Polar Regions. When the opportunity arose, I couldn't say no. A high mountain adventure to a central Asian country on the northern border of Afghanistan wasn't something my sense of adventure would just let me walk away from.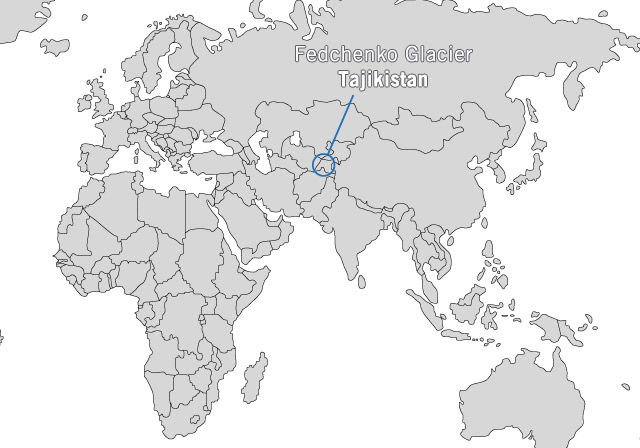 The trip came to life three years ago when three Canadian skiers hatched the idea and began the logistics. I was brought on because the team wanted two more experienced ski mountaineers for the remote and relatively unexplored zone of the Pamir mountain range.
Having traveled in developing countries before, I knew that I not only wanted to travel, climb and ski in this remote range, but to give back to the mountain communities that would help inevitably help us on our adventure along the way. As I packed my gear for the trip I noticed how much great warm clothing I had to choose from and I realized that I didn't even use half of it anymore. This was it! I could get people to donate the winter clothing they hadn't used in years and put it to good use in a country where access to technical apparel was slim to nil. I began a clothing drive and between me and my teammates Holly Walker, Emelie Stenberg, Vince Shuley and Selena Cordeau, we were able to collect and give 350 pounds of clothing to give to the Tajik people who needed the clothes far more than we did.
The good vibes from the clothing drive started our trip on a positive note - which was good, because it was a long, hard trip. We planned on one week for getting on and off the tributary glaciers to get to and from the Fedchenko. It ended up taking us thirteen days, nearly twice as long. We planned on setting up three basecamps and skiing 6000m peaks for two weeks; we were tent bound for six of those days due to weather. On top of all that, the snowpack was just about as unstable as it could get. This greatly limited what we were able to climb and ski.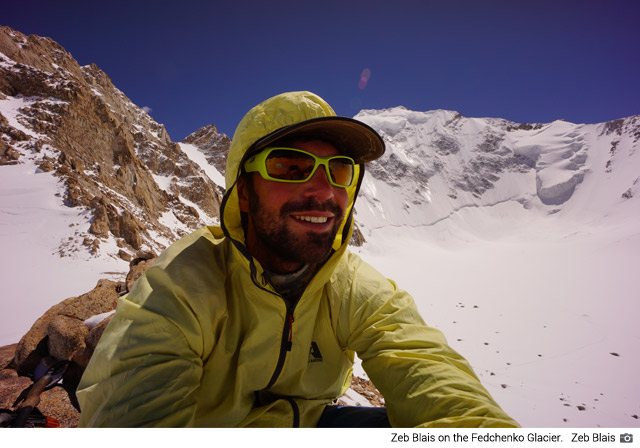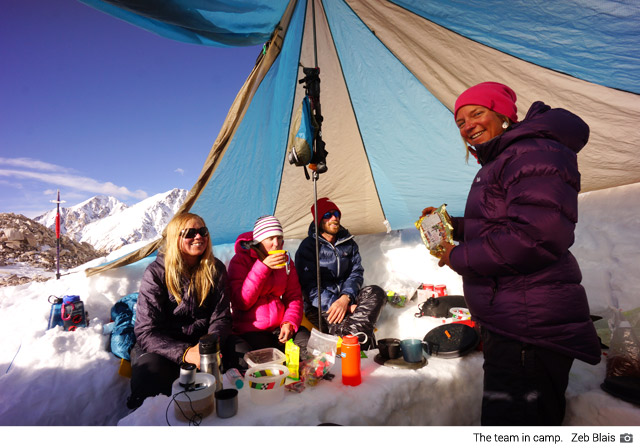 Despite the hard work and frustrating snowpack, we had an amazing trip. Massive valleys, towering peaks like Peak Ismoil Somoni (formerly Peak Communism) and Independence Peak (Peak Revolution) and miles of ice surrounded us in a grand scale. We were in a place that few people had been before and completely isolated except for our DeLorme InReach two way satellite texting device. It was humbling and inspiring.
We met our goal of traversing the Fedchenko from our starting point in a town called Poy Mazor to its head and descended out the beautiful and rugged Tanimas Valley. Due to the exploratory nature of this trip and having little information about our exit, we left ourselves a few extra days before we would all have to fly home.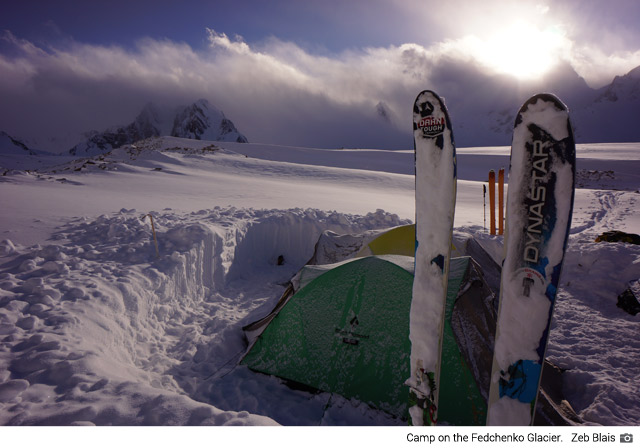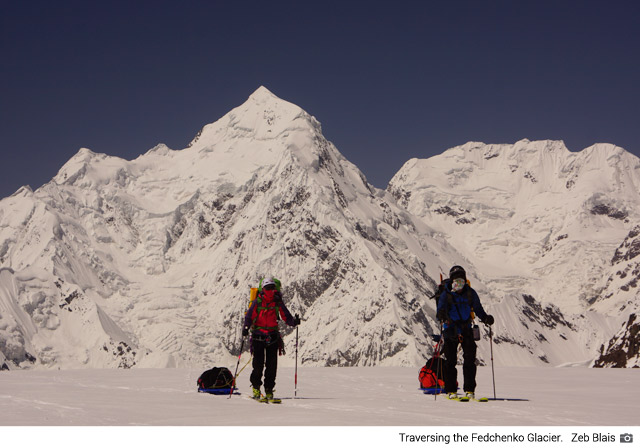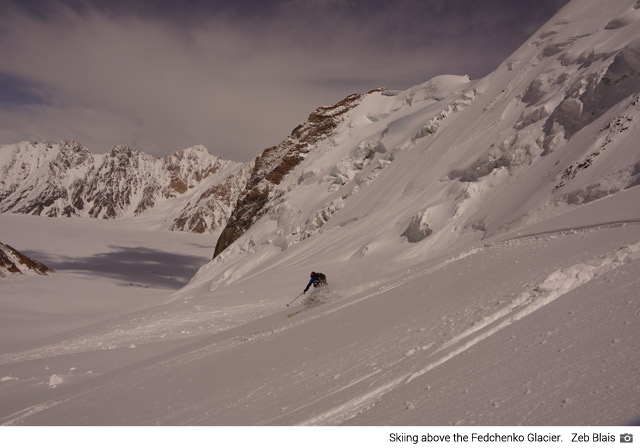 Our extra days were spent regaining some of the pounds we lost during the expedition eating fresh tandoor bread, kebabs and local apricots and cherries. People greeted us everywhere and invited us to share bread and tea with them even if they couldn't speak a word of English (and we could only muster hello and thank you in Tajik).
The team left Tajikistan with a good taste in our mouths in more ways than one. We explored and lived in a high mountain range for 29 days, were exposed to the kind and generous culture of the Tajik, Pamir and Afghan people and came home safe!
Thanks to the Eddie Bauer/ RMI Guide grant for assisting me in this amazing pursuit. The lessons I learned on this trip will forever shape my decision making and goals in the mountains. Until next time…
_________
Zeb Blais is a Senior Guide at RMI. He has climbed and skied mountains throughout North America. When he is not guiding, Zeb teaches avalanche courses and ski patrols at Squaw Valley in California. His spare time usually doesn't save his feet from ski boots.
---
Posted by: Lindsay Mann | August 15, 2014
Categories: *Guide News *Guide Grant
With support from the Eddie Bauer - RMI Guide Grant, RMI Guide Lindsay Mann took part in an American Avalanche Institute Level 3 Avalanche Course this winter in Jackson, Wyoming. Afterward, Lindsay sat down to reflect on the course.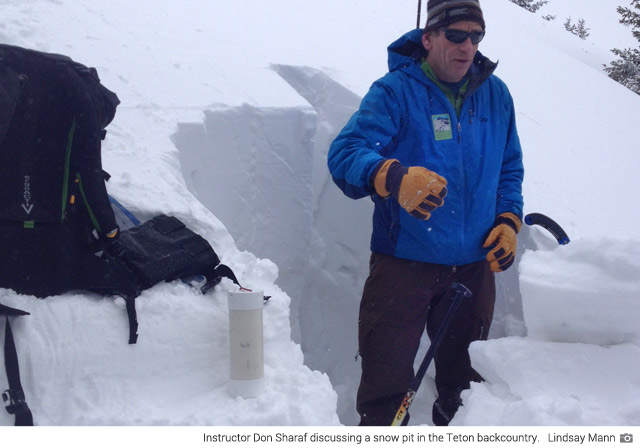 This past January I participated in an American Avalanche Institute Level 3 Course in Jackson, Wyoming. A Level 3 Avi Course entails a great deal of prep work as participants need to complete snow observations, make numerous snow pit profiles, and spend ample experience traveling and making decisions in avalanche terrain before the course even begins. After several days of classroom and field learning, the course concluded with several testing components. These test involved completing a full data snow pit in under an hour, finding three buried avalanche beacons in less than seven minutes, and completing a written test.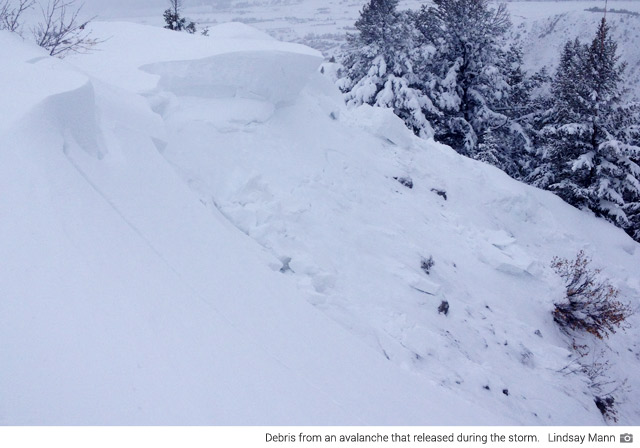 The conditions for our course were ideal for learning. Midway through the course a major storm cycle came through the area, resulting in rapidly changing conditions within the snowpack that had a wide array of implications on avalanche risk. While the class focused on the technical aspects of snow crystal identification and anticipating the array of components that contribute to avalanche forecasting, we were also able to enjoy some great skiing between the times we spent observing and forecasting the rapidly changing snowpack.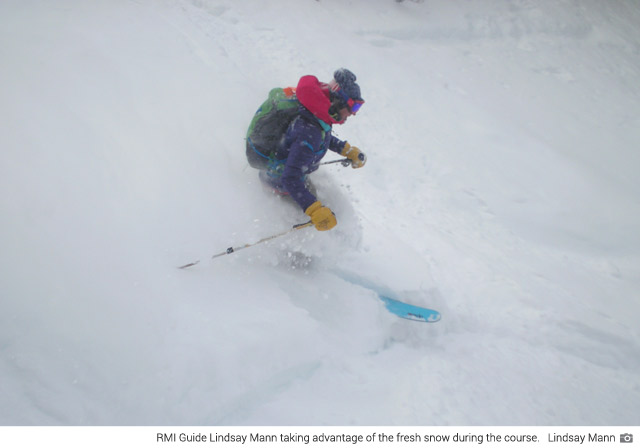 I walked away from the course with a sense of accomplishment, as this is the highest-level avalanche education course available in the U.S., and a greater understanding for mechanics of avalanches and and avalanche forecasting. The complexities of avalanches are remarkable and this course was invaluable in contributing to the toolbox of skills upon which I rely for decision making in the mountains and in avalanche terrain.
________
Lindsay Mann is a Senior Guide at RMI Expeditions and a NCAA D1 Skiing Champion. She has climbed and guided around the world, from Peru to Alaska. Learn more about Lindsay and see her upcoming trips here…
---
Posted by: | June 13, 2014
Categories: *Guide News *Kilimanjaro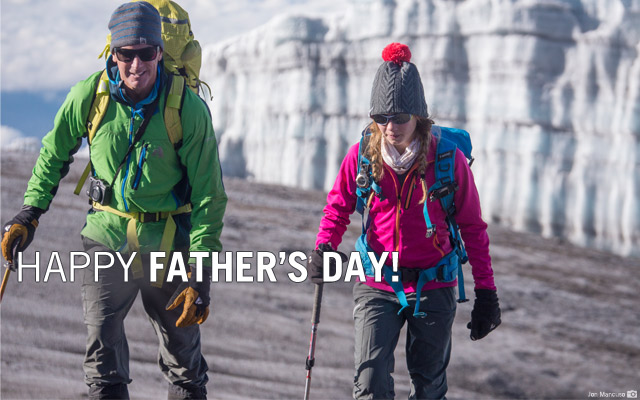 Happy Father's Day! See the video of Peter Whittaker's climb of Kilimanjaro, Africa's tallest mountain, with his daughter Gabriella and on sharing the experience of the mountains, presented by Eddie Bauer/First Ascent.
Whittaker Father-Daughter Kilimanjaro Climb from Eddie Bauer on Vimeo.
---
Previous Page
More Entries