Posts for Guide News
Posted by: Elias de Andres Martos, Jake Beren, Geoff Schellens, Garrett Stevens | April 02, 2014
Categories: *Expedition Dispatches *Guide News
Elevation: 12,139'
Hello this the Dhaulagiri team. We are at the end of our fifth day of our approach to base camp at a location called Italian Camp. We are roughly at 3,700 meters. Everything has been pretty good so far. We have had really good weather on the approach. A couple of snow storms at night. The sunshine at this camp is baking us right now. We are about to have a pretty good meal here. We would like to share also that on the approach, we had a really cool encounter in one of the villages. We shared some of the supplies that we gathered over the last year from supporters who have been pitching in to bring us here. So that was really neat to share these items with a village on our way to Dhaulagiri. Everything is well like I said. We have about two or three more days to get into Base Camp from where we will be checking in once we arrive. So we hope all is well and we will keep you posted. Bye.
RMI Guide Elias de Andres Martos

RMI Guide Elias de Andres Martos calls in from Italian Camp.
---
Posted by: Elias de Andres Martos, Jake Beren, Geoff Schellens, Garrett Stevens | March 27, 2014
Categories: *Expedition Dispatches *Guide News
Namaste!
The 2014 Dhaulagiri team has reunited in Kathmandu after the three waves in which all of us arrived. With the last minute of extra food shopping done, we had the mandatory briefing at the ministry of tourism this morning and paid a special visit to Ms. Hawley, the "bookkeeper" of Himalayan climbing. She helped us understand this endeavor even better with some statistics pertinent to our team: among our nationalities, only 14 Americans (2 women) and 28 Spaniards have summited on this mountain with just 300 total ascents. Really exciting!
Tomorrow we fly early morning to Pokhara, and then a six-hour drive will take us to Darbang. This is the trailhead to our week-long approach to base camp. We'll check in next from the trails!
RMI Guide Elias de Andres Martos
---
Posted by: | March 04, 2014
Categories: *Guide News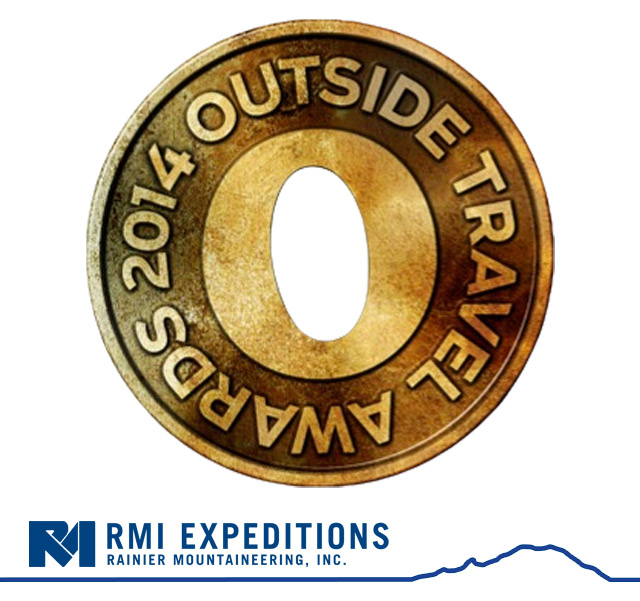 RMI Expeditions is pleased to be honored as Outside Magazine's 2014 Best Outfitter! Outside selected RMI out of dozens and dozens of travel companies to be the recipient of this year's award, recognizing our incredible guide staff, exciting mountain adventures, and dedication to responsible climbing.
"We are honored to receive Outside Magazine's Best Outfitter for 2014. At the heart of our trips stand the incredibly talented guides who lead our adventures. With great passion, experience, and skills, our guides strive to make every trip an exciting and meaningful experience," said Peter Whittaker, guide and owner of RMI Expeditions.
We owe a big "Thank You!" to all of the climbers who have joined us on adventures over the years and our outstanding guides. We look forward to more climbs to come!
Read Outside's Article and see the complete list of Travel Awards winners at www.outsideonline.com/adventure-travel/travel-awards/2014-Travel-Awards-Best-Outfitter or in the April Issue available March 18th.
Read the official Press Release below:

RMI Expeditions honored by OUTSIDE Travel Awards 2014

Ashford, WA (March 4, 2014) –OUTSIDE, America's leading active lifestyle brand, has selected RMI Expeditions as an honoree of their annual Travel Awards, which celebrate the top destinations, companies, products, and travel providers—in the U.S. and around the world—that inspire people to participate in an active lifestyle. RMI Expeditions was honored as Best Outfitter. The entire list of honorees appear in OUTSIDE's April issue (on newsstands March 18), and online at www.outsideonline.com/travelawards.


This year, OUTSIDE tapped its global network of correspondents, who traveled across America, to Belize, Switzerland, Italy, and beyond, identifying the best new adventures, stunning lakes, gorgeous new lodges and hotels, family vacations, secret getaways, high-tech airports, and foodie hotspots. The result is more than 50 spectacular trips, plus the best travel apps, tour guides, gear, tips for traveling green, and advice for traveling solo.


"We are honored to receive Outside Magazine's Best Outfitter for 2014. At the heart of our trips stand the incredibly talented guides who lead our adventures. With great passion, experience, and skills, our guides strive to make every trip an exciting and meaningful experience," said Peter Whittaker, guide and owner of RMI Expeditions.


"Whether you're looking to go big for an expedition, splurge on a luxurious paradise, or plan an epic family trip, OUTSIDE has unearthed fifty travel gems that will inspire you to renew that passport," said OUTSIDE Editor Chris Keyes. 

RMI Expeditions, based at the foot of Mt. Rainier in Ashford, WA, leads treks, climbs, and expeditions around the world, from Mt. Rainier to the the Himalaya. Established in 1969, RMI has built a 45 year legacy of leading exceptional mountain adventures catering to climbers of all abilities. RMI's guides are some of the most accomplished mountaineers and mountain guides in the world, including Ed Viesturs, Dave Hahn, Peter Whittaker, and Melissa Arnot. Every RMI trip is carefully vetted and planned by RMI's guides and climbers receive extensive pre-trip support from the guides and staff before heading to the mountains. RMI's exceptional leadership, focus on safety, personal attention, and dedication to climbing responsibly distinguish RMI as a leader in the mountaineering world.
The complete list of Travel Awards winners will be featured in the April issue of OUTSIDE, available March 18, and online at www.outsideonline.com/travelawards.
.

About RMI: RMI Expeditions (Rainier Mountaineering, Inc) is one of America's most reputable and long-standing guide services with over 45 years of mountain guiding experience. An American Mountain Guides Association (AMGA) accredited guide service specializing in mountaineering expeditions, alpine climbing, trekking and ski touring programs, RMI is committed to leading exceptional mountain adventures.
About OUTSIDE: OUTSIDE is America's leading active lifestyle brand. Since 1977, OUTSIDE has covered travel, sports, adventure, health, and fitness, as well as the personalities, the environment, and the style and culture of the world Outside. The OUTSIDE family includes OUTSIDE magazine, the only magazine to win three consecutive National Magazine Awards for General Excellence, The Outside Buyer's Guides, Outside Online, Outside Television, Outside Events, Outside+ tablet edition, Outside Books, and now Outside GO, a revolutionary, 21st-century adventure-travel company. Visit us online and on Facebook, and follow us on Twitter.
---
Posted by: | February 08, 2014
Categories: *Guide News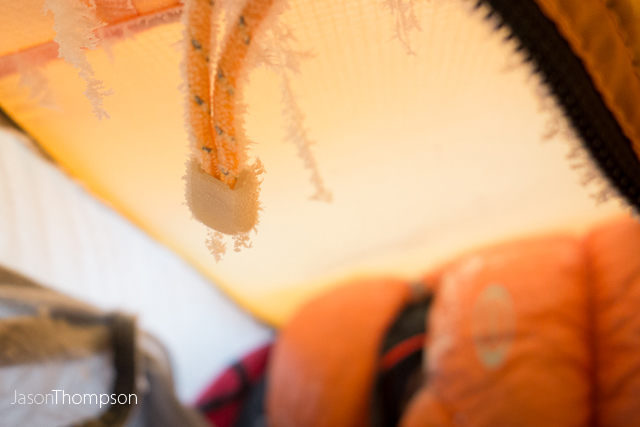 I spent over a decade working as a mountain guide and many days I found myself working in very cold environments, often for weeks at a time. I carried my camera on all of these trips. One of the coldest places I worked was on Denali in Alaska while working for RMI. During those expeditions, climbers often had questions about using cameras in these cold environments. Here are a few tips that I shared with them:
1. Keep multiple batteries available. Keep them close to your body. Sleep with them. If you're not going to be using your camera for long periods of time take the battery out so that it stays warm and it's ready to go.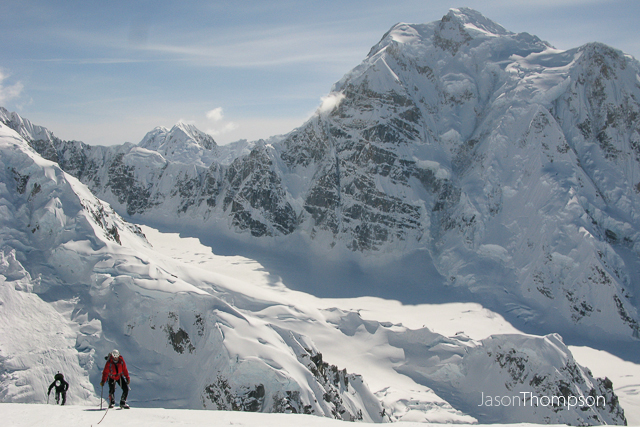 2. Remember that if you bring your cold camera into a warm room that condensation will rapidly fog the glass in your lens. I have found that if I bring my camera into my tent its usually not enough of a temperature gradient to cause condensation.
3. The solar kits these days are very affordable, compact, light and you would be surprised at how much charge they will provide even if it's snowing. Check out the Goal Zero kits, they will have whatever you could possibly need.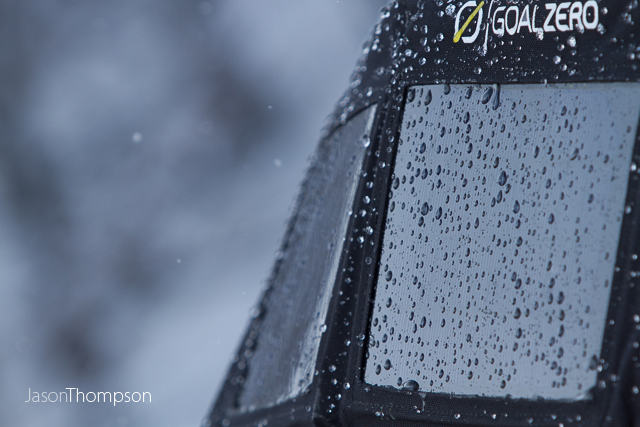 4. Camera technology changes rapidly. One major advantage of the new technology is the size of the cameras available these days offer very high performance while being slightly bigger than your iPhone. A couple of cameras that I have had success with for a pretty good dollar value are the Sony RX-100 and the Canon s100. They are sleek cameras that will fit in your pocket comfortably. Of course one thing to consider in the colder environments is that using the LCD screen will use more battery juice. Having a viewfinder like the Nikon Coolpix 7800 will provide longer battery life.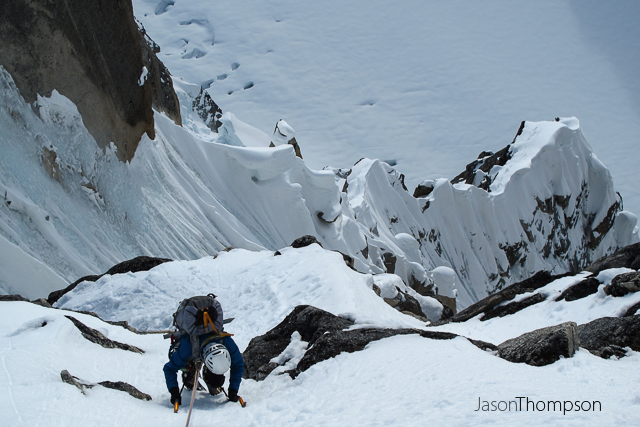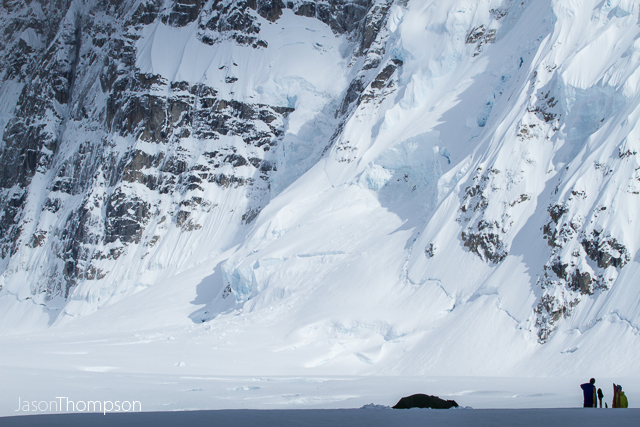 5. Keep your camera handy. The more accessible your camera is, the more images you will capture. I typically will carry my camera clipped to my backpack shoulder strap about chest height and tether it to a small locking carabiner. That way even if I drop it I will not lose it.
6. Safety first. Mountaineering is a team sport. You're tied in with other people. Just because you see a picture that you have to take right then don't forget that it's your responsibility to make sure its safe to capture that picture. Communicate with your teammates.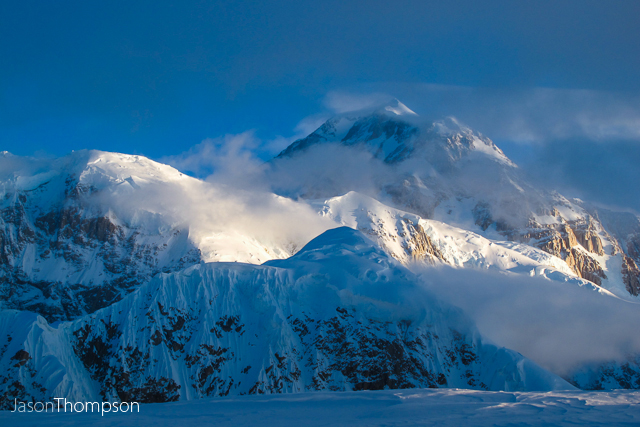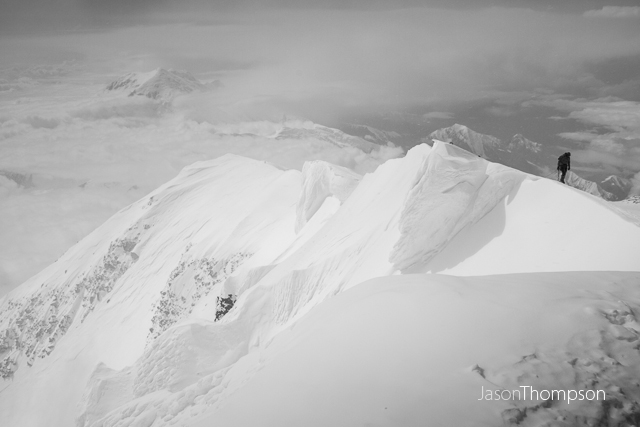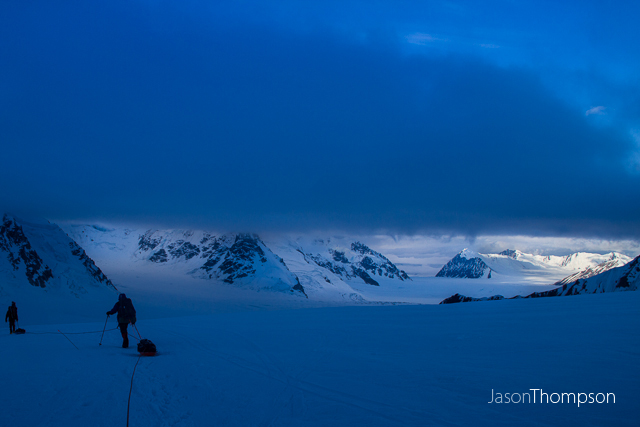 7. Shoot details. Shoot unique angles. Shoot to tell the story. Simply, just dropping to a knee for a different angle will improve your image.
8. IPhones make amazing images. I just recently picked up this iPhone case and modified it by drilling 2 small holes in the side of the case and installed a short tether.
9. My light and fast alpine style camera kit includes the Sony DSC-RX100, Joby Gorilla pod (be gentle with these in really cold environments as they can be fragile), a Hahnel Giga T Pro II Wireless Remote, Sandisk 32GB SD card x2, 1 ziplock bag, 1 dust cloth for the lens and the Lowpro Portland 30 case. This comes in at about just over 3lbs.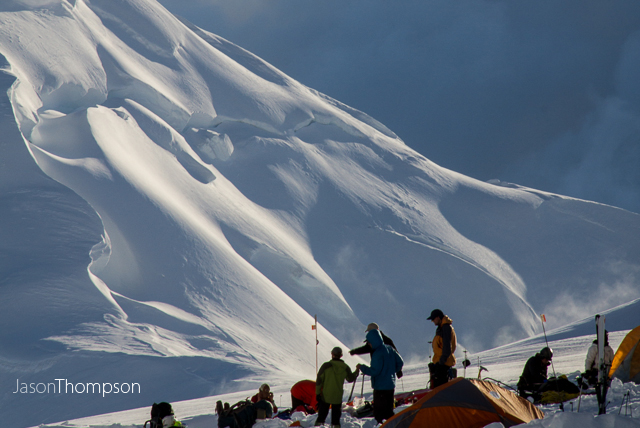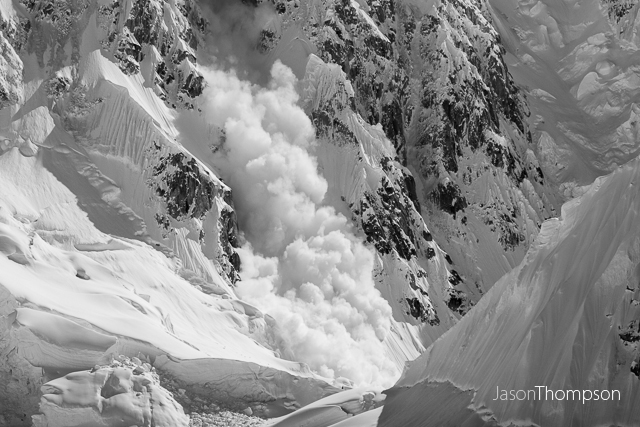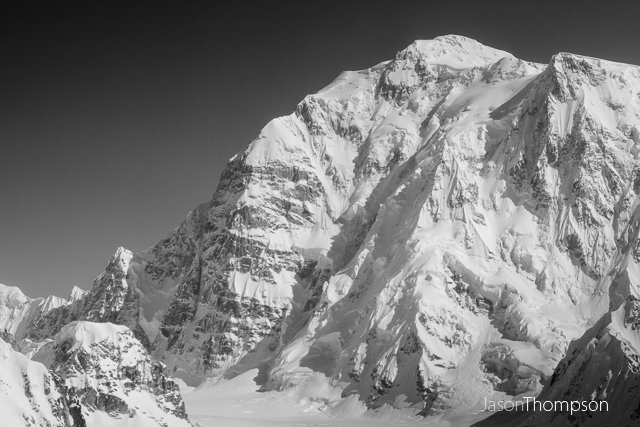 _________
Jason Thompson is a Senior Guide at RMI Expeditions and a renowned photographer. He has traveled the world to places such as Alaska, Patagonia, and the Caucasus Mountains leading climbs and documenting mountain adventures through his camera lens. See his work on www.jthompsonphotography.com. Jason's recent videos include the 2013 Reel // Artist Statement and Wrangelled, which was nominated for a Coldsmoke Award. Follow Jason on Instagram at @_jt_photo.
---
Posted by: Ben Liken | January 02, 2014
Categories: *Guide News *Guide Grant
This past November I and several other RMI guides had the opportunity to further hone our guiding skills by participating in the American Mountain Guides Association (AMGA) Rock Instructor Course (RIC). I decided that after five years in the industry it would be enlightening to gain a perspective into this organization and put myself in the position of a student. The RIC is designed to create a foundation for guides looking to pursue a certification in the rock or alpine realm and is a prerequisite for many other AMGA courses. The program was set up as a contract course by RMI and was partially funded by the Eddie Bauer/First Ascent guide grant which kept the tuition costs low and excitement high.
The course took place in the world renowned climbing area of Red Rocks; just outside of the world renowned capital of partying and gambling, Las Vegas, NV. Red Rocks is formed out of beautiful Aztec sandstone that was left behind by sand dunes 180 million years ago in an environment much like today's Sahara Desert. With relatively short but, often complex, approaches and descents to long classic routes this is the ideal place to learn and play. The available climbing ranges from short sport climbs to 2500' big wall routes, however, this course focused on guiding in class 4 terrain and traditionally protected routes to the 5.9 level.
Most of us arrived at least a few days early to prepare for the course and get used to the rock; climbing Washington state granite, Bozeman ice, or glaciers on Mount Rainier doesn't always prepare you for long lines on soft sandstone. I arrived one week early and was thoroughly psyched to leave the soggy sight of the Puget Sound for a sun soaked desert. I quickly found myself back in the rock climbing culture at the local BLM campground, with campfires and some mellow acoustics at night as well as the blow torch sound of a propane stove firing in the morning. It was early to bed and early to rise for the next few weeks to maximize the limited winter light. The sun rose at 6:30 am but left us by 4:15 pm. After 6 great days of climbing and several months of preparation, I was ready to start the course.
It was a crisp Sunday morning and we were all up extra early to make sure our gear was in order and looking good. We had received a rather detailed itinerary via email and a few phone calls before the course but still were not sure exactly what to expect at the Red Springs picnic area that morning. For most of us this was our first experience with the AMGA and none of us had taken a "guide track" program before. I had heard that it was going to be serious and to go in prepared, which led me to have questions like "what will these instructors be like? And expect of us?" "Does my hair look okay?" "How much am I really going to learn?" Upon arrival it was the classic first time meet up. Overall pretty quiet with a few light conversations, introductions, and of course a lot of sipping coffee. At 8 o'clock sharp we began and the mood eased exponentially over the day; by 2pm there were dirty jokes being thrown around. The three instructors were not out to judge or be hardcore; they were clearly there to mentor because they love guiding.
The first part of the RIC was used to make sure we were all on the same page with the basics and begin to learn a few more advanced skills we would need later in the week. By the end of the second day it was becoming clear that some foul weather was in store, so we decided to get on the rock and start tugging as soon as possible. Over the next two and a half days we split into teams of four and got in well over 1000 vertical feet of climbing on a few classic routes. Our management of three ropes and four people on a hanging belay quickly went from obnoxiously poor to…….well…..not half bad. The stoke was high, and we were all excited to be learning from and climbing with some of the best guides in the business. As I was two pitches up on the four pitch "Big Bad Wolf", I looked over my shoulder and saw huge bands of rain pummeling Las Vegas in the valley below. We made the hasty call to link the last two pitches and bring a few ropes at a time to finish the climb before the rain hit us. As the last climber was cresting the top I felt the first drop hit my forehead. We continued with a crash course in short roping off the backside. As the dust turned to mud before my eyes I couldn't have known that the climbing portion of the course would be over. We were in the desert, right?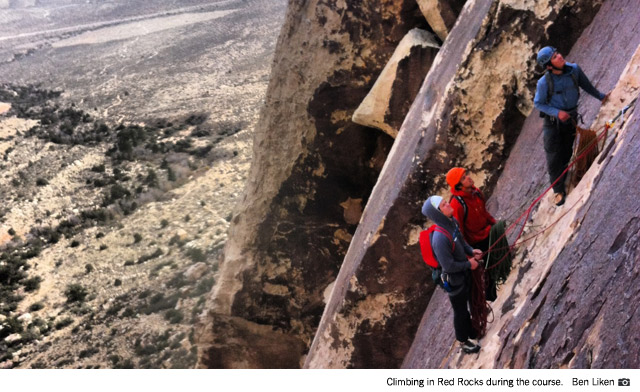 Over the next three days we practiced and perfected rescue and rope skills as the rain fell nonstop all around the pavilion we were under. It was fun to focus purely on the timed drills and creating one handed hitches as they were called out. Looking out we could see the rock getting wetter than it had been in months. The sandstone in Red Rocks is porous and thus absorbs water like a sponge. Even in the warmest months the rock needs 24-48 hours to dry after a soaking rain and we had a lot of soaking rain with cool temps and low sun. The issue with climbing on the damp rock was not going to be its slipperiness but rather the danger of holds breaking and a leader falling onto protection in that same type of rock that just broke. As the sun rose for the last three days of the course we had to turn down perfect climbing weather because of poor route conditions. I sympathized with the climbers I work with on Mount Rainier: they come from across the country after months of training, time, and money spent, only to be shut down by avalanche hazard or icy conditions on a beautiful, sunny day. All was not lost however; we were able to learn and practice new skills in the horizontal plane, on very sunny aspects, and in steep off trail terrain. We agreed that we learned just as much if not more in this manner than we would have high on the rock.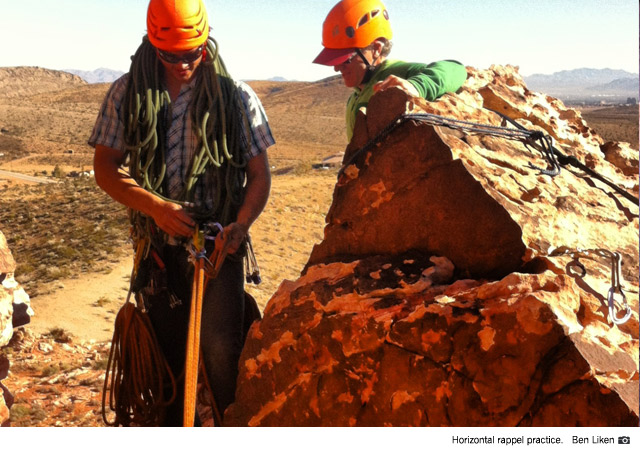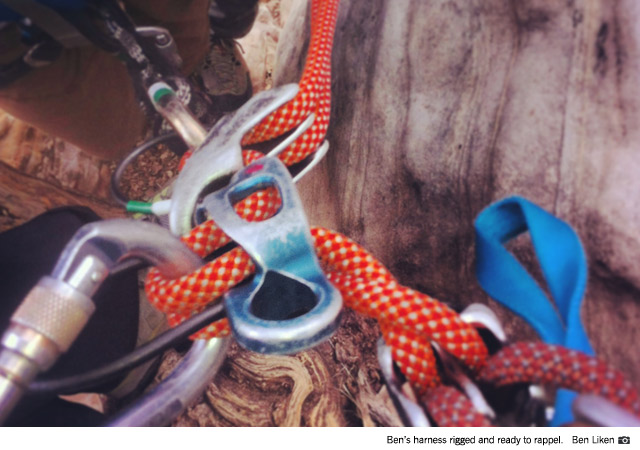 This was my first AMGA experience and it could not have been a better one. It solidified many skills that I can put to use in my current guiding and climbing. It was a great opportunity to develop myself in my profession and has opened the door for more courses and certifications. These courses and certifications are not required for guiding in the United States and many great guides are fully qualified through experience. This program and others offered by the AMGA however, get guides on the same page and forces us to be the best we can be, whether it be on Red Rocks sandstone, Mount Rainier Glaciers, or a remote peak in the Andes. Thanks to RMI, Eddie Bauer/First Ascent guide grant, and all the guides on the course for making this possible. Climb On!
---
Posted by: Robby Young, Sean Collon, Steve Gately | December 05, 2013
Categories: *Guide News
October marks the end of the guiding season on Rainier, and the beginning of some of the best rock climbing weather and conditions throughout the Rocky Mountain West. RMI guides Steve Gately, Robby Young and Sean Collon celebrated "Rocktober" this year by spending their time down in Indian Creek near Moab, Utah. "The Creek" is home to some of the best pure crack climbing in the world, with fissures ranging from too small for fingers up to chimneys large enough for your entire body; running a hundred feet up otherwise featureless sandstone walls. It attracts climbers from around the world and is a popular hangout for guides in the October off-season. Sean, Steve and Robby documented their time in The Creek through film, and recount their experiences:
Robby Young: There is no place like Indian Creek. The abundance of stunning cracks splitting through vertical sandstone walls appear otherworldly amongst the beautiful desert landscape of Southern Utah, located just a few hours from my home in Park City, UT. I was very excited to have the opportunity to spend some time in this wonderful place with some good friends, and fellow RMI guides. The vibrancy of the red rock offers a dramatic contrast to the snow and glacier covered landscape of Mt. Rainier in which we spend much of our summer. I was also lucky to be able shoot photographs and capture film of some of friends as they pushed their climbing skills in the never-ending pursuit to become better climbers and alpinists.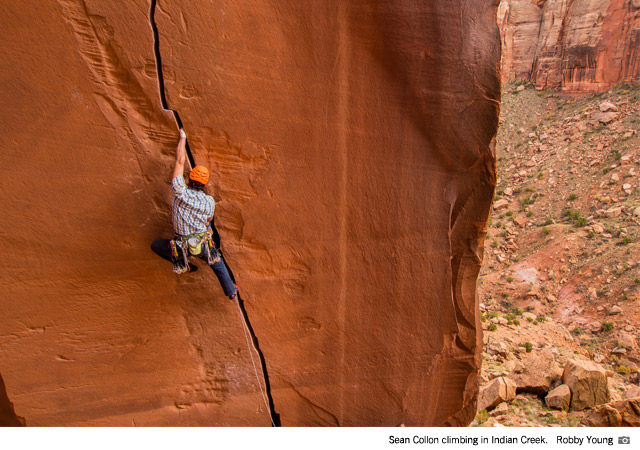 Sean Collon: Rock climbing and mountaineering have a large number of common skills, techniques and physical requirements. Approaching rock climbs with heavy packs full of gear builds stamina, and the climbing itself requires total body strength; all of which contributes to success in the big mountains. When guiding, or on personal mountaineering trips, I rely heavily on the rope skills I have developed largely in the vertical world of rock climbing. But more than all of this, rock climbing, in and of itself, is fun. Like any type of climbing, it is physically and mentally demanding. It can be pure enjoyment, often scary and painful, but always tremendously rewarding.
Steve Gately: After a busy Rainier season, trips like this provide us with some welcomed vacation time, while also allowing us a great opportunity for continued training. With back-to-back trips to Aconcagua coming up this winter, keeping my skills sharp is important to me. One aspect that goes consistently overlooked is not only the mental capacity but also the situational awareness needed for such long expeditions. For me, rock climbing is a way to keep my assessment skills sharp. There is some inherent risk in rock climbing, similarly to anytime that we step out into the mountains. This requires you to be constantly assessing situations, risk, hazards, terrain etc. This level of awareness is invaluable. You can be as strong as the best climbers out there, but without that ability to constantly assess your surroundings and problem solve when needed, well, you won't last very long in the mountains. For me, as a guide, this is one of the most important contributions I can bring to my trips and rock climbing provides an excellent way to stay strong, keep my skills sharp, and have a ton of fun while doing it!
______
Robby Young is as talented on rock as he is on glaciers and skis. He is spending the winter ski patrolling and teaching several avalanche courses in Utah and planning on a ski trip to Iceland this spring before his Denali expedition. See more of Robby's photography at www.robbyyoungphotography.com.
Sean Collon is an RMI guide, originally from Michigan, spending this winter season in Utah ski instructing at Canyons Resort and training for the AMGA Rock and Ski Instructor Courses. He has climbed rock and alpine routes all around the Pacific Northwest and throughout the country, and guiding with Dave Hahn next summer on Mt. McKinley.
Steve Gately is heading to the southern hemisphere this winter to guide on Aconcagua. Returning to Park City, UT, he will be found skiing, ice climbing and working on another short film about backcountry skiing in Utah's Wasatch Range before heading north to Alaska next summer.
---
Posted by: Kel Rossiter | November 25, 2013
Categories: *Guide News *Guide Grant
"You can't win if you don't play" is dubious encouragement often doled out by Las Vegas casinos and the like—but it is solid counsel in the world of alpine climbing. I can't tell you how many times I've plodded through a milk puddle of clouds on the Muir Snowfield only to rise above it all upon reaching Camp Muir. Indeed, even in the face of slim weather odds, you've got to at least put yourself into position for success and be ready to maximize it should those slim odds work in your favor. Time and time again that alpine advice held true during my recent American Mountain Guide Association (AMGA) Alpine Guide Exam (AGE).
Arriving in Seattle in mid-September for my 10-day AGE, I stared at the bright screen of my smart phone and steeled myself for the grim weather forecast it proposed…my First Ascent BC-200 had seen me through many a maelstrom on Rainier, but ten days of that? Like any climber of peaks like Rainier, Denali, Cotopaxi, or Orizaba, the wheels on this particular bus had been set in motion many, many months before and there was far too much invested to pull it over to the side of the road due simply to predictions of a deluge. The AMGA is the premier training path for America's professional climbing guides and the 10-day AGE is the culminating exam that guides take in order to become Certified Alpine Guides. Along the way toward that test, hopefuls must first take a 10-day Rock Instructor Course, a 9-day Alpine Guides Course, a 5-day Ice Instructor Course, an 8-day Advanced Alpine Guides Course, a 3-day Alpine Aspirant Exam, a 6-day American Institute for Avalanche Research and Education Level 3 Course and Exam, and a then—finally—the 10-day Alpine Guide Exam.
In case you weren't counting, that's 41 days of training in all—and that doesn't even begin to include the climbing resume you have to develop in between courses. All in all, that's a triple wallop of a lot of tuition, a lot of travel costs, and a lot of opportunity costs in the form of lost wages. Fortunately—and very, very thankfully—RMI, Whittaker Mountaineering, and Eddie Bauer/First Ascent helped to take some of the sting out of the tuition costs, but that aside, there was still no way I was going to let a grim weather forecast rain on my parade! Now the only problem was: "Would the grim weather forecast rain on the whole AGE parade?" You see, in order for an AGE to be valid, the examiners need to see you in a variety of terrain and situations—and if the weather doesn't allow those windows to open…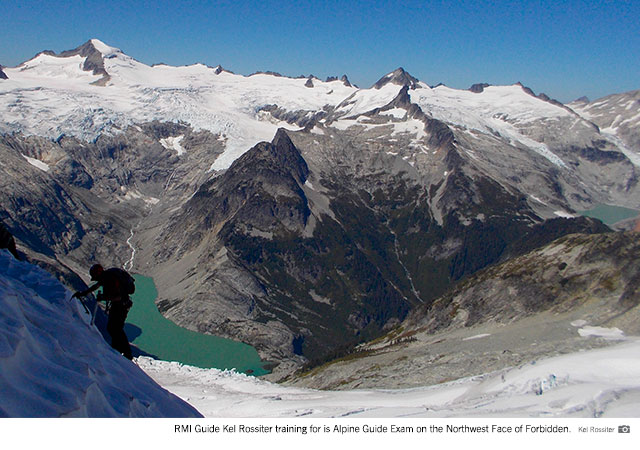 Fortunately, time and time again, in the face of doom, gloom, cats, and dogs we put ourselves into position for success and just barely, and just somehow, squeaked it out. For the first few days we enjoyed the relative "rain shadow" that the Washington Pass area of the North Cascades provides. Washington Pass doesn't allow for glacial travel though—an integral part of the AGE—so after two days we had to leave that safe harbor for the shores of Mt. Shuksan. We arrived in the Lake Ann/Fisher Chimneys trailhead in a steady drizzle. By the time we packed up, things had improved, but the rest of the day was something of an ongoing "fashion show" as we put on a rain shell, took it off, added a warmth layer, and tried to predict what the weather would look like in five minutes. And in the backs of our minds all imagined how things might unfold. Happily, we were most certainly rewarded for our efforts: By the time we topped out on Fisher Chimneys and rolled into our bivvy site, we were high above the roiling sea of grey valley clouds. So often it's the case on Mount Rainier that we'll radio down to Ashford and hear that they're thick in the rain while up at Camp Muir we're above it all. Such was the case on Shuksan, and the next day we managed to circumnavigate the Upper Curtis, Sulphide, and Crystal Glaciers and climb the summit massif's Northeast Ridge—my first time doing that particular route and highly recommended!
As the forecast shifted from grim to grimmer, we again decided to head over to Washington Pass. Driving over Highway 20 toward our meeting point at the Cutthroat Peak trailhead, my windshield wipers clicked a steady rhythm in time with the electronic music I was listening to to try to psych myself up. I arrived early at the trailhead and the rain continued. I cranked more psych music as I attempted some gear-sorting-inside-the-car-yoga poses. Then, miraculously, it began to clear. Not the swift and sure kind of clear that let's you know a new weather attitude is on the way—more like the resistant backing away of an angry dog that's just been called by it's owner, but enough to make a climb seem viable. We racked up, packed up, and headed for Cutthroat Peak's South Buttress. While it is true that "you can't win if you don't play", it's also true that it's a bad idea to climb yourself so far up an objective that retreat becomes untenable. Fortunately, the South Buttress offers plenty of bail options, so with one eye on the clouds and the other on my rope coils, we moved upward, steadily gaining another plum Cascade peak.
By then, we'd heard reports from a group of Advanced Alpine Guide Course participants that the Boston Basin area (home to West Ridge of Forbidden, Torment-Forbidden Traverse, Sharkfin Tower, and Sahale Peak, among others) had already received six inches of the new winter's snow. Fresh snow poses it's own set of problems in the alpine world, but deciding that fresh snow was more palatable than dealing with the reported dousing on the way, so up we went!
These days, I'm climbing on snow for at least a part of almost every month of the year, but it's not often I'm dealing with fresh snow in September. Skis or snowshoes weren't a part of our packing list, so lift-kick-step-sink-lift was the interminable process as we moved up through the now 10 inches of fresh snow covering the Quien Sabe Glacier. A circumnavigation/summit of Sahale Peak was our goal, and we eyed the valley clouds warily as we proceeded in dogged pursuit. Soon the clouds enveloped us and in between breaks we attempted to plot the best path ahead. After some steep, snow-laden slopes, a bergschrund crossing, and the final rocky summit scramble we were on top of our last AGE objective, Sahale Peak!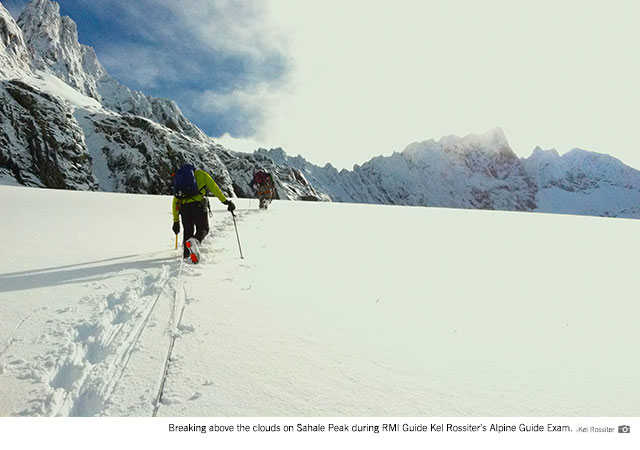 By day's end I was back in a Bellingham motel room, enjoying the comforts of a shower, eat-in Thai Food, and 581 channels. On every weather channel, stoic looking forecasters delivered the report with the delicacy of a cancer ward counselor: the patient's condition was not improving. I spooned the last bit of tofu out of my box of green curry and grinned: For the last ten days we'd prevailed in the face of such gloom and doom forecasts, and now, with the AGE wrapped up I was much more than just a survivor, I was finally an AMGA Certified Alpine Guide!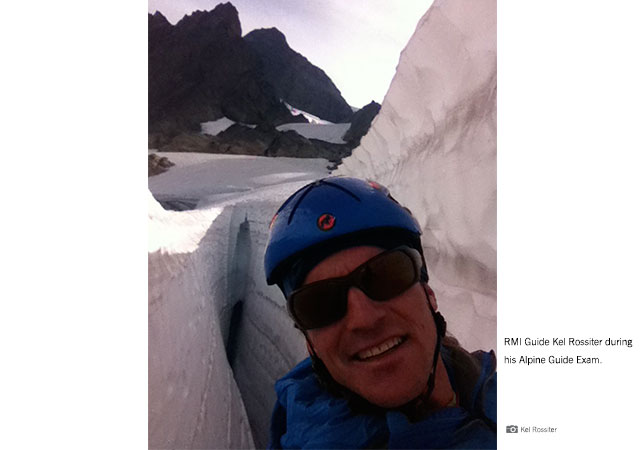 Achieving AMGA Alpine Guide Certification only occurred through a lot of support. Thanks to RMI/Whittaker Mountaineering/Eddie Bauer-First Ascent for their solid support of guide professional development. Thanks to all of the RMI guides who, through their sharing of skills, techniques, and approaches, have honed my own alpine guide skills; and particular gratitude to Andres Marin, Geoff Schellens, Jake Beren, Levi Kepsel, Eric Frank, Leon Davis, Elias De Andres Martos, and Rob Montague who shared with me their time and talents in the field as I worked toward this goal.
- RMI Guide Kel Rossiter
---
Posted by: Alex Barber | November 13, 2013
Categories: *Guide News
This past autumn I left the surf and sand of Southern California to attempt my first 8,000-meter peak, solo, and without supplemental oxygen or Sherpa support. I don't quite remember when the idea came about, but climbing a Himalayan giant is something I've dreamt of since an early age. This project always struck me as a rematch of sorts, as my first foray into mountaineering as a teen was a botched solo attempt on Mt. Whitney in January. That first climb put me through the ringer and I departed for this expedition fully expecting the same.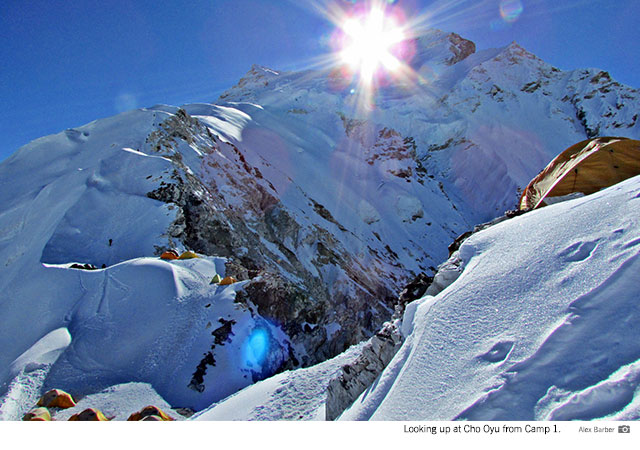 With expeditions like this, the unknowns are bound to be many; I heard differing opinions on just about everything. "Kathmandu is modern and you can buy all your supplies there," one person would say, and then the next day I would hear the opposite. For the record, Kathmandu is definitely not modern - but all this can be fun. I found adventure in the 21st century and that seems to be rare. So I planned for what I could and insulated myself from what I couldn't. It was exhilarating to know that I had no concept of everything I'd face.
Near midnight on the 1st of September, I hit the tarmac of Kathmandu International Airport. The city of Kathmandu sits within a large valley at the foot of the Himalaya. Its streets are crowded and its buildings somewhat dilapidated, but the people are kind and the food is fantastic. Surely much has changed since the first westerners arrived, but there is still a sense of lore about the place. Hindu temples, large and small, are strewn about, and filled with worshipers while Buddhist monks' roam the streets. The entirety of this scene is cast against the gear shops and bustle of everyday city life in a place steeped in climbing history.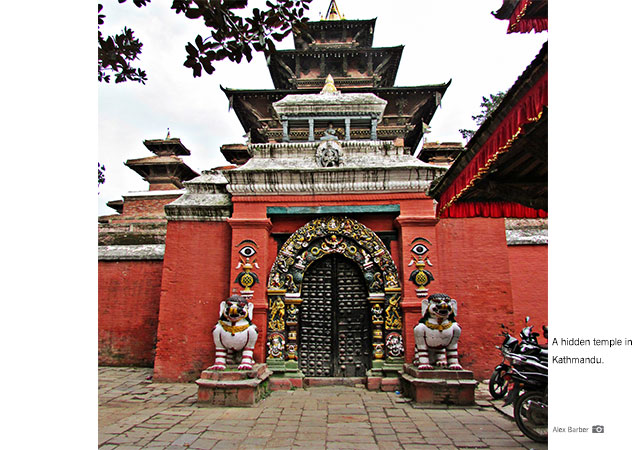 On September 10th I arrived at Chinese Base Camp, the "end of the road". Over the previous week I'd driven through the alpine rainforests of Nepal and into the moonscape of the Tibetan Plateau. At the Tibetan border it is necessary to leave your Nepali ride and walk across the "Friendship Bridge" flanked on either side by the Nepalese and Chinese military. Once across, I met my Chinese Liaison and Tibetan driver. We quickly departed and speedily wove through the streets of Zhangmu, a border town perpetually stuck in a dense fog of clouds as they collide with the rising Tibetan Plateau. At Chinese Base Camp (BC, 16,300') I still was 2,400' vertical feet and an unknown distance from Advanced Base Camp (ABC). I spent 3 days at BC waiting for yaks (pack animals that would move my supplies to ABC). While waiting, I developed a terribly bothersome head cold; unfortunately this was not the only time I got sick during this expedition. Days later and sick as a dog, I trekked the last distance into ABC, low visibility, snowing hard with a frigid wind in my face.
We erected ABC (18,700') and soon I fell into the rhythm of establishing higher camps mixed with days of leisure. Everything seemed to slowly come together, as I prepared my body and my supplies for a possible summit window in the beginning of October. I think what kept me most sane during the expedition was my focus on the immediate. An undertaking such as this can be daunting if you try to grasp the sum of the next 20-day span, including the challenges yet to be overcome. So I'd only spool out as much time as was immediately necessary in my mind, and kept my thoughts off the many days ahead of me to reach the summit.
Throughout the climbing period of the expedition I kept a brisk pace between camps, taking care not to push myself so hard that I couldn't construct camp and take care of myself adequately afterwards. It's a fine line up there; it's far too easy to push yourself past the limit. I saw this countless times with other climbers but they had the safety net of Sherpas, guides, and teammates to assist them when they took on too much. I had no such safeguard and this was something I had to always take into account. I wouldn't want to put a negative connotation on climbing solo though, because it was gratifying in its simplicity.
On September 30th I pulled into Camp 3 at 24,500'. I recall constructing camp atop a small ridge of snow perched beneath the notorious Yellow Band. Here I definitely felt the altitude. Beneath me two Sherpa friends were digging in a platform for their team's arrival. I'd look over at them as I was catching my breath and they'd be doing the same, smiling and laughing with each other at the ridiculousness of it all.
Climbing without supplemental oxygen and solo (or as solo as it gets on Cho Oyu) has dangers that are heightened, namely the two forms of edema: HAPE and HACE. These affect the lungs and/or brain and are deadly if they persist without descending to lower altitudes. These conditions mainly strike during the night as your breathing naturally decreases. Being on your own when this happens can be mortally dangerous. I took measures to lower my risk by staying hydrated, well feed, comfortable, stress free, and I always kept a wary eye on my breathing and short term memory. The year prior I'd seen firsthand the grim realities of high altitude mountaineering on Argentina's Aconcagua, after a rescue of another team turned tragic. Cerro Aconcagua was my previous high point at 22,841'. Everything beyond was unknown and I was well above that now and pushing higher. In hindsight, perhaps maybe I should have been more nervous at these altitudes, but I suppose I never felt threatened by them. As was the case in all my previous expeditions, the altitude only seemed to leave me breathless and nothing worse, not even a headache. And so I hydrated, ate and went to bed excited for my summit attempt only hours away.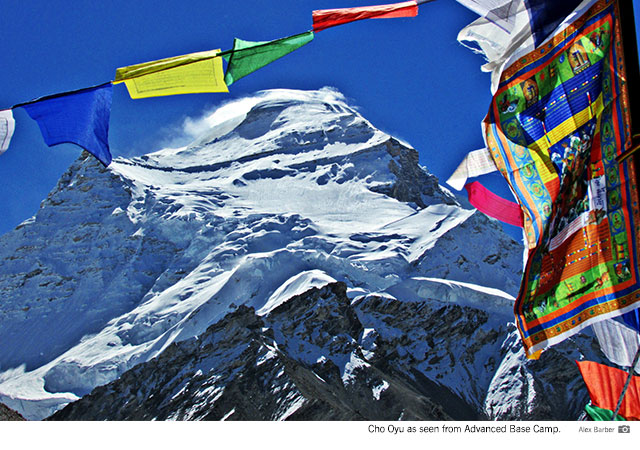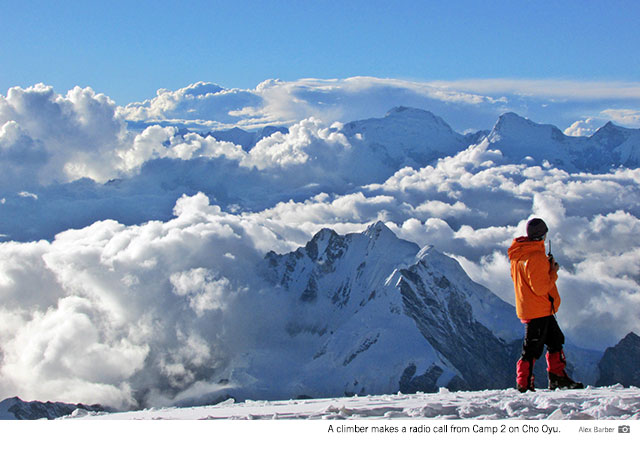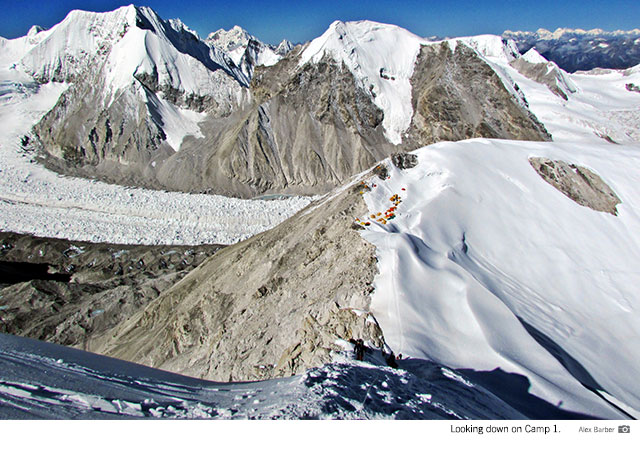 Summit Day
I awoke at 12 midnight; outside I could hear guides addressing their climbers, the hiss of oxygen bottles as the regulators were spun on and the crunch of crampons engaging the firm snow as the first teams departed. Climbers' torches faintly lighted my tent as they passed and the walls were lined with ice that rained down with the slightest nudge. I gave myself a once over, everything felt good and I was ready. I roused and started my stove, opened a few vents to ensure proper ventilation and stuck my head out the top of the tent. I had spoken to the leaders of the other expeditions and they were leaving quite early, at 12 midnight which meant they had woken up hours earlier. My plan was to leave as late as 2 am for two reasons: firstly I wanted to meet sunrise sooner as I would be running colder without O's (oxygen), and secondly to give the other teams a large enough head start to ensure I could keep warm by continually climbing. But this night would be hapless from the moment I spilled my hot water all over the tent.
As the other teams passed, and in a moment of carelessness, I fumbled a liter of water in my tent. Luckily, everything required for the summit push was outside in my pack. But with the threat of getting my boots or down suit wet I decided to depart for the summit immediately. The time was 1 am, an hour earlier than I had planned, and as soon as I left my tent I saw a traffic jam forming at the Yellow Band – a formation of rock above Camp 3. Hoping that their supplemental oxygen would see them through with some speed I continued on, but as I ascended it became apparent that they would not climb as hastily as I had hoped. As I sat in line below this technical rock step my extremities lost feeling. Swinging them in circles - something we call "windmills", easily reinvigorated my hands. But climbing through the chilly night, I wasn't able to completely regain feeling in my toes, this was a constant concern. However, I had not lost the ability to wiggle them as I took each step so I continued climbing into the night.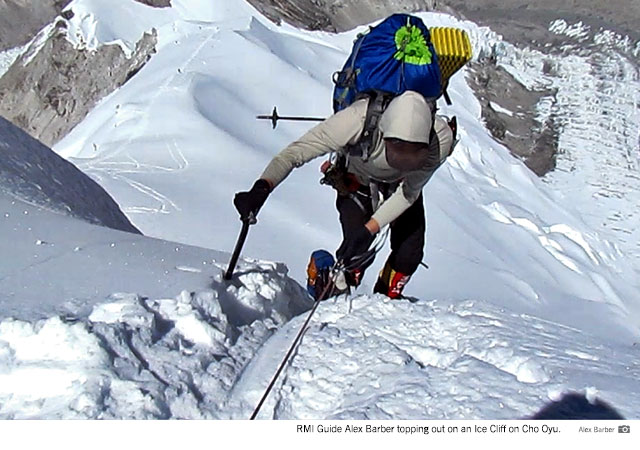 After the Yellow Band, I threaded my way through a steeper section comprised of rock and snow, unclipping from the fixed lines and passing other teams as often as I was able too. The process of passing other teams at that altitude is quite tiring, as I had to abandon my efficient rhythm for a faster pace outside of the beaten in route, at times breaking into the snow up to my knees. Luckily I only had to do this 3 or 4 times as the majority of the climbers were moving faster than I was, with their bottled oxygen giving them more stamina. I recall one moment at 25,800' when I became exceedingly nauseous. But it quickly passed and I continued on. This was the only moment I felt the altitude affect me.
At Camp 3, when I left, it was warm and still with high clouds touching the summit, but now, at 26,000', a light wind had picked up and the last of the high clouds were blowing over me. My suit was covered in ice and I had to stop periodically to rewarm my face by burying it in the cowl of my hood. As I reached striking distance of the summit (or so I thought) the horizon became faintly lit. And I encouraged by what it signified!
As I came over the top onto the summit plateau I saw a high point off to my left, but Liz Hawley, an elderly woman who keeps the records of the Himalaya, warned me against this. I met Liz in Kathmandu, and discussed my plan for the expedition. She instructed me, "When you enter the plateau you'll see a high point off to your left that seems to be the obvious summit, but go forward and slightly to your right and continue until you see Everest. This will be the true summit." I recalled her words and continued on straight. Those last 45 minutes plodding along at 26,900' for what seemed an eternity, a quarter of a mile, the summit not even visible (or so I thought) was the hardest for me. I had nothing to hold onto. The plateau seemed to stretch beyond the visible horizon. Despair mounted at the thought of having to start grid searching for the damnable thing. I scanned the plateau again. It was then that I noticed a single string of prayer flags off in the distance to my right; on a mound no higher than 3 feet from the point I was standing. It was the summit, maybe one of the least climactic summits I've experienced, but I was deeply relieved when I got there and found myself standing at the summit of Cho Oyu!
Alex Barber on the summit of Cho Oyu

I was on top for about 15 minutes. Most of the time seated on my pack eating peanut M&Ms and washing them down with warm Tang from my thermos. I made a speedy descent to Camp 3, quickly packed and made the entire descent to ABC, arriving soon after dusk. Dawa, one of my cooks waited outside of ABC for me with hot tea and a huge smile, after a celebratory embrace we descended the last 15 minutes together into ABC. I felt relieved to be finished. The day was October 1st, I had summited at 8:20 am that morning Nepali time.
You know, I've been asked what it felt like for everything to culminate and be on top. That feeling of accomplishment or exhilaration - what was it like? But I think what draws me isn't that singular moment at the top or any feeling of exhilaration from being there. Instead it's the quieter and constant sense of contentment that comes from the simplicity of mountaineering, the journey along the way and being surrounded by extraordinary beauty that challenges you to conquer – not the mountain – but yourself. For me the journey is the destination.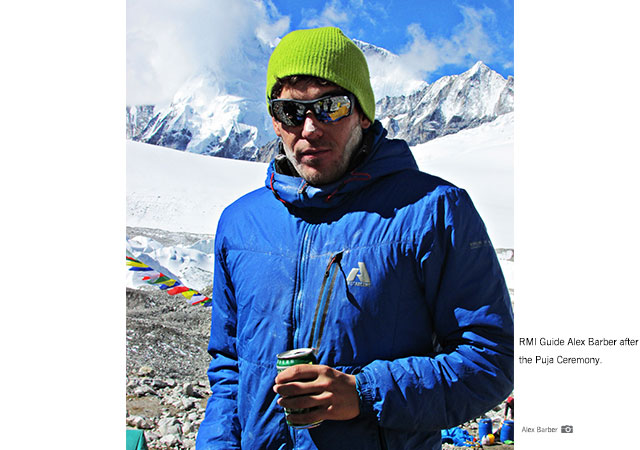 Alex Barber is a mountain guide for RMI Expeditions and splits his time between the beaches of Southern California and mountains around the world. Alex will be guiding an Expedition Skills Seminar – Winter in January before returning to the Himalaya this spring to attempt Lohtse and Shishapangma. Read more about his climb and follow the upcoming adventures on www.alexanderbarber.com.
---
Posted by: Geoff Schellens | October 24, 2013
Categories: *Guide News
Guides and climbers often struggle with sitting still, so RMI Guides Jake Beren, Leon Davis, and I quickly decided on a personal trip into the Alaska Range this spring. The three of us have guided Denali many times - and as any climber who has been to the Alaska Range knows, it is difficult to travel past countless beautiful peaks, ridges, and faces and ignore the siren call to come climb them. This trip was all about pulling the wax from our ears and sailing directly towards the siren's song. With no clear plans or objectives, we decided to simply climb what looked enticing. After ten days in the Ruth Gorge, the three of us were picked up from the Ruth Glacier and flown to the Southeast Fork of the Kahiltna Glacier. In early May we climbed the Southwest ridge of Mt. Francis, an excellent ridgeline that offered quality alpine rock and steep snow climbing. With good weather holding, we rested and restocked for the West Ridge of Mt. Hunter.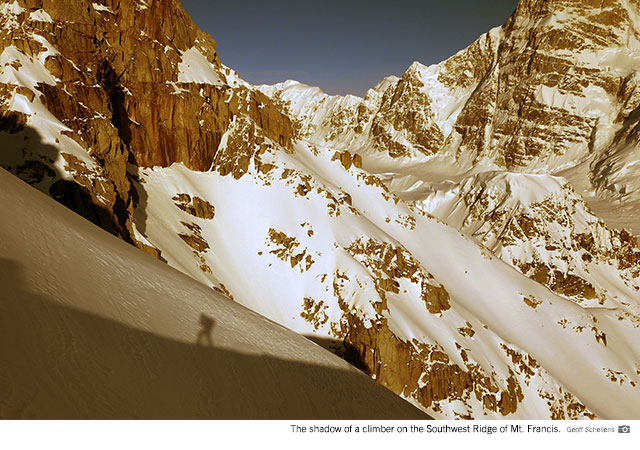 On May 9th Jake and I departed from Base Camp around 8:00 AM, skiing down the Southeast Fork through the cold, crisp morning air to the main flow of the Kahiltna Glacier. We continued down the glacier for another half hour and reached the West Ridge of Mt. Hunter. Here Jake and I cached our skis and began climbing. We approached this objective in a light and fast technique, known as "alpine style," bringing four days of food, a small stove, a lightweight tent, and no comfort items. As we started climbing we found a very nice boot pack leading up the ridge that made for extremely efficient travel. At first we felt guilty drafting behind someone else breaking trail, but soon decided that each of us has done our fair share of trail breaking on other peaks and that we ought to just enjoy this one. As the two of us climbed higher on the West Ridge with ear-to-ear smiles we decided on a plan, "Lets climb until we're not having fun and then camp there." Well, the climbing on the West Ridge was extremely fun and after twelve hours of navigating the corniced ridge, peppered with exquisite sections of rock, steep snow and ice, we found ourselves at the 11,400' bivy - tired but still smiling. We set our tent in a small notch and ate freeze-dried dinners with a fantastic view of the Alaska Range. It was truly an awesome place to be.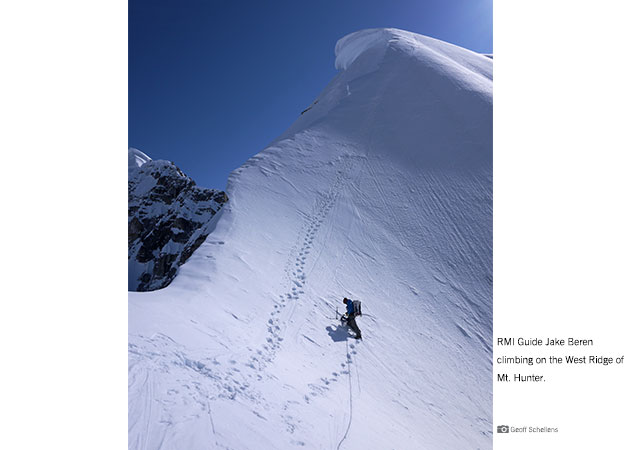 The next morning brought beautiful weather and a sense of excitement for where we were and what lay ahead. With our approach of simply having fun, we enjoyed the morning views and a few cups of coffee before breaking camp at noon. Moving quickly relishing every step and with a swing of an ice tool we ascended steep snow pitches and navigated gaping crevasses. Soon we found ourselves on the summit plateau at 13,000' walking across the largest stretch of horizontal terrain we had seen in thirty hours. From there we ascended the final 55° slope that took us to the summit ridge. From there, forty more minutes of easy climbing gave way to the summit of Mt. Hunter. While standing on the summit Jake and I hooted and hollered with excitement, "What a fun climb!"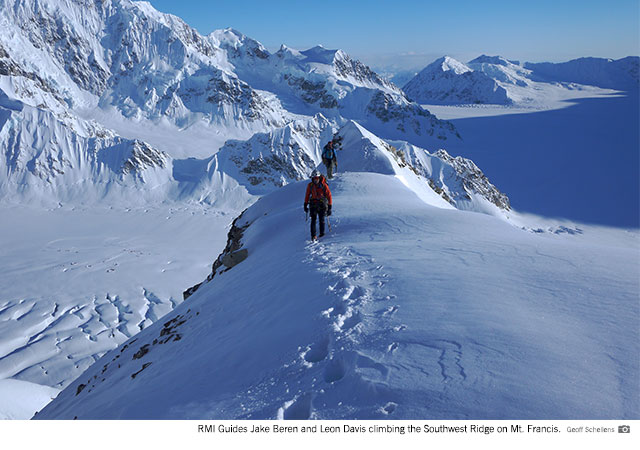 Soon we began our descent with the same approach we used on the ascent - climb until it is not fun and then set up camp. Down the ridge we went back to our bivy site, where we decided to descend via the Ramen Route. Quickly Jake and I realized that we had made a wrong turn into the entrance of the Couloir. This meant that we had to do a few tricky rappels and down climb through seracs to get ourselves back on route. Once we were back on track, we had a few more rappels before softer snow conditions allowed us to down climb to the base of the 3,300' Ramen Coulior.
Now, for the second time in two days, we found ourselves again on flat glaciated terrain. At this point it was getting late in the day, but we were still enjoying ourselves and decided to continue our descent. Due to the time of day we chose to navigate the extremely broken-up glacier since it provided more camping opportunities if we needed to set up camp. This was a time intensive descent however as Jake and I soon found ourselves in a world surrounded by incomprehensible seracs and crevasses. A couple more hours brought us back to the main flow of the Kahiltna Glacier and our skis. After forty-two hours we arrived back at Base Camp exhausted, hungry, thirsty, and smiling. Employing our tactic of "climb until we are not having fun" had been the perfect strategy for this route.
_______
RMI Guide Geoff Schellens is a senior guide leading trips on Aconcagua, the North Cascades, Mt. Rainier, as well as, guiding Ice Climbing and Mt. McKinley. He is currently preparing for his next adventure this spring on Dhaulagiri, an 8,000 meter peak in the Himalayas. See more of Geoff's mountain photography on his website.
---
Posted by: | October 15, 2013
Categories: *Guide News
RMI Guide Bryan Hendrick took on a little side project this summer: between his climbs of Mt. Rainier, Bryan built a portable tiny house on a 16' trailer that he can tow behind his truck. Working in the yard in Ashford, Bryan took 3 months to build a 192 square foot house. A few days ago Bryan packed up his climbing gear - and his house - and headed off to Leavenworth, WA, where he is planning on parking it for the winter.
"Driving the house to Leavenworth was exciting to say the least. With the recent snow fall, Chinook Pass had less than ideal driving conditions the day I drove the house over. The road was snow covered and a little wet in places. At 8'6" wide, it's not something you want to tow too often," said Bryan.
Below are a few photos of the house being built: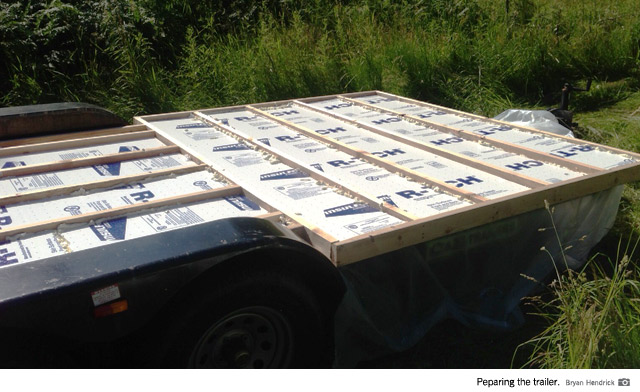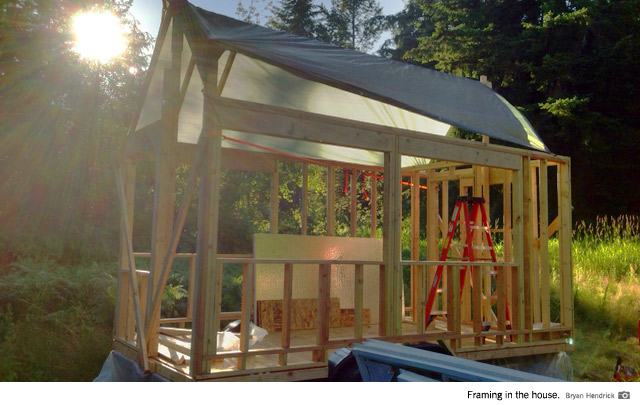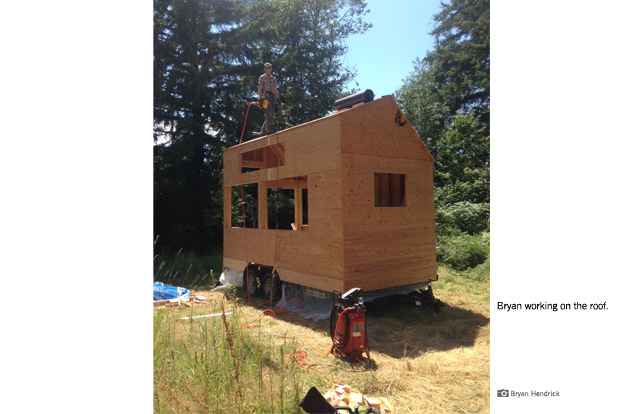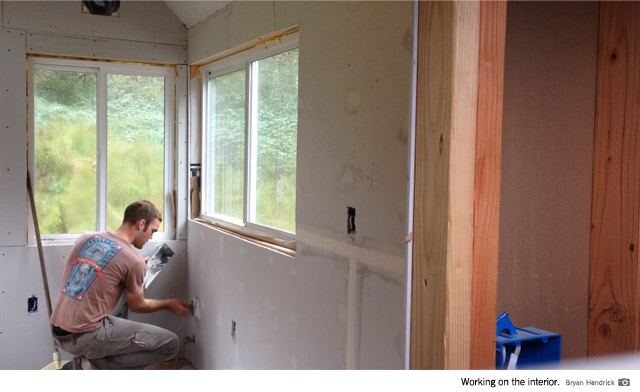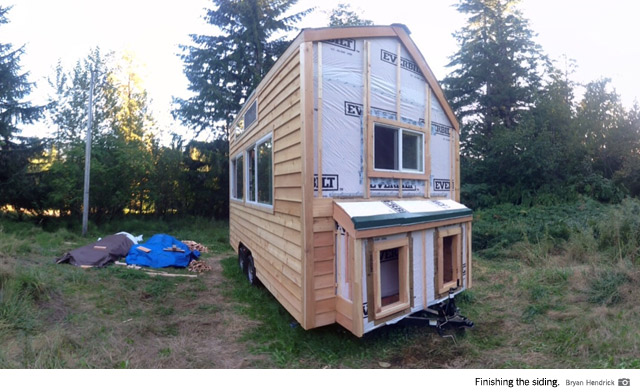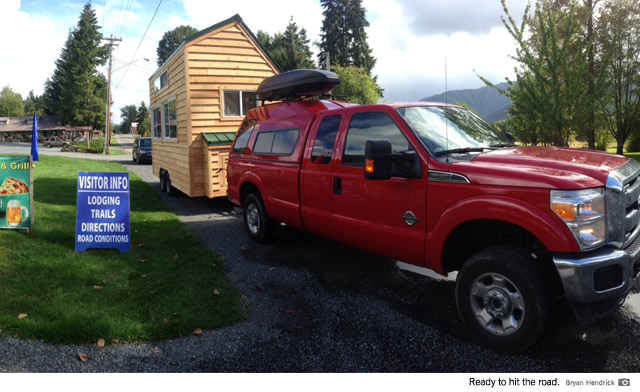 ____
Bryan Hendrick is a mountain guide for RMI Expeditions. When not climbing mountains or building houses, Bryan works for Naturalist at Large and the Stevens Pass Ski Patrol. He will also be out in the mountains preparing for several AMGA courses this spring.
---
Previous Page
More Entries