---
Everest Base Camp Trek & Island Peak Climb: Flight to Lukla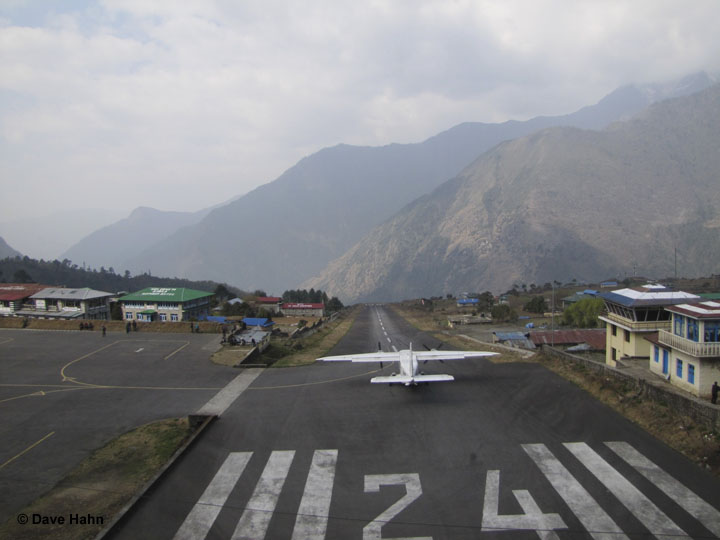 The streets of Kathmandu were hardly waking up when we reached the airport this morning, unloading our duffel bags outside of the the domestic terminal in the pre dawn darkness. By the time the morning sun found us, burning as an orange orb just above the eastern horizon, we were loading into a Twin Otter turbo prop plane, a STOL airplane - Short Take Off Landing - capable of landing at Lukla's narrow strip.
Besides some turbulence as we turned into the Khumbu Valley the flight was uneventful, a fact duly noted and much appreciated when flying a tiny airplane into a mountain airstrip like Lukla. Perched at a 10 degree angle and hardly more than several hundred meters long, the Lukla Airstrip is guaranteed to raise your heart rate - the plane touches down bearing full speed toward the hillside at the end of the strip, the brakes are slammed on and the engines roar as the air brakes fire, the plane decelerating from airborne to parked within a matter of seconds. It's exciting to say the least.
By 8:00 am this morning we were all safely in Lukla and we hit the trail shortly thereafter. To say that Kathmandu to Lukla is a change of pace is an understatement. Within minutes we looked at each other remarking at the novelty of hearing birds in the background, not taxi horns. The trail meanders down from Lukla among several villages, eventually reaching the base of the valley where we joined the banks of the Dudh Kosi - the Milky River named for the glacial sediment flowing in it. The trail is really the highway of the Khumbu, a boulevard of hand laid stone a few meters wide, that links the different villages. Passing by front yards bordered by small gates, past teahouses and chortens - Buddhist stupas and flapping prayer flags. Although the distance we covered today was relatively short compared to the days ahead, it felt full by the time we reached Phakding from all of the daily going ons of the Khumbu we saw.
We reached the teahouse as the clouds built in the sky. Before we could do anything we threw in our backs to help the teahouse owners raise their Chotra - a pine truck a dozen meters high that flies vertical prayer flags and serves as the entrance to most houses and compounds in the Khumbu. With a dozen locals, a few ladders and long poles, we managed to raise the Chotra to a vertical position and plant it in the ground. It was an entertaining way to be welcomed into the Khumbu.
We've spent the afternoon at the teahouse, watching periods of afternoon rain blow in. Tomorrow we climb to Namche Bazaar, the major trade center and biggest town of the region where we will spend a few days acclimatizing and exploring the surrounding area.
RMI Guide Linden Mallory
On The Map
×
Sign Up For Everest BC Trek 2011 Emails
{/exp:mailinglist:form}
---
More to Explore