---
RMI Guide Pete Van Deventer Challenges Himself on Ski Guide Course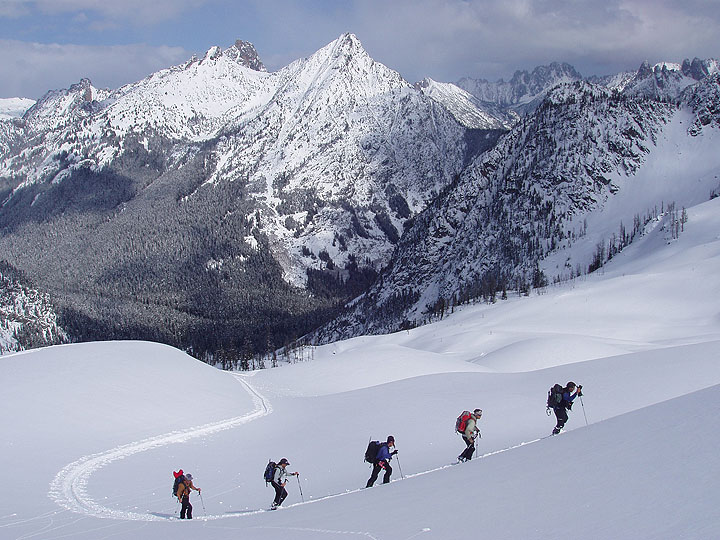 For twelve days in late March, 9 other guides and I convened in the Wasatch mountains of Utah for the AMGA Ski Guides Course. The course, first in the ski guide certification track of the American Mountain Guides Association, is aimed at teaching and honing the skills for ski guiding in technical but non-glaciated terrain (the majority of the skiing terrain in the lower 48!) Over the 12 days, we mixed evening classroom sessions of technical rope skills, coaching, soft skills, and video analysis for skiing, with days spent touring the incredible terrain surrounding Salt Lake City. The course culminated in a two night, three day yurt trip near Logan, UT.
The three day yurt trip allowed us to have lengthier and more realistic "mock guiding" leads. Acting as guide for a group of guides who are playing the part of clients can be a contrived situation, and often presents challenges that are above the typical demand of a normal day guiding. The pressure is ratcheted up, as one can imagine setting a steep kick turn in an uphill track, while four other guides and two instructors all judge that kick turn and comment. Besides the pressure of setting tracks and style, there was the pressure to find the group good snow on the descent, and more often than not, the classic problem of people seeing their own lines that were "better" and desperately wanting to step out of their roles. The challenges were often humorous, though, and the pressure pushed everybody to step up to the plate in a type of guiding that was unfamiliar to most of us. Almost everyone in the course came from a guiding background, however, most often this was alpine guiding, the kind of climbing we do here on Rainier, the North Cascades, and Mt. McKinley. Many of the skills from the alpine realm are readily transferable to ski guiding; client care, many of the technical rope systems and short roping, and uphill guiding are all very similar. But ski guiding presents its own challenge: Down guiding. Trying to guide a group of skiers safely down a line can be a totally different ball game. Balancing the safety issues of being out ahead first to assess snow pack, safe zones, and boundaries, with the desire for client satisfaction, first tracks, good snow, and an uninterrupted run can be tricky. In addition, all of this happens at much higher speed, and things can change quickly.
Guiding techniques are always changing and improving as people dream up new systems or improve on old ones, and I always take away a lot of new tricks. This course was no exception. Add to that new snow almost every day (several feet fell on the Wasatch while we were there) and a great group of fellow students, the ski guide course was a great experience and chance to get a lot of feedback from other guides! A big thanks to the First Ascent/Eddie Bauer and RMI guide grant for helping me to get there!
RMI Guide Pete Van Deventer
---
More to Explore