---
Kilimanjaro: Team Makes Final Trek Out to Mweka Gate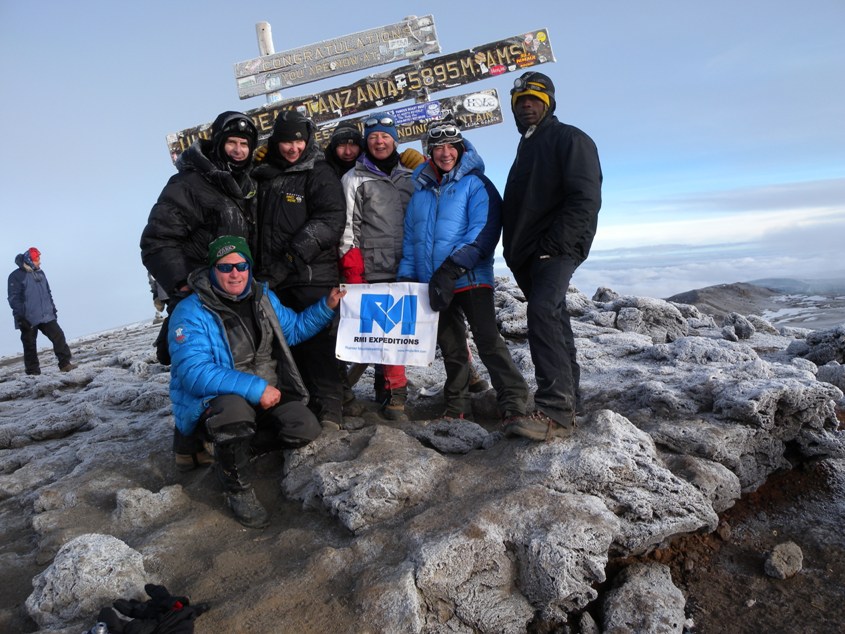 Jambo from the Dik Dik Hotel,
From our last camp on Kilimanjaro we could see the upper mountain in the moon light. It always seems crazy that we were way up there just hours earlier. Probably only about five miles as a crow files but it seemed like a million after our long day.
We had a great dinner at Mweka Camp and everyone quickly retired into their sleeping bags. Sleep came easy back in the thick air of 10,000'. This morning we trekked the final three and a half hours to the Mweka Gate and enjoyed a nice closing ceremony with our mountain staff. It takes many local guides, cooks, porters and mountain staff to complete such an amazing adventure and we are grateful for their help and support.
We completed our paperwork with Kilimanjaro National Park and had a quick lunch in the courtyard before loading our vehicle for the drive back to the Dik Dik Hotel. After nice hot showers we enjoyed a wonderful celebration dinner at the Dik Dik's restaurant.
Tomorrow three of our team members will start their travels back to the U.S. For the rest of us, our adventure continues to Lake Manyara, Ngorongoro Crater and Tarangire National Parks for a game viewing safari. We can't wait! The Dik Dik Staff is already getting our Land Cruiser ready for our morning departure. Great trip so far and still more to come!
RMI Guide Mark Tucker
×
Sign Up For Kilimanjaro 2011 Emails
{/exp:mailinglist:form}
---
More to Explore