---
Everest Base Camp Trek: Team Arrives at Namche Bazaar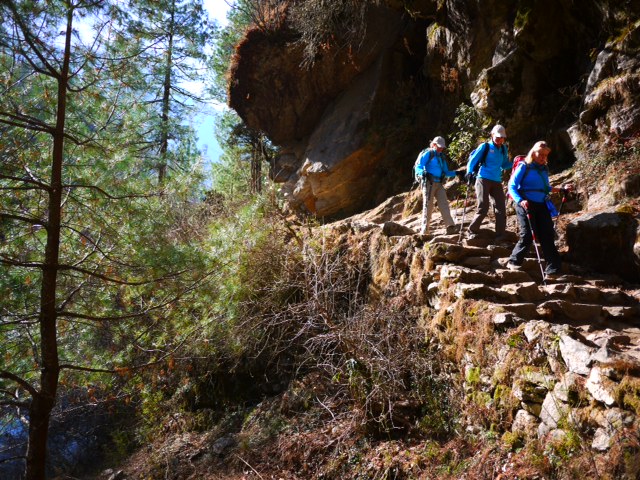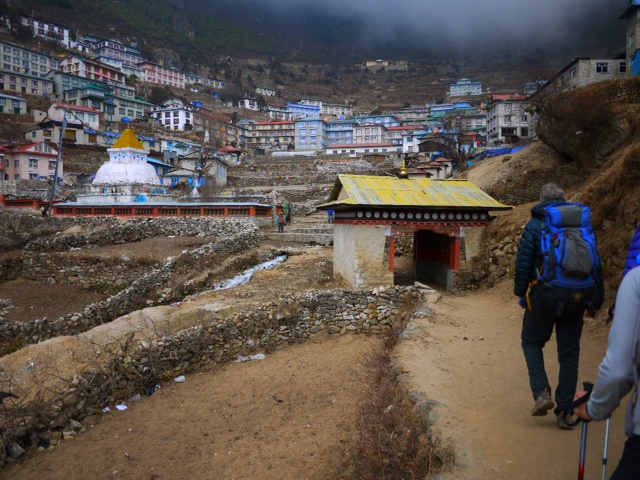 We hit the trail early this morning, contouring along the hillsides of the gradually narrowing valley, occasionally crossing back and forth above the Dudh Kosi River on long suspension bridges. After a couple of hours of walking we hit the entrance to Sagamartha National Park, the park that encompasses the upper region of the Khumbu Valley, including Mt. Everest.
After pausing for tea and snacks, we tackled the big climb of the day - the 2,500' ascent up mountain side to reach the village of Namche Bazaar. The ascent is a series of switchbacks and long traverses through pine forest. Being south facing it is typically very hot and dusty but by the time we reached the climb, clouds were forming and kept the temperatures very comfortable. Everyone hiked well, making good time up the trail and by mid afternoon we rounded the corner and walked into Namche Bazaar.
Situated at 11,300' in a shallow drainage perched on the hillside, Namche is the center of trade and commerce for the upper portion of the Khumbu Valley. It's location at the convergence of several trade routes - some all the way to Tibet - and the fresh water springs in its heart made it a meeting grounds many centuries ago and it remains the largest town in the region today. The entire town is built in a series of horseshoe shaped terraces up the hillside. At over 11,000', it is easy to feel the altitude when just walking around. We walked through Namche's narrow streets to our teahouse and arrived just as the clouds began letting occasional snowflakes fall from the sky.
We are heading out on a day hike tomorrow to several villages nearby before returning for Namche for the evening. The group is in great spirits and more than eager to check out the offerings of Namche's many shops tomorrow afternoon when we return.
On The Map
×
Sign Up For Everest BC Trek 2012 Emails
{/exp:mailinglist:form}
---
More to Explore
Everest Base Camp Trek: Exploring Around Namche
March 18, 2012