---
Mt. Everest Expedition: Team Arrives At Advanced Base Camp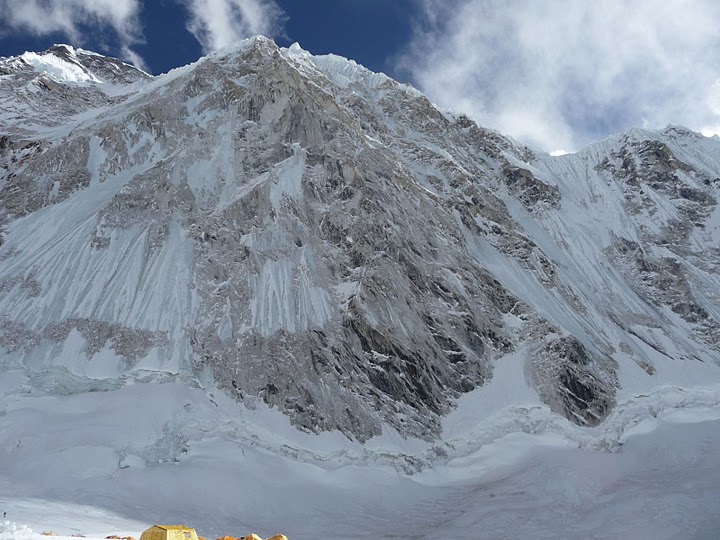 Hey, this is Dave Hahn calling in from Advanced Base Camp on Mt. Everest 21,300'.
The climbing team came up here in good style today, all the way from Base Camp, this morning. We started out about 4:15 in the morning, still dark, climbing by head light. The climbing route is ok but kind of spooky. We walked thru some very large debris fields from avalanches that have come down in the last couple of days from both the West Shoulder of Mt. Everest and from Nuptse. Both mountains have thrown down debris that is across the climbing route. We didn't have a bad day, we were pretty lucky with our conditions. It was kind of a breezy day and they say the jet stream is right over Mt. Everest right now. The weather we are experiencing certainly seems to bear that out. It was sunny, cold and gusty and windy most of the day but that saved us from being too hot coming up into camp, this big reflector oven of the Western Cwm. Thing are really dry up here. Our camp is great, our Sherpa team did a wonderful job building up our Advanced Base Camp ahead of our arrival.
We are going to spend our first night here tonight. We will see how we are doing in the morning. Tomorrow will probably be a rest day, but we might get in a hike or two. That's all for now.

RMI Guide Dave Hahn checks in from Advanced Base Camp.
On The Map
×
Sign Up For Everest 2012 Emails
{/exp:mailinglist:form}
---
More to Explore
Mt. Everest Expedition: Dave Hahn Checks in from ABC
April 30, 2012