---
Mt. McKinley: Knoff & Team Waiting at Basecamp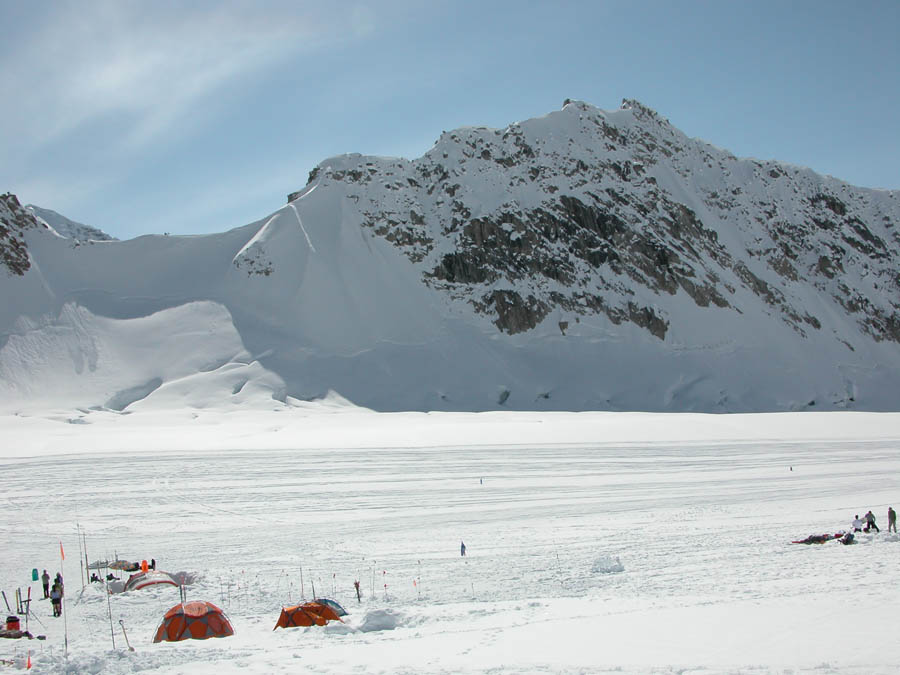 At 3:30 this morning I was startled awake by what I thought was the rumbling of a distant avalanche. Perhaps my mountain senses have an automatic alertness to these deep thunderous roars that will pull me from the deepest sleep. As I poked my head out of the tent door, I remembered where we are.
Two days ago I broke the news to the team that a serious storm was brewing and the risk of staying at high camp, in my opinion, outweighed the reward of a potential summit. Going for the top on Monday or Tuesday would put our total time there at eight or nine days, well beyond anyone's preference. So we packed camp with heavy hearts and set off on our descent.
We moved efficiently down to eleven thousand feet where we rested for six hours. The alarm went off at 5:00 am to no one's delight and we headed toward basecamp at 7:30. By 3:00 pm we were drinking MGD and relaxing in the sun. K2 aviation was optimistic about flying us off so morale, all things considered, was high. That was until one hour later the clouds moved in and it began to to snow. That was more than 24 hours ago.
Now as I write this at 4 pm on Sunday, we have received two feet of snow. Welcome to Mt. McKinley! We have all just come in for lunch after two solid hours stomping down the runway so if the storm does abate, planes might fly. This is all we hope for now, the high pitch sound of propellers and don't think twice about those avalanches in the distance.
This is Adam Knoff signing out.
On The Map
×
Sign Up For Denali 2012 Emails
{/exp:mailinglist:form}
---
More to Explore
Mt. Elbrus: Mallory & Team Sightseeing in Moscow
July 8, 2012