---
EXPEDITION SKILLS SEMINAR - Ecuador: Day of rest at Chilcabamba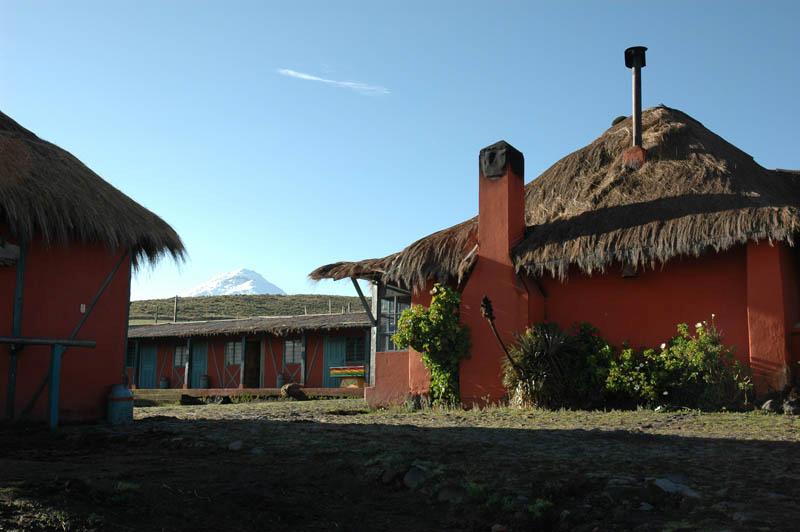 Hello Everyone,
After a severe spanking on our first climbing objective, expedition skills seminar Ecuador has settled into a well deserved day of rest. Here at Chilcabamba, a beautiful rustic Eco lodge located ten miles north west of Cotopaxi, Ecuador's most famous mountain, we have been treated like royalty. Luckily, whatever crazy wind dance some angry jungle tribe did to irritate the mountain climbers has seemed to run its course. So, by this afternoon many of the dark clouds and biting wind gusts seemed to have subsided which by dinner time treated the team to spectacular views of the mountain we are to attempt next.

Because Cayambe was such a struggle, we opened today up to doing anything, within reason, each person wanted to do. Armed with the the Spanish speaking skills of a two year old, I did my best to arrange a car to drive five willing folks to Machachi, the nearest town. When a pickup arrived with seating enough for four, shoulders were shrugged, the back seat was packed sardine style and twenty minutes later Ginger's legs were numb. But so goes travel. After a few hours in town the team returned and a quality debrief of our Cayambe experience hopefully prepared us better for what's to come on Cotopaxi. By 5 p.m. more training ensued and Clark was imitating self arrest in the front yard peppered with llama poop while Albert attempted to mock rescue Ginger out of the imaginary grass crevasse. Who needs a glacier? This segued perfectly into dinned and eventually into Jan and Gary kicking the guide's tails in a heated game of cribbage.
The team is growing closer every day and can't wait to attempt another climb. Stay tuned.
RMI Guides Adam Knoff & Casey Grom
×
Sign Up For Ecuador 2013 Emails
{/exp:mailinglist:form}
---
More to Explore
Ecuador Volcanoes: Nugent & Team Hike the Rucu Pichincha
January 10, 2013
Aconcagua: Justman & Team Reach Camp 1
January 11, 2013