---
Mt. Everest: RMI Sherpa Team to the South Col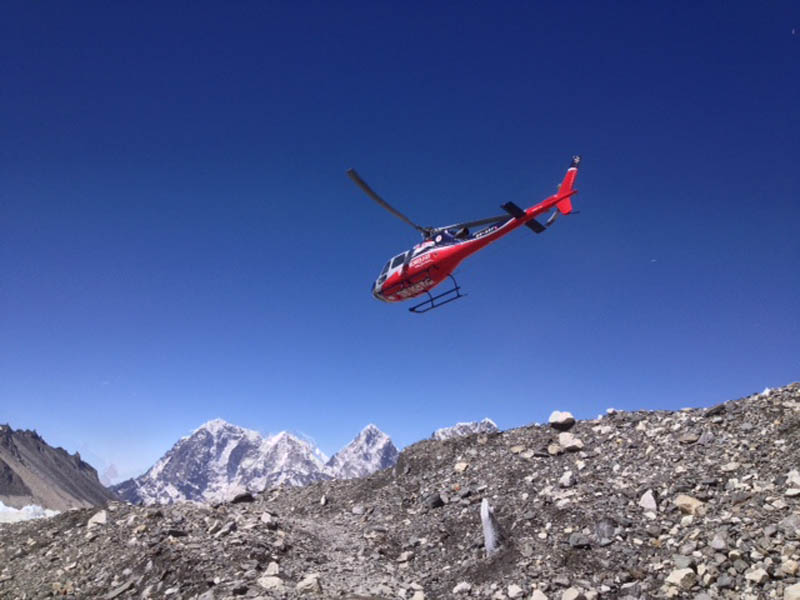 An easy day for the climbing team at Basecamp… Those without coughs went on big hikes, those with coughs went on lesser walks. By contrast, our Sherpa team went for a much more significant and ambitious journey. Tshering, Gylgen and Kaji carried loads from ABC all the way to the South Col, establishing high camp at close to 26,000 ft. They then returned to ABC, and now, in late afternoon, along with Lam Babu and Yubaraj, they are descending to Basecamp. That is what we call a big day in the Himalaya.
Unfortunately, there is a somber feeling once again around the mountain. Another tragic fall occurred yesterday, killing a climber on the Lhotse Face. It isn't our place to divulge details and I don't wish to try to sensationalize Everest climbing by exploiting such sadness, but I'll mention the incident in order to give proper credit to those who worked hard to make a bad situation better. Lam Babu was one of those who rushed up to the scene to render aid and who helped with the difficult job of retrieving the victim's body which they then transported to ABC. Today, a helicopter pilot finished the job with another daring high altitude retrieval from 21,300 ft… making what was once phenomenal seem sadly routine, but in the process saving many climbers from the very difficult and dangerous task of carrying the victim down through the Khumbu Icefall.
Tonight, our entire team will be together and safe in Basecamp.
Best Regards,
RMI Guide Dave Hahn
On The Map
×
Sign Up For Everest 2013 Emails
{/exp:mailinglist:form}
---
More to Explore