---
Denali - West Buttress Expedition
Mt. McKinley: Okita & Team Move Into 11K Camp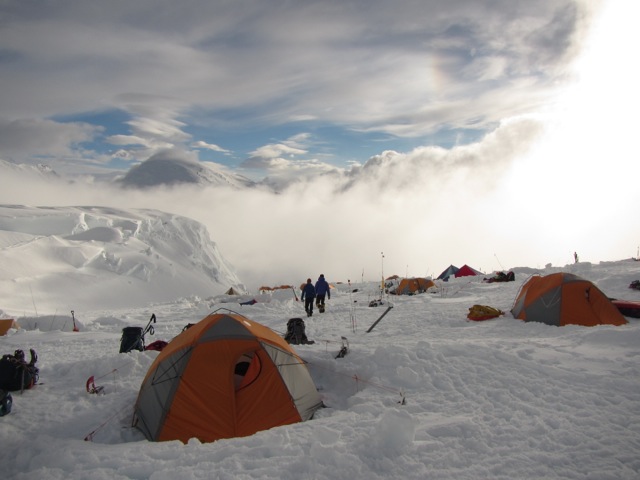 The sun doesn't set at 11,200' camp until after 9:30 sometime. Then it just passes behind a mountain to cast shadows on this place that we're now calling home. And we're soaking it all up after another nice day of climbing.
Today we made it to camp in under four hours, and for the first time had pretty reasonable sized packs. A cool down-glacier breeze offered us a change of pace from the sweat fest of the lower glacier, and I think most of the team welcomed the drop in temperature.
Pulling into camp in the early afternoon allowed us to walk into a vacated camp spot and relieved us of the tough work of building walls and excavating tent platforms. Most of us relaxed and enjoyed a well deserved break from our toils.
Another first for the trip: we enjoyed a fine meal from the comfort of our Posh House. This is a tent like thing that allows us all to sit, cook and eat, protected from the elements like the wind, cold, snow or even sun. It's cozy and makes it fun to just linger over a couple of hot drinks and enjoy each others company.
Tomorrow we'll be doing a back carry to pick up the cache we left there this morning. We're looking forward to a fairly easy day, and hopefully another great day of weather.
Before we sign off, Ayla wants to give a big shout out to her sister. Happy Birthday Eva! (By the way, your sister Ayla is a rock star - she's doing great.)
Until tomorrow ...
On The Map
×
Sign Up For Mount McKinley 2013 Emails
{/exp:mailinglist:form}
---
More Updates
Previous
May 16, 2013
Denali - West Buttress Expedition
Next
May 7, 2013
Denali - West Buttress Expedition