---
Mt. McKinley: Jones & Team Great Success with First Move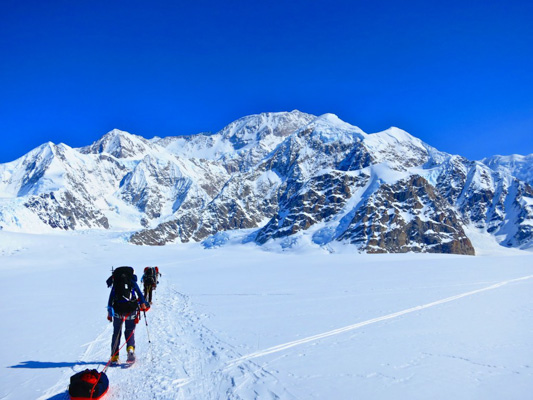 Friday, May 31, 2013 at 1:30 pm PT
We have made our first move up the mountain to the base of Ski Hill at 7,800' on the main Kahiltna Glacier.
Since our arrival yesterday we enjoyed a great first feast of totally loaded quesadillas and snoozed up just a few hours of rest before the 2am wake up. We organized our literal mountain of equipment and food in to individual group loads for what will hopefully be our only single carry. This mean we won't have to carry all our equipment at once but rather double carry, stashing equipment high and gaining fitness through mileage with manageable packs. Mileage is what we will need as the days grow harder and longer the higher we climb.
The arduous loads were all near 100 pounds each. Every climber on our team did a fabulous job getting the heaviest day of the trip over with. We are now truly underway and five miles closer to our goal of reaching "The High One" Denali.
We hope to carry equipment to around 10,000' tomorrow and return to recently renovated camp at 7,800'. We are going to catch some midday ZZZs and hide from the sun!
Will check in tomorrow,
RMI Guide Tyler Jones
On The Map
×
Sign Up For Denali 2013 Emails
{/exp:mailinglist:form}
---
More to Explore