---
Mt. McKinley: Okita & Team Visit the Edge of the World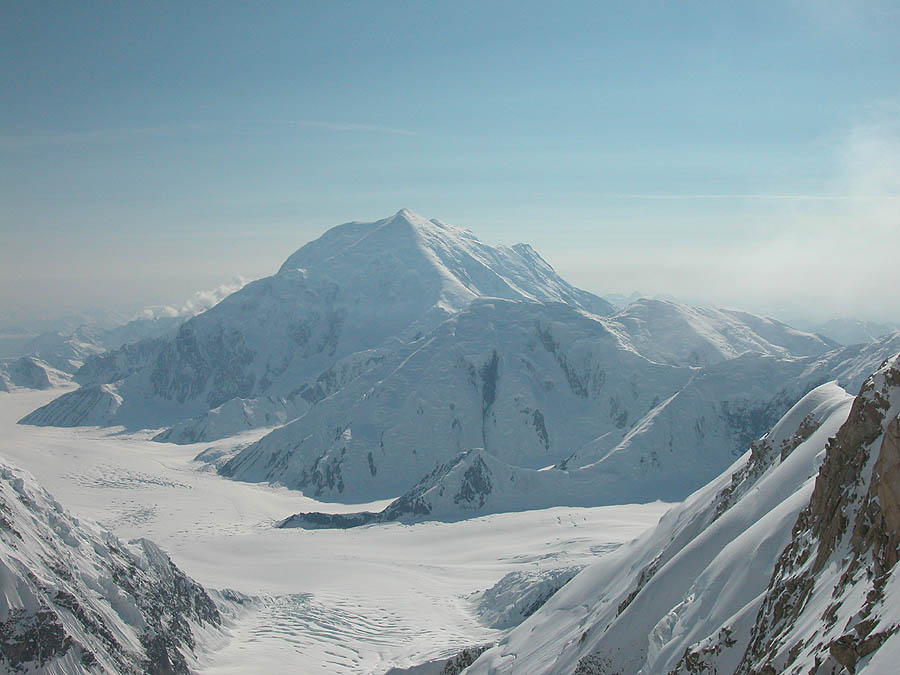 Thursday, May 30, 2013
Awakening the crew just before 9:00 a.m. to enjoy a breakfast of blueberry pancakes in our posh house as the sun warmed up camp was a real treat. We knew the noon hour was upon us and a few clouds began to gather around camp. We booted up to walk to the Edge of the World, a place from which you can look 7,000' down to the NE fork of the Kahiltna. From here we were treated to dramatic views of a vertical world, in fact, you could even see our very first camp of the trip, a place we past through, which seems so long ago, but in fact was only eight days ago. Some swirling clouds added the drama of being there.
The rest of the day was spent rebuilding our latrine with blocks cut from the snow to protect us from the weather. And later, we welcomed our other RMI team down from 17,200' camp after their summit day yesterday.
Tomorrow we'll be carrying a load to above 16,200', perhaps as far as 17,200' camp. It'll be a big day for us but we'll do fine. Of course, the first time up the fixed ropes is always a bit of a challenge, but this rest day has been good for us, mentally and physically to get ready for it.
We'll let you know how it goes. Until then, we'll just end with another birthday greeting: Nic, Happy Birthday from Dennis and the team.
RMI Guides Brent, Logan and Leah
On The Map
×
Sign Up For Denali 2013 Emails
{/exp:mailinglist:form}
---
More to Explore
Mt. McKinley: Jones & Team Fly on the Mountain
May 30, 2013