---
Mt. McKinley: Jones & Team Carry to 10,000'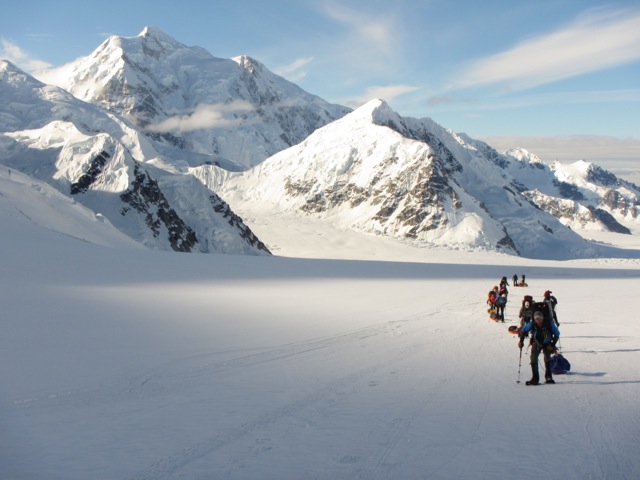 Saturday, June 1, 2013
This morning we got up at 4 am as planned to carry our first load of luggage up towards 11,000'. Breakfast was a quick affair of granola cereal and bars, and by 5:30 the team was underway. Our slow, steady pace helped us gain elevation, while the moderate breeze blowing down the glacier kept anyone from overheating. The peaks of the Alaska range glowed at the tops as the sun crept higher in the east, lighting the summit ridges of Mt. Crosson and Kahiltna Dome. Looking back down the main Kahiltna Glacier at our breaks, we were treated to a morning view few people get to enjoy: snow, ice and rock in every direction, sculpted by nature into a cathedral worthy of reverence.
All too soon we arrived at our cache location, but we enjoyed the acclimatization benefits of working a little bit at 10,000'. The crew all worked well and within minutes we had safely buried all our gear and turned back towards our warm tents at 7,800'. The pace was quicker as we dropped back down, and we were soon dropping our packs and crawling back into our tents to avoid the ruthless solar radiation. The team is now focused on rest and rehydration, preparing for our move to camp at 11,000' tomorrow.
We'll keep you posted as we continue to climb higher, stay tuned!
RMI Guides Tyler, Garrett and the Crew
On The Map
×
Sign Up For Denali 2013 Emails
{/exp:mailinglist:form}
---
More to Explore
Mt. McKinley: Okita & Team Tackle the Fixed Ropes
June 1, 2013
Mt. McKinley: Okita & Team Relax at 14 Camp
June 2, 2013