---
Mt. McKinley: Okita & Team Relax at 14 Camp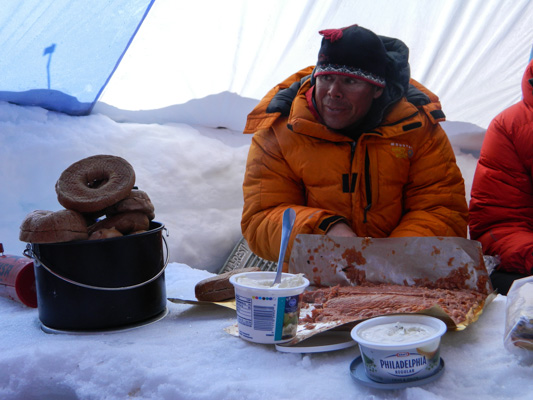 Saturday, June 1, 2013
Just knowing that today we had absolutely nothing to get accomplished gave us all that sense of ease and happiness often felt on the first day of a great vacation. Breakfast (yes, smoked salmon, bacon, fried bagels and cream cheese) didn't even start until the sun had warmed up camp, and lingered almost to lunch.
We relaxed outside in the sun and inside away from its strong rays. Some got horizontal and read or napped, while others of us hung out in the Posh talking about everything from music and movies to food, wine and other delicacies.
Those of us with FM radios gave a brief news summary, and like many discussions of any depth, eventually the tide of our conversation turned to politics. But with such a nice group of folks who are fast becoming good friends, the talk was of a healthy sort and not the ugly type seen all too often elsewhere.
I don't know if it was the Indian cuisine we had for dinner or what, but dessert was accompanied by song, poetry, comedy and a lot of good natured ribbing. The day has ended all to quickly, we all agree.
We ended our day by listening to the evening weather forecast, which has been calling for an end to the incredible high pressure we have been enjoying and calling for clouds and some snow, but all with fairly light winds. I've certainly heard of worse forecasts, so we'll just wake up in the morning and see what we see. If the skies are anything like they have been, we'll break camp and retrace our tracks back up the fixed lines and West Buttress, having the added confidence that comes with having climbed it once before. But we'll need good weather to tackle that climb again. Otherwise, another day or two here will only make us stronger for the summit later.
Wish us luck!
RMI Guides Brent, Logan and Leah
On The Map
×
Sign Up For Denali 2013 Emails
{/exp:mailinglist:form}
---
More to Explore
Mt. McKinley: Jones & Team Carry to 10,000'
June 1, 2013
June 2, 2013