---
Mt. McKinley: Okita & Team Rest at 17,200'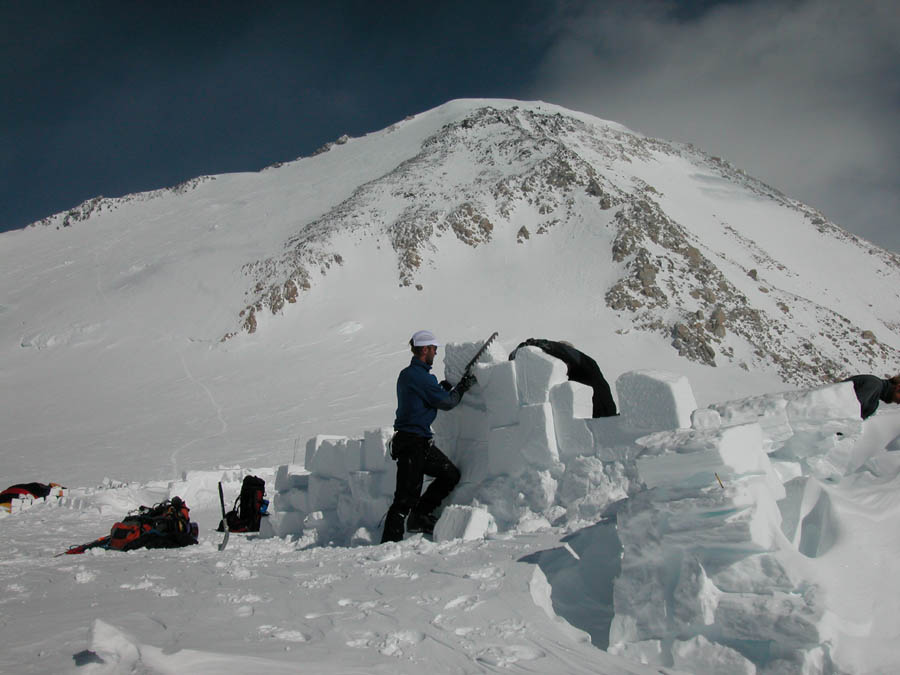 Monday, June 3, 2013
Our first encounter with snow and wind came after we hit the sack last night. Comfortably tucked away in our well anchored tents, and snug in our mounds of down that encapsulate us each night, we knew we weren't in any danger, and by Denali standards our visit with foul weather was fairly mild. But the winds still kept many of us up more than we would have liked.
So, when I checked the weather at 7:30 and didn't like what I saw, I don't think there was a one of us that missed hearing my wake up call for a summit bid. An hour later the winds calmed and things did look better, but not perfect, so I let the team sleep in.
At breakfast we all confided that we were happy that the day did not turn out good for the summit. Even some of our studs of the trip admitted to feeling the altitude and having some fatigue left over from yesterday's efforts.
Our morning was spent building up walls to protect us from the annoying wind, then by lunch we were back in the tents enjoying the incredible warmth that the suns rays produce at this elevation. Even though outside it was chilly, inside our watch thermometer got as high as 113 degrees. OK, it was measured at the ceiling and we had all the doors closed, but though a little excessive, the heat felt wonderful soaking through our bodies.
Right now the weather looks good. The ominous cloud cap that had settled on the mountain for most of the day has disappeared and I am more optimistic than I have been. The forecast remains the same, for whatever that's worth.
I think we're all thinking that it might just happen tomorrow, but who knows. All I really know is that we're all ready if the day dawns fair. Which means that I too should probably get some sleep.
Goodnight from 17,200' camp.
RMI Guides Brent, Logan and Leah
On The Map
×
Sign Up For Denali 2013 Emails
{/exp:mailinglist:form}
---
More to Explore