---
Mt. McKinley: Jones & Team Move to 14,000'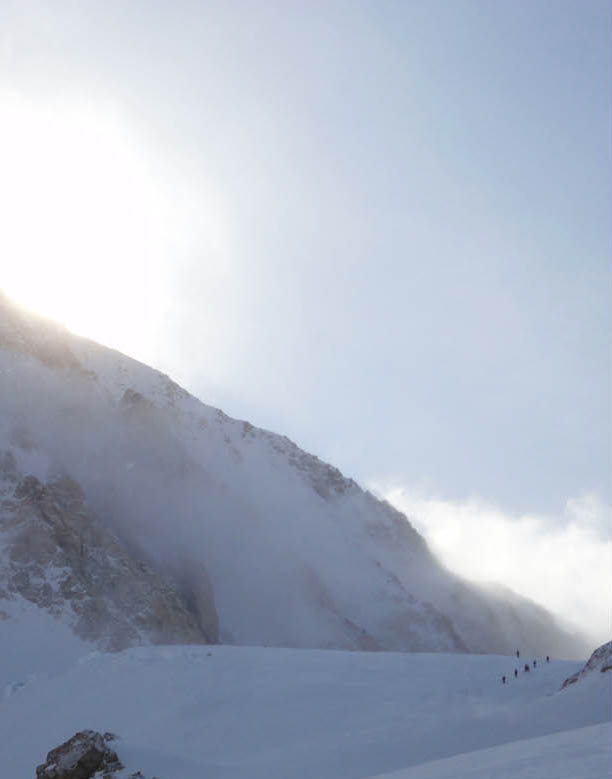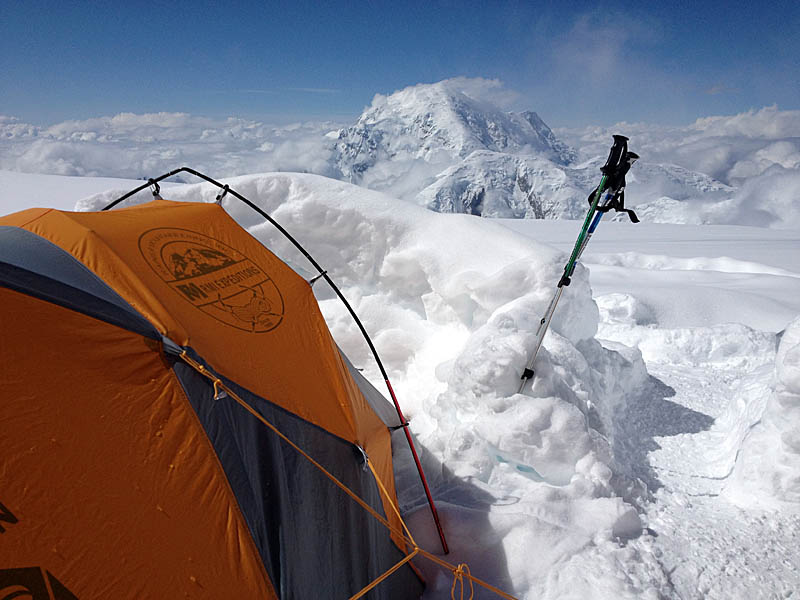 Thursday, June 6, 2013
Awh ya! We are all moved in at 14,200' in the Genet Basin! Last evening we were put to bed by the clearing of the clouds and spectacular views of Kahiltna Dome, Mt. Foraker from the 11,000' camp. We had a windless night and woke to a brisk yet blue bird morning. We had a quick bite of oatmeal and a coffee, and like blades in a blender we whipped up our kit and saddled our packs to ride.
Our trip was smooth with a chance to further take in the unbelievable view of the entire Southern Alaska range. We rounded Windy Corner with a rest stop in zero wind. Our freckles could tell by late morning that the sun's inferno would take a toll on our energy. Regardless, we made great steady progress arriving in 14 camp in a little over 5 hours.
Arriving at camp is just part of the move day's work! We established camp quickly thanks to a previously occupied camp. Yet, making water, retrieving the cache, moving our belongings back in the tent coupled with new altitude is hard work.
This all pays off at the end of the day when you're snuggling with your big cached food bag and other piles of feathers We are reunited with! Laying in the tent as i write with a full belly of soup, tortellini, and cookies!
It is good to be moving up with sprits high, climbers enjoying the mountain and a rest day for tomorrow! Did I say Awhh ya?
RMI Guides Tyler Jones & Garrett Stevens & The team
On The Map
×
Sign Up For Denali 2013 Emails
{/exp:mailinglist:form}
---
More to Explore
Mt. McKinley: Beren & Team Fly On To the Kahiltna
June 6, 2013
Mt. McKinley: Okita & Team Descend to 11,200'
June 7, 2013