---
Mt. McKinley: Team Jones Waiting For Calmer Winds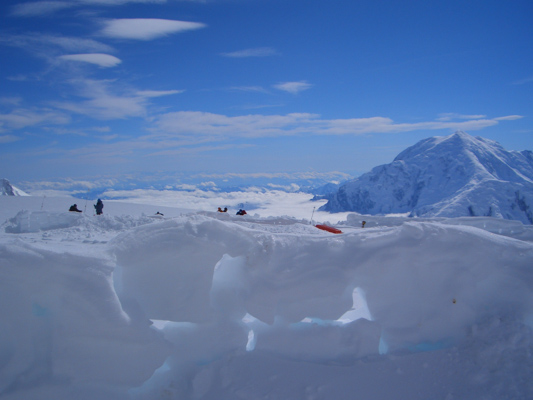 June 11, 2013
You can't always get what you want…
Those lyrics from Mick Jagger and the Rolling Stones were the first thing that went through the collective consciousness this morning. The guides woke at 6am, packed sleeping bags in preparation for departure and unzipped the tent - only to see winds whipping the ridge of the West Buttress route above.
While camp here at 14,200' remains relatively calm, the higher reaches of the mountain are getting pummeled by ferocious northeast winds, which are sending plumes of spindrift snow off into the stratosphere. With a forecast high temperature of -15F at the 17,000' camp today, and winds gusting well into the 30mph range, the only safe option is to wait here in camp and hope for a less windy day to make our move. That combination of wind and temperature will actually feel like -65F (approximately), which can freeze exposed flesh in one minute. Needless to say, we're not going to venture into that kind environment.
So here we sit and wait, hoping for a break in the wind. We were treated to a bodacious air show earlier, when the contract helicopter, an A-Star B-3, came ripping around and right over our tents about three times in a row. Seems like they are doing some sort of filming up here, and we all mugged shamelessly as the ship blasted less than 40 feet above us. Good entertainment, to say the least.
While we have had more than one facetious conversation about moving in the wind storm, the group is prepared to wait for the right time and the right weather window. To channel the Stones yet again (and continue the song):
If you try sometimes, you might find you get what you need
So here's hoping we get what we need!
RMI Guides Tyler Jones, Garrett Stevens and the patiently waiting team
On The Map
×
Sign Up For Denali 2013 Emails
{/exp:mailinglist:form}
---
More to Explore
Mt. McKinley: Beren & Team Carry to 13,500'
June 11, 2013