---
Mt. McKinley: Van Deventer & Team Rest Day at 14K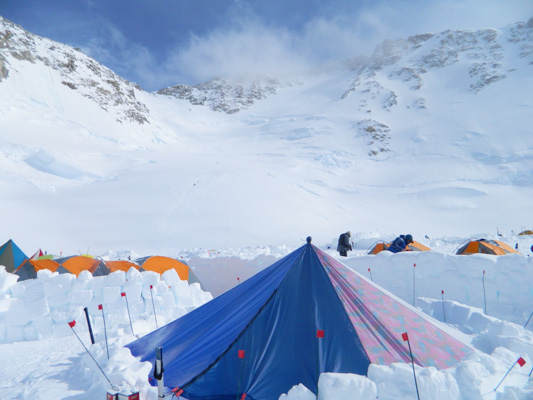 Friday, June 28th, 2013
We had a great rest day here at 14k! We spent most of the day in the clouds, but it was warm and calm. We took the opportunity to prepare for the fixed lines and running belays that we will encounter on the West Buttress, and to fortify the snow walls surrounding our tents. All in all, a great day! Congrats to Mike Haugen's team for standing on top today!
Tomorrow, we plan to make our first foray onto the West Buttress proper, to cache a load of food, fuel, and supplies at the base of Washburn's Thumb. Once that is done, all the pieces are in place and we'll be waiting for our summit window! We'll let you know how it goes.
Best from everybody here,
RMI Guides Pete, Geoff, Robby, and the team
On The Map
×
Sign Up For Denali 2013 Emails
{/exp:mailinglist:form}
---
More to Explore
Mt. McKinley: Hahn & Team Getting Started
June 29, 2013