---
Denali - West Buttress Expedition
McKinley: Jones & Team Cold Temps & Wind = Another Rest Day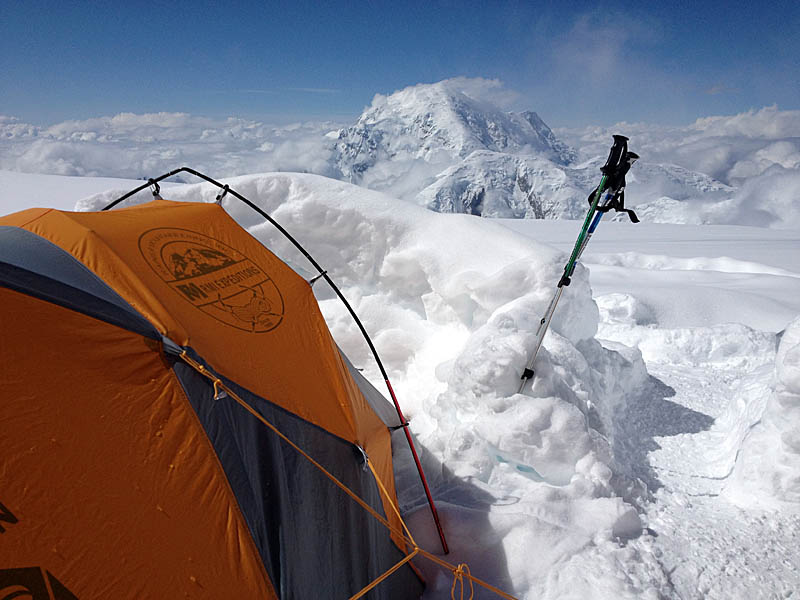 June 11, 2014 3:14pm PT
Greetings from Team No Troubles,
Sitting here for another rest day at 14,200'. Cold temperatures and steady wind have been the story of the day, and we made the right decision to stand by for the time being.
Last night saw the mercury plummet to an ambient temp of -17F, which is much more common up here in April than it is in June. Combine that temp with winds in camp of about 15mph and you have a recipe for immediate freezing of any exposed skin, as the wind chill hovers somewhere between -45 and -50F. Brrrrr shiver!
So instead of our planned carry to the top of the fixed lines, we'll stay in camp today, on a steady orbit around our posh and sleeping tents. The team is on guard against any uninvited trespassing into our bathroom, too, as we've had more than one inquiry from other folks about using our lovely on-mountain comfort station.
Keep sending warm thoughts, and hopefully warmer weather, our way! Keep the comments coming too, we love to hear from y'all. From a frosty 14K camp.
RMI Guides Bryan, Tyler, Garrett and the No Troubles Crew
×
Sign Up For Mount McKinley 2014 Emails
{/exp:mailinglist:form}
---
More Updates
Previous
June 11, 2014
Four Day Summit Climb