---
Mt. McKinley: Jones & Team - Patience Delivers the Summit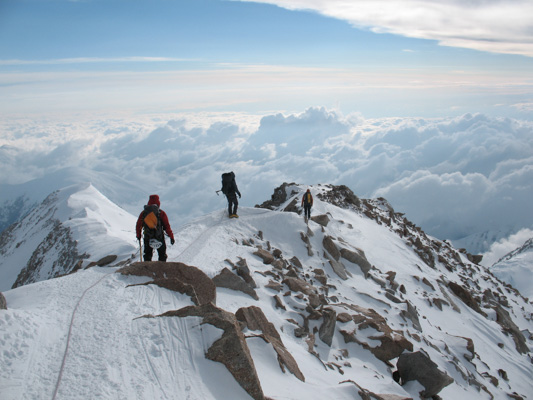 June 21, 2014 - 2:56 am PT
Well, you probably heard our summit phone call from earlier today, so this is just the follow-up to that. We had a heck of a day here in the high altitudes of North America, rising from the tents early this morning to cold temperatures, light winds, and high clouds. We decided that it was going to be a day for an attempt, and once we had basked in the sun for a bit we headed over to the shade of the Autobahn. Two hours later we had passed the difficulties of the pickets and the exposure below, and we stepped out around Denali Pass.
The weather was still a bit in and out, but the No Troubles crew was moving well so we kept at it. Up steep rolls, over undulating terrain, and higher and higher we climbed. We passed familiar landmarks as the day went on, like Zebra Rocks, Archdeacon's Tower, the Football Field, and finally crested onto the summit ridge in cold wind and clear blue skies. Late this afternoon, we reached the highest point on this continent, and emotions ran high as we hugged, high-fived, and snapped photos. Jake's team came up onto the top just as we were getting ready to head down, and we were thrilled to share that special moment with them.
This team has had a full value experience, especially with all the uncertainty and waiting that we've endured. Now it's time for one last hot drink and then into the bag for a much-deserved rest. Down tomorrow, hopefully the weather holds for a flight soon!
Cheers,
RMI Guides Tyler, Geoff, Garrett and the No Troubles team
On The Map
×
Sign Up For Denali 2014 Emails
{/exp:mailinglist:form}
---
More to Explore
Mt. McKinley: Nugent & Team are at 14K, Fully Stocked
June 21, 2014
Mt. McKinley: Knoff & Team - Kahiltna Dreams
June 21, 2014